Chevrolet Cruze Owners Manual: Brake Fluid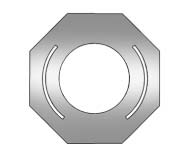 The brake/clutch master cylinder reservoir is filled with DOT 3 brake fluid as indicated on the reservoir cap.
There are only two reasons why the brake fluid level in the reservoir might go down:
• The brake fluid level goes down because of normal brake lining wear. When new linings are installed, the fluid level goes back up.
• A fluid leak in the brake/clutch hydraulic system can also cause a low fluid level. Have the brake/ clutch hydraulic system fixed, since a leak means that sooner or later the brakes will not work well.
Do not top off the brake/clutch fluid.
Adding fluid does not correct a leak.
If fluid is added when the linings are worn, there will be too much fluid when new brake linings are installed. Add or remove fluid, as necessary, only when work is done on the brake/clutch hydraulic system.
WARNING
If too much brake fluid is added, it can spill on the engine and burn, if the engine is hot enough. You or others could be burned, and the vehicle could be damaged.
Add brake fluid only when work is done on the brake/clutch hydraulic system.
Checking Brake Fluid
The brake/clutch fluid can be checked without taking off the cap by looking at the brake/clutch fluid reservoir.
The fluid level should be above MIN. If it is not, have the brake/ clutch hydraulic system checked to see if there is a leak.
After work is done on the brake/ clutch hydraulic system, make sure the level is above MIN but not over the MAX mark.
When the brake/clutch fluid falls to a low level, the brake warning light comes on.
What to Add
Use only new DOT 3 brake fluid from a sealed container.
Always clean the brake/clutch fluid reservoir cap and the area around the cap before removing it. This helps keep dirt from entering the reservoir.
WARNING
With the wrong kind of fluid in the brake/clutch hydraulic system, the brakes might not work well. This could cause a crash. Always use the proper brake/clutch fluid.
Notice
• Using the wrong fluid can badly damage brake/clutch hydraulic system parts. For example, just a few drops of mineral-based oil, such as engine oil, in the brake hydraulic system can damage brake hydraulic system parts so badly that they will have to be replaced.
Do not let someone put in the wrong kind of fluid.
• If brake fluid is spilled on the vehicle's painted surfaces, the paint finish can be damaged. Be careful not to spill brake fluid on the vehicle. If you do, wash it off immediately.
This vehicle has front disc brakes and could have rear drum brakes or rear disc brakes. Disc brake pads have built-in wear indicators that make a high-pitched warning sound when the brake pads ar ...
Refer to the replacement number on the original battery label when a new battery is needed. WARNING Battery posts, terminals, and related accessories contain lead and lead compounds, chemicals k ...
Other materials:
Fuel Additives
To provide cleaner air, all gasolines in the United States are now required to contain additives that help prevent engine and fuel system deposits from forming, allowing the emission control system to work properly. In most cases, nothing should have to be added to the fuel. However, some gas ...
Additional Maintenance and Care
Your vehicle is an important investment and caring for it properly may help to avoid future costly repairs. To maintain vehicle performance, additional maintenance services may be required. It is recommended that your dealer perform these services — their trained dealer technicians know your v ...
Event Data Recorders
This vehicle is equipped with an event data recorder (EDR). The main purpose of an EDR is to record, in certain crash or near crash-like situations, such as an air bag deployment or hitting a road obstacle, data that will assist in understanding how a vehicle's systems performed. The EDR is de ...