Chevrolet Cruze Owners Manual: Floor Mats
WARNING
If a floor mat is the wrong size or is not properly installed, it can interfere with the pedals.
Interference with the pedals can cause unintended acceleration and/or increased stopping distance which can cause a crash and injury. Make sure the floor mat does not interfere with the pedals.
Use the following guidelines for proper floor mat usage: • The original equipment floor mats were designed for your vehicle. If the floor mats need replacing, it is recommended that GM certified floor mats be purchased. Non-GM floor mats may not fit properly and may interfere with the pedals. Always check that the floor mats do not interfere with the pedals.
• Use the floor mat with the correct side up. Do not turn it over.
• Do not place anything on top of the driver side floor mat.
• Use only a single floor mat on the driver side.
• Do not place one floor mat on top of another.
Removing and Replacing the Floor Mats
Pull up on the rear of the floor mat to unlock each retainer and remove.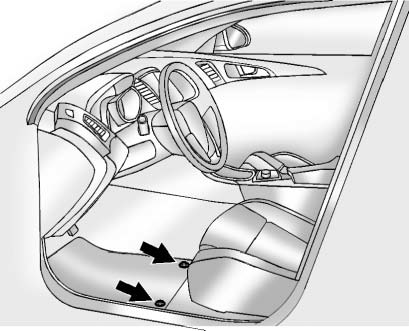 Reinstall by lining up the floor mat retainer openings over the carpet retainers and snapping into position.
Make sure the floor mat is properly secured in place.
Verify the floor mat does not interfere with the pedals.
To prevent dirt particle abrasions, regularly clean the vehicle's interior. Immediately remove any soils. Note that newspapers or dark garments that can transfer color to home furnishings can a ...
Other materials:
Work Stall Test Warning
Warning: One or more of the following guidelines may apply when performing specific required tests in the work stall: When a test requires spinning the drive wheels with the vehicle jacked up, adhere to the following precautions: Do not exceed 56 km/h (35 mph) when spinning one drive wheel ...
Odometer
The odometer shows how far the vehicle has been driven, in either kilometers or miles. This vehicle has a tamper-resistant odometer. The digital odometer will read 999,999 if it is turned back. If the vehicle needs a new odometer installed, it must be set to the mileage total of the old odom ...
Transmission Messages
SERVICE TRANSMISSION This message displays if there is a problem with the transmission. See your dealer. TRANSMISSION HOT — IDLE ENGINE This message displays and a chime sounds if the transmission fluid in the vehicle gets hot. Driving with the transmission fluid temperature high can cause dama ...