Chevrolet Cruze Owners Manual: Tire Designations
Tire Size
The following is an example of a typical passenger vehicle tire size.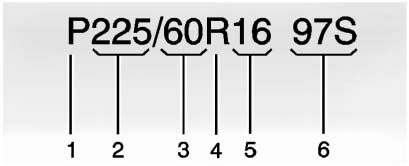 (1) Passenger (P-Metric) Tire:
The United States version of a metric tire sizing system. The letter P as the first character in the tire size means a passenger vehicle tire engineered to standards set by the U.S. Tire and Rim Association.
(2) Tire Width:
The three-digit number indicates the tire section width in millimeters from sidewall to sidewall.
(3) Aspect Ratio:
A two-digit number that indicates the tire height-to-width measurements.
For example, if the tire size aspect ratio is 60, as shown in item 3 of the illustration, it would mean that the tire's sidewall is 60 percent as high as it is wide.
(4) Construction Code:
A letter code is used to indicate the type of ply construction in the tire.
The letter R means radial ply construction; the letter D means diagonal or bias ply construction; and the letter B means belted-bias ply construction.
(5) Rim Diameter:
Diameter of the wheel in inches.
(6) Service Description:
These characters represent the load index and speed rating of the tire. The load index represents the load carrying capacity a tire is certified to carry. The speed rating is the maximum speed a tire is certified to carry a load.
Useful information about a tire is molded into its sidewall. The examples show a typical passenger vehicle tire and a compact spare tire sidewall. Passenger (P-Metric) Tire Example (1) Tire Size ...
Air Pressure: The amount of air inside the tire pressing outward on each square inch of the tire. Air pressure is expressed in kPa (kilopascal) or psi (pounds per square inch). Accessory Weight: ...
Other materials:
Rear Compartment Lid Emblem/Nameplate Replacement (CDX)
Rear Compartment Lid Emblem Assembly Caution: Refer to Exterior Trim Emblem Removal Caution in the Preface section. Procedure The part and surface should be 21°C (70°F) prior to installation. The vehicle should remain 21°C (70°F) for one hour after assembly to allow adhesive to deve ...
Courtesy/Illuminated Entry Lamps
The following lamps may be manually turned ON by placing the interior lamp switch in the ON position, or by opening a door while the switch is in the AUTO position. The dome lamp The liftgate lamps Courtesy lamps The courtesy lamp supply voltage circuit of the body control module (BCM) ...
Storing the Tire Sealant and Compressor Kit
The tire sealant and compressor kit is located in the trunk, under the load floor, behind an access panel. To remove the kit: 1. Open the trunk. 2. Turn the left knob counterclockwise and the right knob clockwise, 90 degrees, at the same time. Then pull the access panel rearward and up to r ...