Chevrolet Cruze Owners Manual: Air Vents
Adjustable air vents are in the center and on the side of the instrument panel.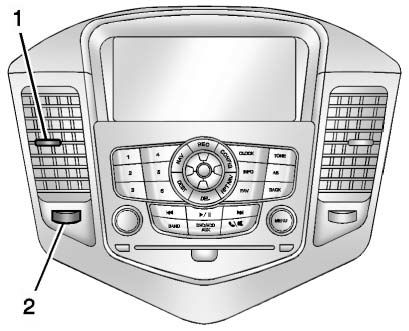 Move the slats (1) to change the direction of the airflow.
Use the thumbwheels (2) near the air vents to open or close off the airflow.
Additional air vents are located beneath the windshield, driver and passenger side door windows, and in the footwells. These are fixed and cannot be adjusted.
Operation Tips
Х Clear away any ice, snow, or leaves from air inlets at the base of the windshield that could block the flow of air into the vehicle.
Х Keep the path under the front seats clear of objects to help circulate the air inside of the vehicle more effectively.
Х Use of non-GM approved hood deflectors can adversely affect the performance of the system.
Check with your dealer before adding equipment to the outside of the vehicle.
The heating, cooling, defrosting, and ventilation for the vehicle can be controlled with these systems. Vehicles without Air Conditioning 1. Temperature Control. 2. Bi-level Air Mode. ...
Other materials:
Configure Menu
The Configuration Menu is used to adjust features and preferences, such as Sound, Radio, Nav (Navigation), Display, or Time Settings. 1. Press the Config screen button on the Home Page. 2. Touch-tap the scroll bar until the desired option displays. Select the desired settings to change. S ...
Rear Suspension
Specifications Rear Suspension Components Rear Shock Absorber Upper Mount Rear Shock Absorber Upper Mount Rear Shock Absorber Upper Mount Rear Shock Absorber Upper Mount Shock Absorber Assembly Upper Dumping Ring Rear Spring Lower Dumping Ring Rear Axle Bushing Rear Ax ...
Overlap/Backing Plate Sectioning (Welding)
Warning: Refer to Approved Equipment for Collision Repair Warning in the Preface section. Fit the service panel to the vehicle to ensure a proper fit. Measure and mark a line at the sail panel 120 mm (4 3/4 in) from the back glass opening and 70 mm (2 3/4 in) rearward from the ...