Chevrolet Cruze Owners Manual: Capacities and Specifications
The following approximate capacities are given in English and metric conversions.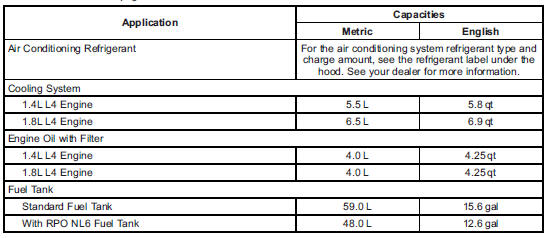 Engine Specifications

1.4L L4 Engine 1.8L L4 Engine ...
Other materials:
Metric Fasteners
This vehicle provides fastener dimensions using the metric system. Most metric fasteners are approximate in diameter to equivalent English fasteners. Make replacements using fasteners of the same nominal diameter, thread pitch, and strength. A number marking identifies the OE metric fastener ...
Installation Procedure
Create 5 x 18 mm (4/16 x 11/16 in) slots for MIG-brazing along the edges of the tail lamp pocket as noted f rom the original panel. Note: Clean and prepare the attaching surfaces for brazing. Position the tail lamp pocket on the vehicle. Verify the fit of the ta ...
Maps
This section includes basic information about the map database. The data is stored in the internal flash memory that is used in the navigation system. Detailed Areas Road network attributes are contained in the map database for detailed areas. Attributes include information such as street nam ...