Chevrolet Cruze Owners Manual: Cooling System
The cooling system allows the engine to maintain the correct working temperature.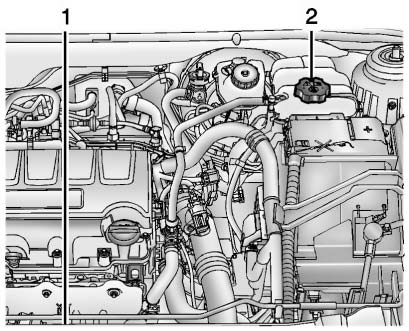 1.4L L4 Engine Shown, 1.8L L4 Engine Similar
1. Engine Cooling Fan (Out of View) 2. Engine Coolant Surge Tank and Pressure Cap
WARNING
An electric engine cooling fan under the hood can start up even when the engine is not running and can cause injury. Keep hands, clothing, and tools away from any underhood electric fan.
WARNING
Heater and radiator hoses, and other engine parts, can be very hot. Do not touch them. If you do, you can be burned.
Do not run the engine if there is a leak. If you run the engine, it could lose all coolant. That could cause an engine fire, and you could be burned. Get any leak fixed before you drive the vehicle.
Notice: Using coolant other than DEX-COOL® can cause premature engine, heater core, or radiator corrosion. In addition, the engine coolant could require changing sooner, at 50 000 km (30,000 mi) or 24 months, whichever occurs first. Any repairs would not be covered by the vehicle warranty.
Always use DEX-COOL (silicate-free) coolant in the vehicle.
When to Inspect the Engine Air Cleaner/Filter Inspect the air cleaner/filter at the scheduled maintenance intervals and replace it at the first oil change after each 80 000 km (50,000 mi) interval. ...
The cooling system in the vehicle is filled with DEX-COOL engine coolant. This coolant is designed to remain in the vehicle for 5 years or 240 000 km (150,000 mi), whichever occurs first. The fol ...
Other materials:
When It Is Time for New Tires
Factors such as maintenance, temperatures, driving speeds, vehicle loading, and road conditions affect the wear rate of the tires. Treadwear indicators are one way to tell when it is time for new tires. Treadwear indicators appear when the tires have only 1.6mm (1/16 in) or less of tread rem ...
Power Steering Gear Inlet Pipe/Hose Replacement
Removal Procedure Remove front bumper fascia. Refer to Front Bumper Fascia Replacement Remove as much power steering fluid from the remote power steering fluid reservoir as possible. Place drain pans under the vehicle as needed. Remove power steering gear inlet hose bolt (1). ...
Rear Compartment Lid Emblem/Nameplate Replacement (Rear Emblem)
Rear Compartment Lid Emblem Assembly Caution: Refer to Exterior Trim Emblem Removal Caution in the Preface section. Procedure The part and surface should be 21°C (70°F) prior to installation. The vehicle should remain 21°C (70°F) for one hour after assembly to allow adhesive to deve ...