Chevrolet Cruze Owners Manual: Cooling System
The cooling system allows the engine to maintain the correct working temperature.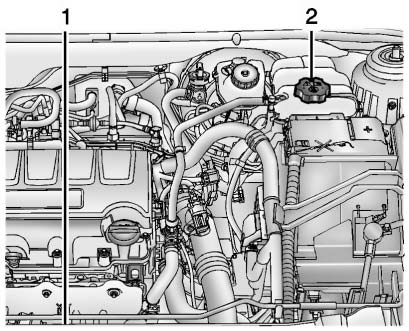 1.4L L4 Engine Shown, 1.8L L4 Engine Similar
1. Engine Cooling Fan (Out of View) 2. Engine Coolant Surge Tank and Pressure Cap
WARNING
An electric engine cooling fan under the hood can start up even when the engine is not running and can cause injury. Keep hands, clothing, and tools away from any underhood electric fan.
WARNING
Heater and radiator hoses, and other engine parts, can be very hot. Do not touch them. If you do, you can be burned.
Do not run the engine if there is a leak. If you run the engine, it could lose all coolant. That could cause an engine fire, and you could be burned. Get any leak fixed before you drive the vehicle.
Notice: Using coolant other than DEX-COOL® can cause premature engine, heater core, or radiator corrosion. In addition, the engine coolant could require changing sooner, at 50 000 km (30,000 mi) or 24 months, whichever occurs first. Any repairs would not be covered by the vehicle warranty.
Always use DEX-COOL (silicate-free) coolant in the vehicle.
When to Inspect the Engine Air Cleaner/Filter Inspect the air cleaner/filter at the scheduled maintenance intervals and replace it at the first oil change after each 80 000 km (50,000 mi) interval. ...
The cooling system in the vehicle is filled with DEX-COOL engine coolant. This coolant is designed to remain in the vehicle for 5 years or 240 000 km (150,000 mi), whichever occurs first. The fol ...
Other materials:
Turn and Lane-Change Signals
Move the lever all the way up or down to signal a turn. An arrow on the instrument cluster will flash in the direction of the turn or lane change. Raise or lower the lever until the arrow starts to flash to signal a lane change. The turn signal flashes three times. The lever returns to its ...
Basecoat/Clearcoat Paint Systems
Warning: Exposure to isocyanates during paint preparation and application processes can cause severe breathing problems. Read and follow all of the instructions from the manufacturers of painting materials, equipment, and protective gear. All paint finish repairs of rigid exterior surfaces mus ...
Installation Procedure
Note: If the location of the original plug weld holes can not be determined, space the braze holes every 40 mm (1½ in). Create 5 x 18 mm (4/16 x 11/16 in) slots for MIG-brazing along the edges of the rear floor panel filler as noted from the original panel. Clean and prepare ...