Chevrolet Cruze Owners Manual: Fuel Gauge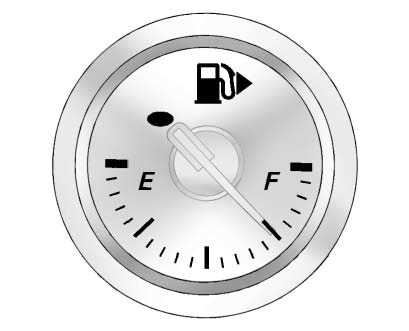 When the ignition is on, the fuel gauge indicates about how much fuel is left in the tank.
An arrow on the fuel gauge indicates the side of the vehicle the fuel door is on.
A FUEL LEVEL LOW message may appear in the Driver Information Center (DIC) and a single chime sounds.
Here are four things that some owners ask about. None of these show a problem with the fuel gauge:
• At the service station, the fuel pump shuts off before the gauge reads full.
• It takes a little more or less fuel to fill up than the gauge indicated. For example, the gauge may have indicated the tank was half full, but it actually took a little more or less than half the tank's capacity to fill the tank.
• The gauge moves a little while turning a corner or speeding up.
• The gauge takes a few seconds to stabilize after the ignition is turned on, and will go back to empty when the ignition is turned off.
The tachometer displays the engine speed in revolutions per minute (rpm). Notice: If the engine is operated with the tachometer in the shaded warning area, the vehicle could be damaged, and the dam ...
This gauge shows the engine coolant temperature. If the indicator needle moves to the hot side of the gauge toward the H or shaded area, the engine is too hot. If the vehicle has been operated u ...
Other materials:
Installation Procedure
Clean and prepare the attaching surfaces for brazing. Apply structural adhesive to the attaching surfaces. Position the rear bumper impact bar stud plate on the vehicle. Verify the fit of the rear bumper impact bar stud plate Clamp the rear bumper impact bar stud plate into ...
Shifting out of Park
This vehicle is equipped with an automatic transmission shift lock control system. The shift lock is designed to: • Prevent ignition key removal unless the shift lever is in P (Park) with the shift lever button fully released. • Prevent movement of the shift lever out of P (Park) unless the ig ...
Installation Procedure
Install the following components on the drivetrain and front suspension frame: CH 49460-1 adapter (2). CH 49460-2 adapter (4). CH 6615-10 hydraulic cylinder (1). NEW frame insulator (3) Note: Check marking of frame insulator. Press carefully the frame insulator in to the ...