Chevrolet Cruze Owners Manual: Hood
To open the hood: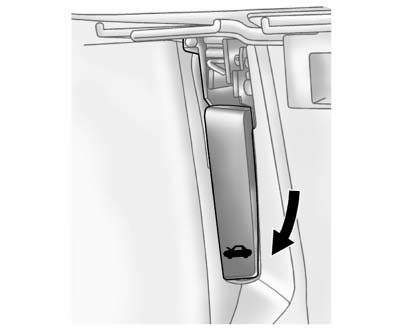 1. Pull up on the hood release handle. It is located inside the vehicle to the left of the steering column.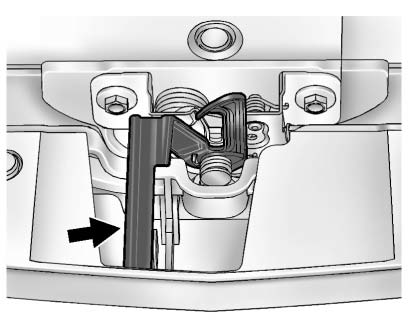 2. Go to the front of the vehicle and push the secondary hood release handle toward the driver side of the vehicle.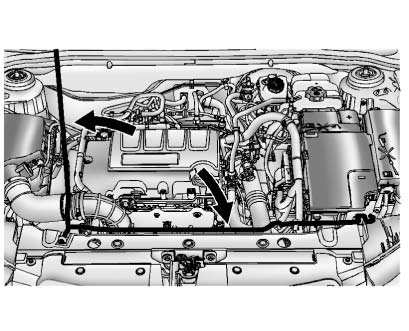 3. Lift the hood and release the hood prop from its retainer, located above the radiator.
Securely place the hood prop into the slot on the underside of the hood.
To close the hood:
1. Before closing the hood, be sure all the filler caps are on properly.
Then, lift the hood to relieve pressure on the hood prop.
Remove the hood prop from the slot on the underside of the hood and return the prop to its retainer. The prop rod must click into place when returning it to the retainer to prevent hood damage.
2. Lower the hood 30 cm (12 in) above the vehicle and release it so it fully latches. Check to make sure the hood is closed and repeat the process if necessary.
WARNING It can be dangerous to work on your vehicle if you do not have the proper knowledge, service manual, tools, or parts. Always follow owner manual procedures and consult the service manual ...
1.4L L4 Engine 1. Engine Air Cleaner/Filter 2. Engine Oil Dipstick. 3. Engine Cooling Fan (Out of View). 4. Engine Oil Fill Cap. 5. Remote Negative (-) Grounding Point. 6. Brake/Clutch ...
Other materials:
Satellite Radio
Vehicles with a SiriusXM® satellite radio tuner and a valid SiriusXM satellite radio subscription can receive SiriusXM programming. SiriusXM Satellite Radio Service SiriusXM is a satellite radio service based in the 48 contiguous United States and 10 Canadian provinces. SiriusXM satellite rad ...
Rear Suspension Description and Operation
This vehicle has a semi-independent twist-beam rear suspension system consisting of the following components: An axle with integral trailing arms AV shaped twisting cross beam Two coil springs Two shock absorbers Axle Assembly The axle assembly (1) attaches to the underbody throu ...
Rear Brake Rotor Replacement
Special Tools CH 41013 Rotor Resurfacing Kit CH 42450-A Wheel Hub Resurfacing Kit For equivalent regional tools, refer to Special Tools. Removal Procedure Warning: Refer to Brake Dust Warning in the Preface section. Remove rear brake caliper bracket. Refer to Rear Brake Caliper Br ...