Chevrolet Cruze Owners Manual: Hood
To open the hood: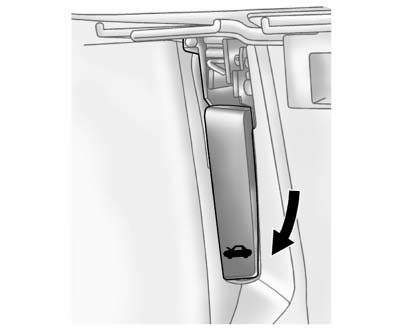 1. Pull up on the hood release handle. It is located inside the vehicle to the left of the steering column.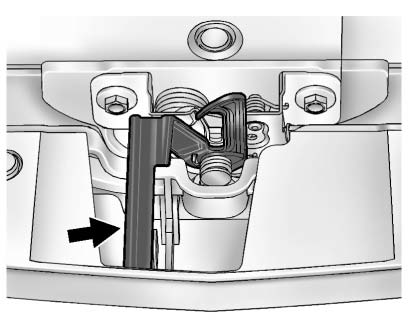 2. Go to the front of the vehicle and push the secondary hood release handle toward the driver side of the vehicle.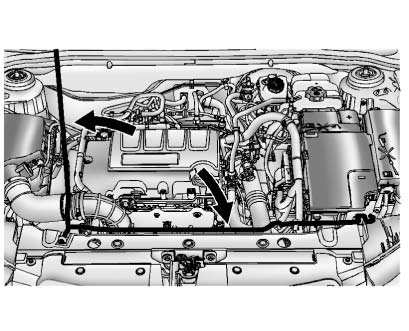 3. Lift the hood and release the hood prop from its retainer, located above the radiator.
Securely place the hood prop into the slot on the underside of the hood.
To close the hood:
1. Before closing the hood, be sure all the filler caps are on properly.
Then, lift the hood to relieve pressure on the hood prop.
Remove the hood prop from the slot on the underside of the hood and return the prop to its retainer. The prop rod must click into place when returning it to the retainer to prevent hood damage.
2. Lower the hood 30 cm (12 in) above the vehicle and release it so it fully latches. Check to make sure the hood is closed and repeat the process if necessary.
WARNING It can be dangerous to work on your vehicle if you do not have the proper knowledge, service manual, tools, or parts. Always follow owner manual procedures and consult the service manual ...
1.4L L4 Engine 1. Engine Air Cleaner/Filter 2. Engine Oil Dipstick. 3. Engine Cooling Fan (Out of View). 4. Engine Oil Fill Cap. 5. Remote Negative (-) Grounding Point. 6. Brake/Clutch ...
Other materials:
Drunk Driving
Death and injury associated with drinking and driving is a global tragedy. WARNING Drinking and then driving is very dangerous. Your reflexes, perceptions, attentiveness, and judgment can be affected by even a small amount of alcohol. You can have a serious Ч or even fatal Ч collision if you d ...
Cruise Control
For vehicles with cruise control, the vehicle can maintain a speed of about 40 km/h (25 mph) or more without keeping your foot on the accelerator. Cruise control does not work at speeds below 40 km/h (25 mph). If the brakes are applied, the cruise control shuts off. The vehicle has a Traction ...
Installation Procedure
Drill 8 mm (5/16 in) for plug welding along the edges of the rear bumper impact bar stud plate as noted from the original panel. Note: If the location of the original plug weld holes can not be determined, space the plug weld holes every 40 mm (1½ in). Clean and prepare the ...