Chevrolet Cruze Owners Manual: Hood
To open the hood: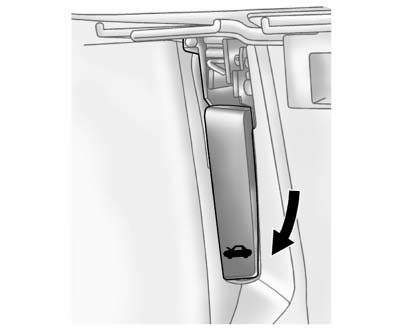 1. Pull up on the hood release handle. It is located inside the vehicle to the left of the steering column.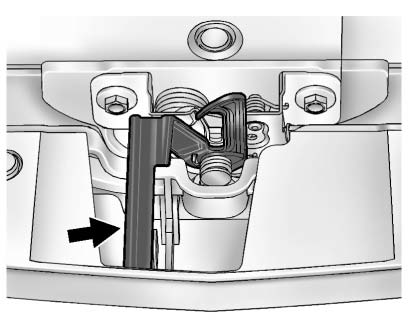 2. Go to the front of the vehicle and push the secondary hood release handle toward the driver side of the vehicle.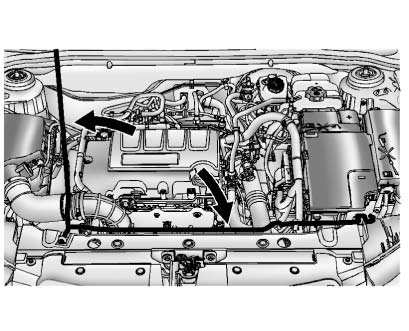 3. Lift the hood and release the hood prop from its retainer, located above the radiator.
Securely place the hood prop into the slot on the underside of the hood.
To close the hood:
1. Before closing the hood, be sure all the filler caps are on properly.
Then, lift the hood to relieve pressure on the hood prop.
Remove the hood prop from the slot on the underside of the hood and return the prop to its retainer. The prop rod must click into place when returning it to the retainer to prevent hood damage.
2. Lower the hood 30 cm (12 in) above the vehicle and release it so it fully latches. Check to make sure the hood is closed and repeat the process if necessary.
WARNING It can be dangerous to work on your vehicle if you do not have the proper knowledge, service manual, tools, or parts. Always follow owner manual procedures and consult the service manual ...
1.4L L4 Engine 1. Engine Air Cleaner/Filter 2. Engine Oil Dipstick. 3. Engine Cooling Fan (Out of View). 4. Engine Oil Fill Cap. 5. Remote Negative (-) Grounding Point. 6. Brake/Clutch ...
Other materials:
Additional Maintenance and Care
Your vehicle is an important investment and caring for it properly may help to avoid future costly repairs. To maintain vehicle performance, additional maintenance services may be required. It is recommended that your dealer perform these services Ч their trained dealer technicians know your v ...
Air Conditioning Condenser Replacement (1.6L LDE, LXT, LXV, and 1.8L 2H0)
Removal Procedure Recover the refrigerant. Refer to Refrigerant Recovery and Recharging. Disconnect battery negative cable. Refer to Battery Negative Cable Disconnection and Connection. Remove front bumper fascia. Refer to Front Bumper Fascia Replacement. Remove air intake duct ...
Installation Procedure
Create 5 x 18 mm (4/16 x 11/16 in) slots for MIG-brazing (1). Clean and prepare the attaching surfaces for spot welding and brazing. Note: In MIG-brazing areas 50 mm (2 in) must be kept clear of structural adhesive. Apply structural adhesive to all attaching surfaces ...