Chevrolet Cruze Owners Manual: Hood
To open the hood: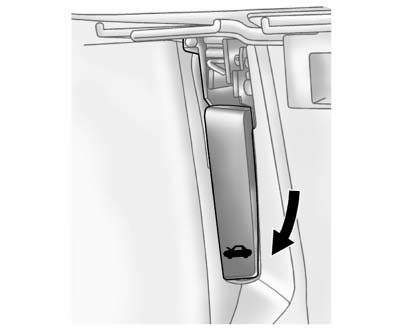 1. Pull up on the hood release handle. It is located inside the vehicle to the left of the steering column.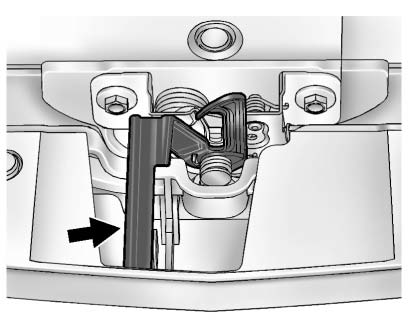 2. Go to the front of the vehicle and push the secondary hood release handle toward the driver side of the vehicle.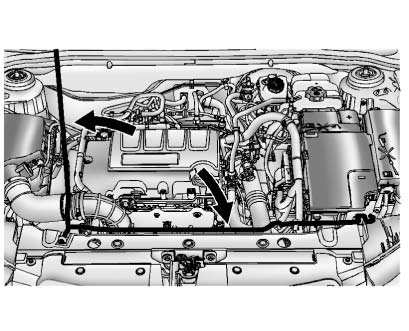 3. Lift the hood and release the hood prop from its retainer, located above the radiator.
Securely place the hood prop into the slot on the underside of the hood.
To close the hood:
1. Before closing the hood, be sure all the filler caps are on properly.
Then, lift the hood to relieve pressure on the hood prop.
Remove the hood prop from the slot on the underside of the hood and return the prop to its retainer. The prop rod must click into place when returning it to the retainer to prevent hood damage.
2. Lower the hood 30 cm (12 in) above the vehicle and release it so it fully latches. Check to make sure the hood is closed and repeat the process if necessary.
WARNING It can be dangerous to work on your vehicle if you do not have the proper knowledge, service manual, tools, or parts. Always follow owner manual procedures and consult the service manual ...
1.4L L4 Engine 1. Engine Air Cleaner/Filter 2. Engine Oil Dipstick. 3. Engine Cooling Fan (Out of View). 4. Engine Oil Fill Cap. 5. Remote Negative (-) Grounding Point. 6. Brake/Clutch ...
Other materials:
Power Steering
Specifications Power Steering System Bleeding Note: Use clean, new power steering fluid type only. See the Maintenance and Lubrication subsection for fluid specifications. Hoses touching the frame, body or engine may cause system noise. Verify that the hoses do not touch any ot ...
Installation Procedure
Note: If the location of the original plug weld holes can not be determined, space the plug weld holes every 40 mm (1½ in). Drill 8 mm (5/16 in) for plug welding along the edges of the underbody rear side rail reinforcement as noted from the original panel. Clean and ...
Inflatable Restraint Passenger Presence Detection System - If Equipped
Note: The passenger presence detection system includes an ECU and a sensor mat that can be serviced separately. After repairing or replacing any part of the passenger presence detection system, the system must be rezeroed in order to function properly. The passenger presence detection system i ...