Chevrolet Cruze Owners Manual: Hood
To open the hood: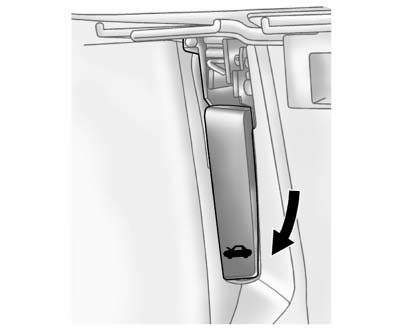 1. Pull up on the hood release handle. It is located inside the vehicle to the left of the steering column.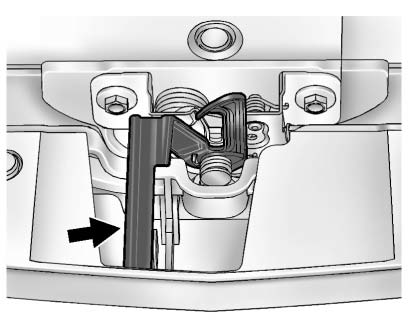 2. Go to the front of the vehicle and push the secondary hood release handle toward the driver side of the vehicle.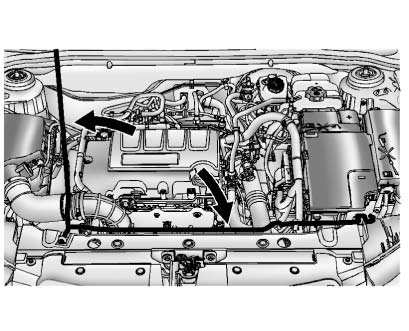 3. Lift the hood and release the hood prop from its retainer, located above the radiator.
Securely place the hood prop into the slot on the underside of the hood.
To close the hood:
1. Before closing the hood, be sure all the filler caps are on properly.
Then, lift the hood to relieve pressure on the hood prop.
Remove the hood prop from the slot on the underside of the hood and return the prop to its retainer. The prop rod must click into place when returning it to the retainer to prevent hood damage.
2. Lower the hood 30 cm (12 in) above the vehicle and release it so it fully latches. Check to make sure the hood is closed and repeat the process if necessary.
WARNING It can be dangerous to work on your vehicle if you do not have the proper knowledge, service manual, tools, or parts. Always follow owner manual procedures and consult the service manual ...
1.4L L4 Engine 1. Engine Air Cleaner/Filter 2. Engine Oil Dipstick. 3. Engine Cooling Fan (Out of View). 4. Engine Oil Fill Cap. 5. Remote Negative (-) Grounding Point. 6. Brake/Clutch ...
Other materials:
Quick Info
Quick Info gives access to quick information on Audio playing, OnStar Turn-by-Turn route (if equipped), 5-day forecast, Nearby Fuel Stations, and Movie Show Times. To access, press Quick Info on the Home Page or the INFO button on the faceplate. Depending on the system and if the options are ...
Exit Lighting
The headlamps, taillamps, parking lamps, back-up lamps, and license plate lamps come on at night, or in areas with limited lighting, when the key is removed from the ignition. The dome lamps also come on when the key is removed from the ignition. The exterior lights and dome lamps remain on a ...
Collision Damage Repair
If the vehicle is involved in a collision and it is damaged, have the damage repaired by a qualified technician using the proper equipment and quality replacement parts. Poorly performed collision repairs diminish the vehicle resale value, and safety performance can be compromised in subsequen ...