Chevrolet Cruze Owners Manual: Power Mirrors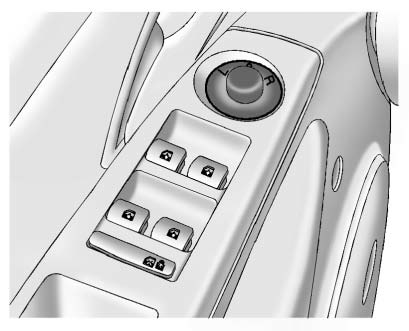 To adjust the mirror: 1. Turn the selector switch to L (Left) or R (Right) to choose the driver or passenger mirror.
2. Move the control to adjust the mirror.
3. Turn the selector switch to the O position to deselect the mirror.
Vehicles with a manual mirror adjustment have controls next to each mirror. Adjust the inside rearview mirror by moving it up and down or side to side. Adjust the mirror to avoid glare from the h ...
Manual Folding Mirrors The vehicle has manual folding mirrors. These mirrors can be folded inward to prevent damage when going through an automatic car wash. To fold, pull the mirror toward the v ...
Other materials:
Engine Heater
The engine heater, if available, can help in cold weather conditions at or below −18°C (0°F) for easier starting and better fuel economy during engine warm-up. Plug in the heater at least four hours before starting the vehicle. An internal thermostat in the plug end of the cord will prev ...
Battery Negative Cable Disconnection and Reconnection
Removal Procedure Turn on the radio and record all of the customer radio station presets. Ensure that all lamps and accessories are turned off. Turn the ignition OFF and remove the ignition key. Warning: Refer to Battery Disconnect Warning in the Preface section. Loosen the negati ...
GM Mobility Reimbursement Program
This program is available to qualified applicants for cost reimbursement of eligible aftermarket adaptive equipment required for the vehicle, such as hand controls or a wheelchair/ scooter lift for the vehicle. For more information on the limited offer, visit www.gmmobility.com or call the ...