Chevrolet Cruze Owners Manual: Manual Mirrors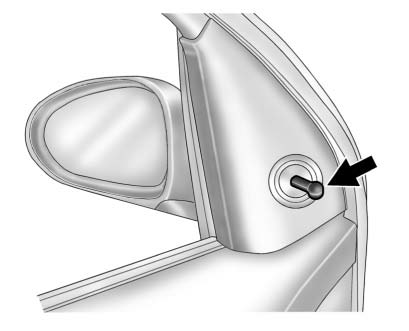 Vehicles with a manual mirror adjustment have controls next to each mirror.
Adjust the inside rearview mirror by moving it up and down or side to side. Adjust the mirror to avoid glare from the headlamps behind you.
Push the tab forward for daytime use and pull it for nighttime use.
WARNING A convex mirror can make things, like other vehicles, look farther away than they really are. If you cut too sharply into the right lane, you could hit a vehicle on the right. Check the i ...
To adjust the mirror: 1. Turn the selector switch to L (Left) or R (Right) to choose the driver or passenger mirror. 2. Move the control to adjust the mirror. 3. Turn the selector switch to the ...
Other materials:
Starter Switch Check
WARNING When you are doing this inspection, the vehicle could move suddenly. If the vehicle moves, you or others could be injured. 1. Before starting this check, be sure there is enough room around the vehicle. 2. Firmly apply both the parking brake and the regular brake. Do not use the accele ...
Engine Cooling System Messages
A/C OFF DUE TO HIGH ENGINE TEMP This message displays when the engine coolant becomes hotter than the normal operating temperature. To avoid added strain on a hot engine, the air conditioning compressor automatically turns off. When the coolant temperature returns to normal, the air condition ...
If a Tire Goes Flat
It is unusual for a tire to blowout while driving, especially if the tires are maintained properly. If air goes out of a tire, it is much more likely to leak out slowly. But if there ever is a blowout, here are a few tips about what to expect and what to do: If a front tire fails, the flat tir ...