Chevrolet Cruze Owners Manual: Manual Mirrors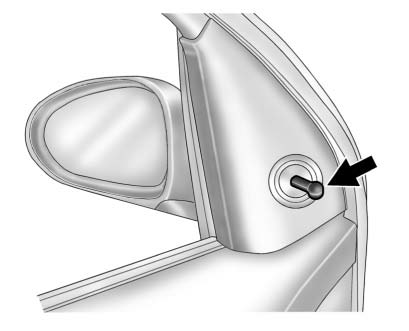 Vehicles with a manual mirror adjustment have controls next to each mirror.
Adjust the inside rearview mirror by moving it up and down or side to side. Adjust the mirror to avoid glare from the headlamps behind you.
Push the tab forward for daytime use and pull it for nighttime use.
WARNING A convex mirror can make things, like other vehicles, look farther away than they really are. If you cut too sharply into the right lane, you could hit a vehicle on the right. Check the i ...
To adjust the mirror: 1. Turn the selector switch to L (Left) or R (Right) to choose the driver or passenger mirror. 2. Move the control to adjust the mirror. 3. Turn the selector switch to the ...
Other materials:
Variable Effort Steering System Description and Operation
The Variable Effort Steering (VES) system or MAGNASTEER® varies the amount of effort required to steer the vehicle as vehicle speed changes. At low speeds, the system provides minimal steering effort for easy turning and parking maneuvers. Steering effort is increased at higher speeds to provi ...
Auxiliary Devices
If equipped, the AUX inputs are in the center console and allows portable devices to connect to the vehicle using the 3.5 mm(1/8 in) auxiliary jack or USB port. 3.5mm Jack Connect a 3.5mm (1/8 in) cable to the auxiliary input jack to use a portable audio player. Playback of an audio device th ...
Hill and Mountain Roads
Driving on steep hills or through mountains is different than driving on flat or rolling terrain. Tips for driving in these conditions include: • Keep the vehicle serviced and in good shape. • Check all fluid levels and brakes, tires, cooling system, and transmission. • Shift to a lower g ...