Chevrolet Cruze Owners Manual: Manual Mirrors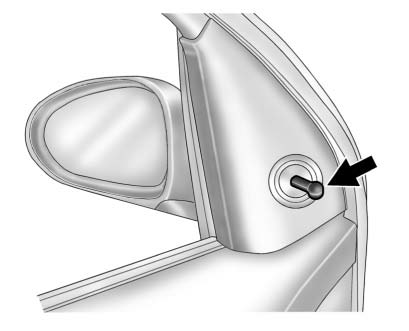 Vehicles with a manual mirror adjustment have controls next to each mirror.
Adjust the inside rearview mirror by moving it up and down or side to side. Adjust the mirror to avoid glare from the headlamps behind you.
Push the tab forward for daytime use and pull it for nighttime use.
WARNING A convex mirror can make things, like other vehicles, look farther away than they really are. If you cut too sharply into the right lane, you could hit a vehicle on the right. Check the i ...
To adjust the mirror: 1. Turn the selector switch to L (Left) or R (Right) to choose the driver or passenger mirror. 2. Move the control to adjust the mirror. 3. Turn the selector switch to the ...
Other materials:
Installation Procedure
Install NEW stabilizer shaft insulators (1) to stabilizer shaft (2) so that the slit in the insulator is facing the rear of the vehicle. Install the insulator c 2. lamp to the insulator: 2.1. Position the clamp (2) over on the insulator. 2.2. Use two M8 bolts (1, 3) with 40 ...
Installation Procedure
Create 5 x 18 mm (4/16 x 11/16 in) slots for MIG-Brazing along the edges of the front wheelhouse front panel as noted from the original panel. Create a 5 x 18 mm (4/16 x 11/16 in) slot for MIG-Brazing where front wheelhouse front panel and front wheelhouse overlap. C ...
Low-Profile Tires
If the vehicle has P225/45R18 size tires, they are classified as low‐profile tires. These tires are designed for very responsive driving on wet or dry pavement, however, may produce more road noise and tend to wear faster. Notice: Low-profile tires are more susceptible to damage from road ...