Chevrolet Cruze Owners Manual: Manual Mirrors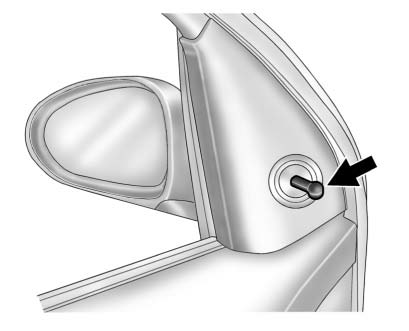 Vehicles with a manual mirror adjustment have controls next to each mirror.
Adjust the inside rearview mirror by moving it up and down or side to side. Adjust the mirror to avoid glare from the headlamps behind you.
Push the tab forward for daytime use and pull it for nighttime use.
WARNING A convex mirror can make things, like other vehicles, look farther away than they really are. If you cut too sharply into the right lane, you could hit a vehicle on the right. Check the i ...
To adjust the mirror: 1. Turn the selector switch to L (Left) or R (Right) to choose the driver or passenger mirror. 2. Move the control to adjust the mirror. 3. Turn the selector switch to the ...
Other materials:
Starter Switch Check
WARNING When you are doing this inspection, the vehicle could move suddenly. If the vehicle moves, you or others could be injured. 1. Before starting this check, be sure there is enough room around the vehicle. 2. Firmly apply both the parking brake and the regular brake. Do not use the accele ...
Scheduling Service Appointments
When the vehicle requires warranty service, contact your dealer and request an appointment. By scheduling a service appointment and advising the service consultant of your transportation needs, your dealer can help minimize your inconvenience. If the vehicle cannot be scheduled into the service ...
Dual Phase Steel
This information provides repair recommendations and general guidelines for steel classified as Dual Phase Steel (Dual Phase Steel with a tensile strength up to and including 800 MPa), also known as DP. General Motors recommends the following when repairing or replacing this type of steel du ...