Chevrolet Cruze Repair Manual: Interior Windnoise
Warning: Refer to Assistant Driving Warning in the Preface section.
Interior windnoise is not heard when the window is lowered. Interior windnoise is caused by the air leaving the inside of the vehicle through a seal or a seam.
Tape over the relief valves to cause added air pressure within the vehicle.
Test drive the vehicle and listen for windnoise or a whistle.
Pull the vehicle over and make the temporary repairs using masking tape. If you cannot determine the source of the windnoise, perform one or more of the following diagnostic tests:
Air Pressure Test
Soap Suds or Bubble Test
Tracing Powder or Chalk Test
Special Tools and Equipment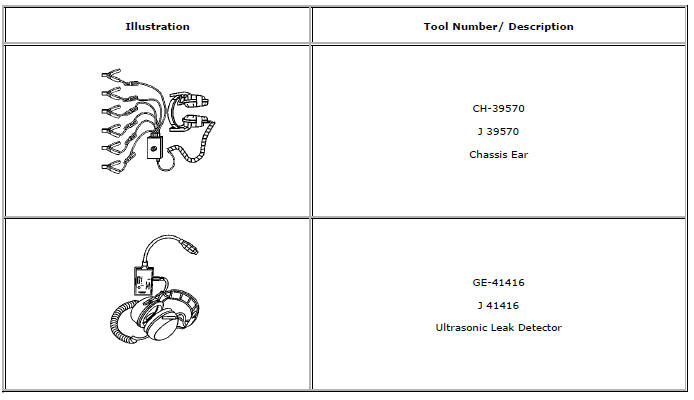 Warning: Refer to Assistant Driving Warning in the Preface section. Exterior windnoise is louder when the vehicle is driven with one or more windows down. Exterior windnoise occurs when air passes ...
Other materials:
Remote Keyless Entry (RKE) System
The Remote Keyless Entry (RKE) transmitter may work up to 60m (195 ft) away from the vehicle. RKE Transmitter with Remote Start Shown Press the key release button to extend the key blade. The key can be used for the ignition and all locks. Press to unlock the driver door or all doors. P ...
Fuel and Evaporative Emission Pipe Warning
Warning: In order to reduce the risk of fire and personal injury observe the following items: Replace all nylon fuel pipes that are nicked, scratched or damaged during installation, do not attempt to repair the sections of the nylon fuel pipes Do not hammer directly on the fuel harness ...
Installation Procedure
Remove all mounds or loose pieces of urethane adhesive from the pinch-weld area. Inspect for any of the following problems in order to help prevent future breakage of the window: High weld Solder spots Hardened sealer Any other obstruction or irregularity in the pinch-weld fla ...