Chevrolet Cruze Owners Manual: Tire Rotation
Tires should be rotated every 12 000 km (7,500 mi).
Tires are rotated to achieve a uniform wear for all tires. The first rotation is the most important.
Anytime unusual wear is noticed, rotate the tires as soon as possible, check for proper tire inflation pressure, and check for damaged tires or wheels. If the unusual wear continues after the rotation, check the wheel alignment.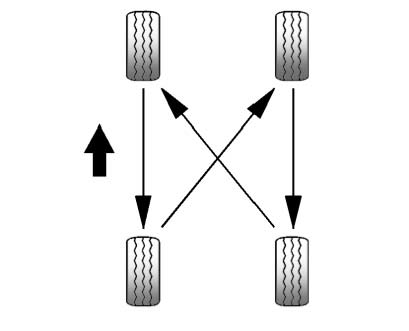 Use this rotation pattern when rotating the tires.
Do not include the compact spare tire in the tire rotation.
Adjust the front and rear tires to the recommended inflation pressure on the Tire and Loading Information label after the tires have been rotated.
Reset the Tire Pressure Monitor System.
Check that all wheel nuts are properly tightened.
WARNING
Rust or dirt on a wheel, or on the parts to which it is fastened, can make wheel nuts become loose after time. The wheel could come off and cause an accident. When changing a wheel, remove any rust or dirt from places where the wheel attaches to the vehicle. In an emergency, a cloth or a paper towel can be used; however, use a scraper or wire brush later to remove all rust or dirt.
Lightly coat the center of the wheel hub with wheel bearing grease after a wheel change or tire rotation to prevent corrosion or rust build-up. Do not get grease on the flat wheel mounting surface or on the wheel nuts or bolts.
We recommend that the tires, including the spare tire, if the vehicle has one, be inspected for signs of wear or damage at least once a month. Replace the tire if: • The indicators at three or mor ...
Factors such as maintenance, temperatures, driving speeds, vehicle loading, and road conditions affect the wear rate of the tires. Treadwear indicators are one way to tell when it is time for new ...
Other materials:
Roof Console Replacement
Dome Lamp Bezel Roof Console Screw (Qty: 2) Caution: Refer to Fastener Caution in the Preface section. Tighten 2.5 N·m (22 lb in) Roof Console Assembly Procedure Disconnect the electrical connectors. When replacing the driver information display bezel, remove the dri ...
Loss of Control
Skidding There are three types of skids that correspond to the vehicle's three control systems: • Braking Skid — wheels are not rolling. • Steering or Cornering Skid — too much speed or steering in a curve causes tires to slip and lose cornering force. • Acceleration Skid — too much thro ...
Traction Off Light
This light comes on briefly while starting the engine. If it does not, have the vehicle serviced by your dealer. If the system is working normally, the indicator light then turns off. The traction off light comes on when the Traction Control System (TCS) has been turned off by pressing and ...