Chevrolet Cruze Owners Manual: Wiper Blade Replacement
Windshield wiper blades should be inspected for wear and cracking.
Replacement blades come in different types and are removed in different ways.
Notice: Allowing the wiper arm to touch the windshield when no wiper blade is installed could damage the windshield. Any damage that occurs would not be covered by your warranty. Do not allow the wiper arm to touch the windshield.
1. Lift the wiper arm away from the windshield.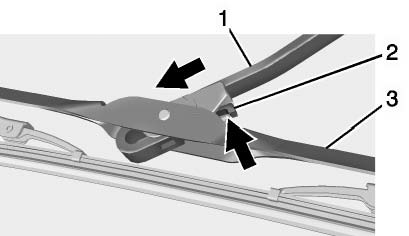 2. Push the release lever (2) to disengage the hook and push the wiper arm (1) out of the blade assembly (3).
3. Push the new blade assembly securely on the wiper arm until the release lever clicks into place.
WARNING When you are doing this check, the vehicle could begin to move. You or others could be injured and property could be damaged. Make sure there is room in front of the vehicle in case it begi ...
Headlamp aim has been preset and should need no further adjustment. If the vehicle is damaged in a crash, the headlamp aim may be affected. If adjustment to the headlamps is necessary, see your deal ...
Other materials:
Installation Procedure
Prepare all mating surfaces as necessary Align the body lock pillar outer panel reinforcement. Drill 8 mm (5/16 in) for plug welding along the edges of the body lock pillar outer panel reinforcement as noted from the original panel. Clean and prepare the attaching surfac ...
Installation Procedure
Cut the rocker outer panel in corresponding locations to fit the remaining original panel. The sectioning joint should be trimmed to allow a gap of one-and-one-half-times the metal thickness at the sectioning joint. Create a 50 mm (2 in) backing plate from the unused portion of the ...
Power Steering
Specifications Power Steering System Bleeding Note: Use clean, new power steering fluid type only. See the Maintenance and Lubrication subsection for fluid specifications. Hoses touching the frame, body or engine may cause system noise. Verify that the hoses do not touch any ot ...