Chevrolet Cruze Owners Manual: Wiper Blade Replacement
Windshield wiper blades should be inspected for wear and cracking.
Replacement blades come in different types and are removed in different ways.
Notice: Allowing the wiper arm to touch the windshield when no wiper blade is installed could damage the windshield. Any damage that occurs would not be covered by your warranty. Do not allow the wiper arm to touch the windshield.
1. Lift the wiper arm away from the windshield.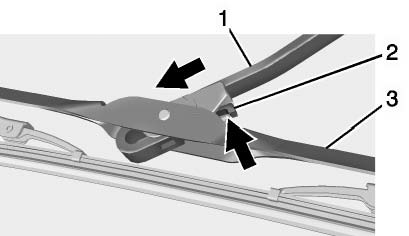 2. Push the release lever (2) to disengage the hook and push the wiper arm (1) out of the blade assembly (3).
3. Push the new blade assembly securely on the wiper arm until the release lever clicks into place.
WARNING When you are doing this check, the vehicle could begin to move. You or others could be injured and property could be damaged. Make sure there is room in front of the vehicle in case it begi ...
Headlamp aim has been preset and should need no further adjustment. If the vehicle is damaged in a crash, the headlamp aim may be affected. If adjustment to the headlamps is necessary, see your deal ...
Other materials:
Stationary Window Waterleak Repair
Note: If any water enters the vehicle interior up to the level of the carpet or higher and soaks the carpet, the sensing and diagnostic module (SDM) and the SDM harness connector may need to be replaced. The SDM could be activated when powered, which could cause deployment of the air bag(s) an ...
New Vehicle Break-In
Notice: The vehicle does not need an elaborate break-in. But it will perform better in the long run if you follow these guidelines: Х Do not drive at any one constant speed, fast or slow, for the first 805 km (500 mi). Do not make full-throttle starts. Avoid downshifting to brake or slow the v ...
Installation Procedure
Install the following components on the drivetrain and front suspension frame if removed: The radiator support brackets. The stabilizer shaft--Refer to Stabilizer Shaft Replacement. The lower control arms--Refer to Lower Control Arm Replacement. The steering gear--Refer to Steering ...