Chevrolet Cruze Owners Manual: Cupholders
Cupholders are in the center console.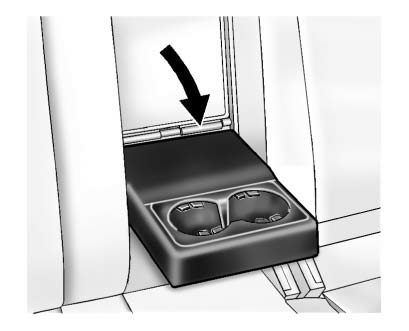 Cupholders may be located in the second row seat armrest. To access, pull the armrest down.
Open the glove box by lifting up on the lever. ...
The center console storage has a storage area under the armrest. Pull up on the latch on the front of the armrest to access. Pull up on the latch and slide the center console armrest to adjust th ...
Other materials:
Scheduling Service Appointments
When the vehicle requires warranty service, contact your dealer and request an appointment. By scheduling a service appointment and advising the service consultant of your transportation needs, your dealer can help minimize your inconvenience. If the vehicle cannot be scheduled into the service ...
Rear Suspension Description and Operation
This vehicle has a semi-independent twist-beam rear suspension system consisting of the following components: An axle with integral trailing arms AV shaped twisting cross beam Two coil springs Two shock absorbers Axle Assembly The axle assembly (1) attaches to the underbody throu ...
Fuses and Circuit Breakers
The wiring circuits in the vehicle are protected from short circuits by a combination of fuses and circuit breakers. This greatly reduces the chance of damage caused by electrical problems. To check a fuse, look at the silver-colored band inside the fuse. If the band is broken or melted, repla ...