Chevrolet Cruze Owners Manual: Engine Heater
The engine heater, if available, can help in cold weather conditions at or below −18°C (0°F) for easier starting and better fuel economy during engine warm-up. Plug in the heater at least four hours before starting the vehicle. An internal thermostat in the plug end of the cord will prevent engine heater operation at temperatures above −18°C (0°F).
To Use The Engine Heater
1. Turn off the engine.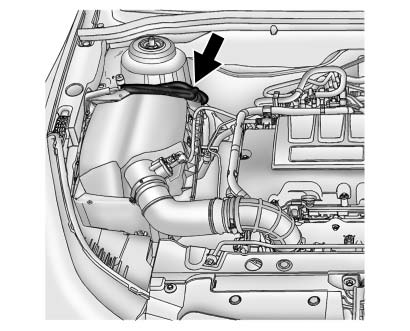 1.4L Engine Shown, 1.8L Similar
2. Open the hood and unwrap the electrical cord. The electrical cord is located on the passenger side of the engine compartment, behind the air cleaner.
3. Plug it into a normal, grounded 110-volt AC outlet.
WARNING
Plugging the cord into an ungrounded outlet could cause an electrical shock. Also, the wrong kind of extension cord could overheat and cause a fire. You could be seriously injured. Plug the cord into a properly grounded three-prong 110-volt AC outlet.
If the cord will not reach, use a heavy-duty three-prong extension cord rated for at least 15 amps
.
4. Before starting the engine, be sure to unplug and store the cord as it was before to keep it away from moving engine parts.
If you do not it could be damaged.
The length of time the heater should remain plugged in depends on several factors. Ask a dealer in the area where you will be parking the vehicle for the best advice on this.
Place the transmission in the proper gear. Notice: If you add electrical parts or accessories, you could change the way the engine operates. Any resulting damage would not be covered by the vehicle ...
These vehicle accessories may be used for up to 10 minutes after the engine is turned off: • Audio System • Power Windows • Sunroof The power windows and sunroof will continue to work for up to ...
Other materials:
Wheel Stud Replacement
Removal Procedure Raise and suitably support the vehicle. Refer to Lifting and Jacking the Vehicle. Remove the tire and wheel assembly. Refer to Tire and Wheel Removal and Installation. Remove the wheel bearing/hub. Refer to Rear Wheel Bearing and Hub Replacement. Cauti ...
Heated Seats
If available, the controls are on the center stack. The engine must be running to operate the heated seats. Press or to heat the driver or passenger seat cushion and seatback. Press the control once for the highest setting. With each press of the control, the heated seat will change to ...
SIR Identification Views
The SIR Identification Views shown below illustrate the approximate location of all SIR components available for the vehicle. This will assist in determining the appropriate SIR Disabling and Enabling for a given service procedure, refer to SIR Disabling and Enabling. Front End Sensor-- ...