Chevrolet Cruze Owners Manual: Front Fog Lamps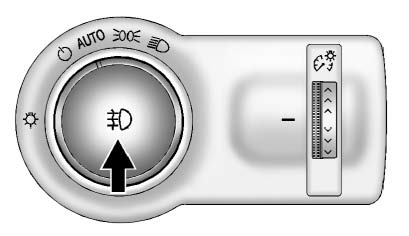 For vehicles with front fog lamps, the button is on the outboard side of the instrument panel.
The ignition must be on to turn on the fog lamps.

(Front Fog Lamps):
Press to turn the fog lamps on or off. An indicator light on the instrument cluster comes on when the fog lamps are on.
The fog lamps come on together with the parking lamps.
If the high-beam headlamps are turned on, the fog lamps will turn off.
If the high-beam headlamps are turned off, the fog lamps will turn back on again.
Some localities have laws that require the headlamps to be on along with the fog lamps.
Move the lever all the way up or down to signal a turn. An arrow on the instrument cluster will flash in the direction of the turn or lane change. Raise or lower the lever until the arrow starts ...
Other materials:
Trailer Towing (Except Fuel Economy Model)
Before pulling a trailer, there are three important considerations that have to do with weight: Х The weight of the trailer. Х The weight of the trailer tongue. Х The total weight on your vehicle's tires. Weight of the Trailer How heavy can a trailer safely be? It should never weigh more ...
Brake Fluid
The brake/clutch master cylinder reservoir is filled with DOT 3 brake fluid as indicated on the reservoir cap. There are only two reasons why the brake fluid level in the reservoir might go down: Х The brake fluid level goes down because of normal brake lining wear. When new linings are in ...
Braking
Braking action involves perception time and reaction time. Deciding to push the brake pedal is perception time. Actually doing it is reaction time. Average driver reaction time is about three-quarters of a second. In that time, a vehicle moving at 100 km/h (60 mph) travels 20m (66 ft), which co ...