Chevrolet Cruze Owners Manual: Turn and Lane-Change Signals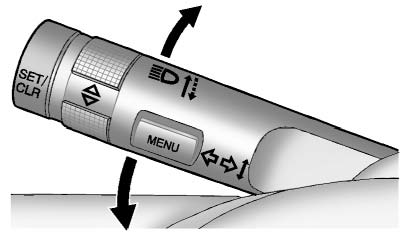 Move the lever all the way up or down to signal a turn.
An arrow on the instrument cluster will flash in the direction of the turn or lane change.
Raise or lower the lever until the arrow starts to flash to signal a lane change. The turn signal flashes three times.
The lever returns to its starting position when it is released.
If after signaling a turn or lane change the arrow flashes rapidly or does not come on, a signal bulb may be burned out. Replace any burned out bulbs. If a bulb is not burned out, check the fuse.
(Hazard Warning Flasher): Press and momentarily hold this button on the instrument panel above the climate control system, to make the front and rear turn signal lamps flash on and off. This ...
For vehicles with front fog lamps, the button is on the outboard side of the instrument panel. The ignition must be on to turn on the fog lamps. (Front Fog Lamps): Press to turn the fog lamps ...
Other materials:
Vehicle Positioning
At times, the position of the vehicle on the map could be inaccurate due to one or more of the following reasons: • The road system has changed. • The vehicle is driving on slippery road surfaces such as sand, gravel, or snow. • The vehicle is traveling on winding roads or long straight roads. ...
Winter Driving
Driving on Snow or Ice Drive carefully when there is snow or ice between the tires and the road, creating less traction or grip. Wet ice can occur at about 0°C (32°F) when freezing rain begins to fall, resulting in even less traction. Avoid driving on wet ice or in freezing rain until roads c ...
Traction Control System (TCS)
The traction control system limits wheel spin. The system is on when the vehicle is started. • To turn off traction control, press and release on the center console. illuminates in the instrument cluster. • Press and release again to turn traction control back on. ...