Chevrolet Cruze Owners Manual: How to Wear Safety Belts Properly
This section is only for people of adult size.
There are special things to know about safety belts and children. And there are different rules for smaller children and infants. If a child will be riding in the vehicle.
Follow those rules for everyone's protection.
It is very important for all occupants to buckle up. Statistics show that unbelted people are hurt more often in crashes than those who are wearing safety belts.
There are important things to know about wearing a safety belt properly.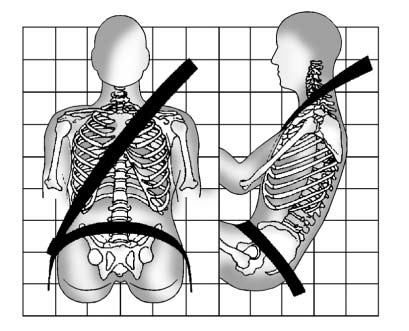 • Sit up straight and always keep your feet on the floor in front of you.
• Always use the correct buckle for your seating position.
• Wear the lap part of the belt low and snug on the hips, just touching the thighs. In a crash, this applies force to the strong pelvic bones and you would be less likely to slide under the lap belt. If you slid under it, the belt would apply force on your abdomen. This could cause serious or even fatal injuries.
• Wear the shoulder belt over the shoulder and across the chest.
These parts of the body are best able to take belt restraining forces. The shoulder belt locks if there is a sudden stop or crash.
WARNING
You can be seriously injured, or even killed, by not wearing your safety belt properly.
• Never allow the lap or shoulder belt to become loose or twisted.
• Never wear the shoulder belt under both arms or behind your back.
• Never route the lap or shoulder belt over an armrest.
This section of the manual describes how to use safety belts properly. It also describes some things not to do with safety belts. WARNING Do not let anyone ride where a safety belt cannot be worn ...
All seating positions in the vehicle have a lap-shoulder belt. The following instructions explain how to wear a lap-shoulder belt properly. 1. Adjust the seat, if the seat is adjustable, so you can ...
Other materials:
Stitcher Internet Radio
Stitcher SmartRadio™ is an Internet radio service that streams news, sports, and entertainment shows through the audio system. Create personalized, on-demand stations or discover new shows through Stitcher's preset stations. To set up an account, download the application from the Android M ...
Removal Procedure
Raise and support the vehicle. Refer to Lifting and Jacking the Vehicle. Remove the tire and wheel. Refer to Tire and Wheel Removal and Installation. Note: DO NOT re-use the lower control arm bolts and nuts. Discard and use NEW only. Remove wheel speed sensor wiring harness ...
Mild Steel
This information provides repair recommendations and general guidelines for steel classified as Mild Steel. This type of steel normally has a tensile strength less than 270 MPa. This includes the common steel names of: Mild Steel Bake Hardenable Steel (BH) Solid Solution Strengthened Stee ...