Chevrolet Cruze Owners Manual: How to Wear Safety Belts Properly
This section is only for people of adult size.
There are special things to know about safety belts and children. And there are different rules for smaller children and infants. If a child will be riding in the vehicle.
Follow those rules for everyone's protection.
It is very important for all occupants to buckle up. Statistics show that unbelted people are hurt more often in crashes than those who are wearing safety belts.
There are important things to know about wearing a safety belt properly.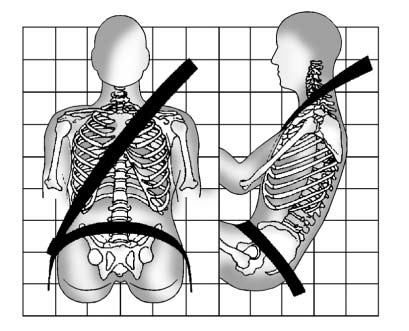 • Sit up straight and always keep your feet on the floor in front of you.
• Always use the correct buckle for your seating position.
• Wear the lap part of the belt low and snug on the hips, just touching the thighs. In a crash, this applies force to the strong pelvic bones and you would be less likely to slide under the lap belt. If you slid under it, the belt would apply force on your abdomen. This could cause serious or even fatal injuries.
• Wear the shoulder belt over the shoulder and across the chest.
These parts of the body are best able to take belt restraining forces. The shoulder belt locks if there is a sudden stop or crash.
WARNING
You can be seriously injured, or even killed, by not wearing your safety belt properly.
• Never allow the lap or shoulder belt to become loose or twisted.
• Never wear the shoulder belt under both arms or behind your back.
• Never route the lap or shoulder belt over an armrest.
This section of the manual describes how to use safety belts properly. It also describes some things not to do with safety belts. WARNING Do not let anyone ride where a safety belt cannot be worn ...
All seating positions in the vehicle have a lap-shoulder belt. The following instructions explain how to wear a lap-shoulder belt properly. 1. Adjust the seat, if the seat is adjustable, so you can ...
Other materials:
Windows
WARNING Never leave a child, a helpless adult, or a pet alone in a vehicle, especially with the windows closed in warm or hot weather. They can be overcome by the extreme heat and suffer permanent injuries or even death from heat stroke. The vehicle aerodynamics are designed to improve fuel ...
Metric Fasteners
This vehicle provides fastener dimensions using the metric system. Most metric fasteners are approximate in diameter to equivalent English fasteners. Make replacements using fasteners of the same nominal diameter, thread pitch, and strength. A number marking identifies the OE metric fastener ...
Installation Procedure
Create 8 24 mm (5/16 x 15/16 in) slots for MIG-brazing along the edges of the underbody rear side rail reinforcement as noted from the original panel. Clean and prepare the attaching surfaces for brazing. Position the underbody rear side rail reinforcement on the ve ...