Chevrolet Cruze Owners Manual: Hydraulic Clutch
For vehicles with a manual transmission, it is not necessary to regularly check brake/clutch fluid unless there is a leak suspected.
Adding fluid will not correct a leak.
A fluid loss in this system could indicate a problem. Have the system inspected and repaired.
When to Check and What to Use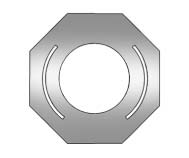 The brake/hydraulic clutch fluid reservoir cap has either a symbol or text specifying the type of brake fluid. The common brake/clutch fluid reservoir is filled with GM approved DOT 3 brake fluid as indicated on the reservoir cap.
How to Check and Add Fluid
Visually check the brake/clutch fluid reservoir to make sure the fluid level is at the MIN (minimum) line on the side of the reservoir. The brake/ hydraulic clutch fluid system should be closed and sealed.
Do not remove the cap to check the fluid level or to top off the fluid level.
Remove the cap only when necessary to add the proper fluid until the level reaches the MIN line.
How to Check Manual Transmission Fluid It is not necessary to check the manual transmission fluid level. A transmission fluid leak is the only reason for fluid loss. If a leak occurs, take the veh ...
When to Inspect the Engine Air Cleaner/Filter Inspect the air cleaner/filter at the scheduled maintenance intervals and replace it at the first oil change after each 80 000 km (50,000 mi) interval. ...
Other materials:
Ignition Positions (Keyless Access)
The vehicle has an electronic keyless ignition with pushbutton start. Pressing the button cycles it through three modes, ACC/ACCESSORY, ON/RUN/START, and Stopping the Engine/OFF. The transmitter must be in the vehicle for the system to operate. If the pushbutton start is not working, the vehi ...
Front Side Door Weatherstrip Replacement - Door Side
Front Side Door Check Bolt Caution: Refer to Fastener Caution in the Preface section. Tighten 25 N·m (19 lb ft) Front Side Door Weatherstrip - Door Side Procedure Unclip weatherstrip 1. from front side door. When removing protective liners from adhesive tape, be careful no ...
Basecoat/Clearcoat Paint Systems
Warning: Exposure to isocyanates during paint preparation and application processes can cause severe breathing problems. Read and follow all of the instructions from the manufacturers of painting materials, equipment, and protective gear. All paint finish repairs of rigid exterior surfaces mus ...