Chevrolet Cruze Owners Manual: Hydraulic Clutch
For vehicles with a manual transmission, it is not necessary to regularly check brake/clutch fluid unless there is a leak suspected.
Adding fluid will not correct a leak.
A fluid loss in this system could indicate a problem. Have the system inspected and repaired.
When to Check and What to Use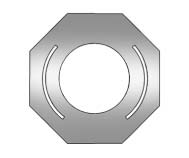 The brake/hydraulic clutch fluid reservoir cap has either a symbol or text specifying the type of brake fluid. The common brake/clutch fluid reservoir is filled with GM approved DOT 3 brake fluid as indicated on the reservoir cap.
How to Check and Add Fluid
Visually check the brake/clutch fluid reservoir to make sure the fluid level is at the MIN (minimum) line on the side of the reservoir. The brake/ hydraulic clutch fluid system should be closed and sealed.
Do not remove the cap to check the fluid level or to top off the fluid level.
Remove the cap only when necessary to add the proper fluid until the level reaches the MIN line.
How to Check Manual Transmission Fluid It is not necessary to check the manual transmission fluid level. A transmission fluid leak is the only reason for fluid loss. If a leak occurs, take the veh ...
When to Inspect the Engine Air Cleaner/Filter Inspect the air cleaner/filter at the scheduled maintenance intervals and replace it at the first oil change after each 80 000 km (50,000 mi) interval. ...
Other materials:
Front Side Door Weatherstrip Replacement - Body Side
Front Side Door Weatherstrip - Body Side Procedure Start at the rear upper corner of the door opening and pull the weatherstrip away from the door opening flange. Position the weatherstrip in the upper corner of the center pillar. Working downward along the front edge, in ...
Doors
Trunk WARNING Exhaust gases can enter the vehicle if it is driven with the liftgate, trunk/hatch open, or with any objects that pass through the seal between the body and the trunk/hatch or liftgate. Engine exhaust contains carbon monoxide (CO) which cannot be seen or smelled. It can cause u ...
Installation Procedure
Install the following components on the drivetrain and front suspension frame: CH 49460-1 adapter (2). CH 49460-2 adapter (4). CH 6615-10 hydraulic cylinder (1). NEW frame insulator (3) Note: Check marking of frame insulator. Press carefully the frame insulator in to the ...