Chevrolet Cruze Owners Manual: Hydraulic Clutch
For vehicles with a manual transmission, it is not necessary to regularly check brake/clutch fluid unless there is a leak suspected.
Adding fluid will not correct a leak.
A fluid loss in this system could indicate a problem. Have the system inspected and repaired.
When to Check and What to Use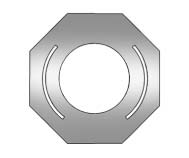 The brake/hydraulic clutch fluid reservoir cap has either a symbol or text specifying the type of brake fluid. The common brake/clutch fluid reservoir is filled with GM approved DOT 3 brake fluid as indicated on the reservoir cap.
How to Check and Add Fluid
Visually check the brake/clutch fluid reservoir to make sure the fluid level is at the MIN (minimum) line on the side of the reservoir. The brake/ hydraulic clutch fluid system should be closed and sealed.
Do not remove the cap to check the fluid level or to top off the fluid level.
Remove the cap only when necessary to add the proper fluid until the level reaches the MIN line.
How to Check Manual Transmission Fluid It is not necessary to check the manual transmission fluid level. A transmission fluid leak is the only reason for fluid loss. If a leak occurs, take the veh ...
When to Inspect the Engine Air Cleaner/Filter Inspect the air cleaner/filter at the scheduled maintenance intervals and replace it at the first oil change after each 80 000 km (50,000 mi) interval. ...
Other materials:
Specifications
Front Door (Diesel) 65 mm 83 mm Front Door (Diesel) 60 mm 87 mm Rear Compartment Lid (Diesel) 122 mm 32 mm Rear Compartment Lid (Ecoline) 162 mm 32 mm ...
Inflatable Restraint Seat Position Sensors - If Equipped
The inflatable restraint seat position sensor is used to determine the proximity of a front driver or passenger seat position with respect to the frontal air bag. The seat position sensor interfaces with the inflatable restraint sensing and diagnostic module (SDM). The state of the seat positi ...
Removal Procedure
Warning: Refer to Cracked Window Warning in the Preface section. Warning: Refer to Glass and Sheet Metal Handling Warning in the Preface section Note: Position the vehicle on level ground and move the front wheels to the straight-ahead position. Disconnect battery. Remove air inlet grill ...