Chevrolet Cruze Owners Manual: Hydraulic Clutch
For vehicles with a manual transmission, it is not necessary to regularly check brake/clutch fluid unless there is a leak suspected.
Adding fluid will not correct a leak.
A fluid loss in this system could indicate a problem. Have the system inspected and repaired.
When to Check and What to Use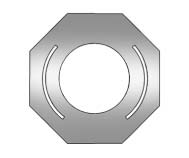 The brake/hydraulic clutch fluid reservoir cap has either a symbol or text specifying the type of brake fluid. The common brake/clutch fluid reservoir is filled with GM approved DOT 3 brake fluid as indicated on the reservoir cap.
How to Check and Add Fluid
Visually check the brake/clutch fluid reservoir to make sure the fluid level is at the MIN (minimum) line on the side of the reservoir. The brake/ hydraulic clutch fluid system should be closed and sealed.
Do not remove the cap to check the fluid level or to top off the fluid level.
Remove the cap only when necessary to add the proper fluid until the level reaches the MIN line.
How to Check Manual Transmission Fluid It is not necessary to check the manual transmission fluid level. A transmission fluid leak is the only reason for fluid loss. If a leak occurs, take the veh ...
When to Inspect the Engine Air Cleaner/Filter Inspect the air cleaner/filter at the scheduled maintenance intervals and replace it at the first oil change after each 80 000 km (50,000 mi) interval. ...
Other materials:
How To Indentify Plastic Parts
Plastic parts can be identified by the SAE code, which is usually found on the rear of the part, and/or by the characteristics of the plastic. Knowing the type of plastic aids in selecting the proper repair materials and in selecting the proper repair procedure. Look for the SAE code s ...
Tire Pressure Light
For vehicles with the Tire Pressure Monitor System (TPMS), this light comes on briefly when the engine is started. It provides information about tire pressures and the TPMS. When the Light Is On Steady This indicates that one or more of the tires are significantly underinflated. A Driver In ...
Low-Profile Tires
If the vehicle has P225/45R18 size tires, they are classified as low‐profile tires. These tires are designed for very responsive driving on wet or dry pavement, however, may produce more road noise and tend to wear faster. Notice: Low-profile tires are more susceptible to damage from road ...