Chevrolet Cruze Owners Manual: Hydraulic Clutch
For vehicles with a manual transmission, it is not necessary to regularly check brake/clutch fluid unless there is a leak suspected.
Adding fluid will not correct a leak.
A fluid loss in this system could indicate a problem. Have the system inspected and repaired.
When to Check and What to Use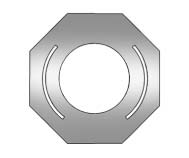 The brake/hydraulic clutch fluid reservoir cap has either a symbol or text specifying the type of brake fluid. The common brake/clutch fluid reservoir is filled with GM approved DOT 3 brake fluid as indicated on the reservoir cap.
How to Check and Add Fluid
Visually check the brake/clutch fluid reservoir to make sure the fluid level is at the MIN (minimum) line on the side of the reservoir. The brake/ hydraulic clutch fluid system should be closed and sealed.
Do not remove the cap to check the fluid level or to top off the fluid level.
Remove the cap only when necessary to add the proper fluid until the level reaches the MIN line.
How to Check Manual Transmission Fluid It is not necessary to check the manual transmission fluid level. A transmission fluid leak is the only reason for fluid loss. If a leak occurs, take the veh ...
When to Inspect the Engine Air Cleaner/Filter Inspect the air cleaner/filter at the scheduled maintenance intervals and replace it at the first oil change after each 80 000 km (50,000 mi) interval. ...
Other materials:
Tire Pressure Monitor System
The Tire Pressure Monitor System (TPMS) uses radio and sensor technology to check tire pressure levels. The TPMS sensors monitor the air pressure in your tires and transmit tire pressure readings to a receiver located in the vehicle. Each tire, including the spare (if provided), should be check ...
Service Vehicle Messages
SERVICE AC SYSTEM This message displays if there is a problem with the air conditioning system. Take the vehicle to your dealer for service. SERVICE POWER STEERING This message displays if there is a problem with the power steering system. Take the vehicle to your dealer for service. SERVICE ...
Installation Procedure
Remove the front wheelhouse rear panel brace (1) from service panel. Drill 8 mm (5/16 in) for plug welding instead of the adhesive noted from the front area of the original panel. Note: Double the number of drills at the flange where front wheelhouse panel and front comp ...