Chevrolet Cruze Owners Manual: Instrument Panel
Instrument Panel Overview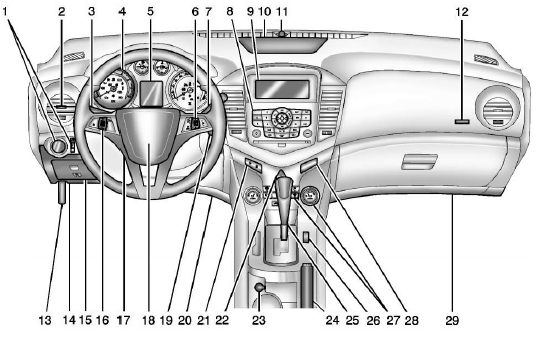 1. Exterior Lamp Controls Front Fog Lamps
Instrument Panel Illumination Control 2. Air Vents
3. Headlamp High/Low-Beam Changer Turn Signal Lever.
Driver Information Center (DIC) Buttons.
4. Instrument Cluster
5. Driver Information Center (DIC) 6. Steering Wheel Controls 7. Windshield Wiper/Washer 8. Infotainment
Satellite Radio
9. Infotainment Display Screen.
10. Instrument Panel Storage 11. Light Sensor.
12. Passenger Airbag.
13. Hood Release.
14. Data Link Connector (DLC) (Out of View).
15. Instrument Panel Fuse Block 6. Cruise Control
17. Steering Wheel Adjustment 18. Horn
Driver Airbag.
19. Ignition Switch or Keyless Ignition Button (If Equipped).
20. Driver Knee Airbag. See Where Are the Airbags?
21. Power Door Locks
22. Hazard Warning Flashers 23. Power Outlets
24. Parking Brake
25. Shift Lever.
26. Traction Control System (TCS) StabiliTrak® System
27. Climate Control Systems Automatic Climate Control Heated Front Seats
28. Passenger Airbag Status Indicator 29. Passenger Knee Airbag.
This section provides a brief overview about some of the important features that may or may not be on your specific vehicle. For more detailed information, refer to each of the features which can b ...
Other materials:
Specifications
Front Door (Diesel) 65 mm 83 mm Front Door (Diesel) 60 mm 87 mm Rear Compartment Lid (Diesel) 122 mm 32 mm Rear Compartment Lid (Ecoline) 162 mm 32 mm ...
Removal Procedure
Support the radiator and condenser from above using the condenser tabs on each side. Remove the lower steering intermediate shaft bolt (1). Raise the vehicle on a hoist. Refer to Lifting and Jacking the Vehicle. Remove the tire and wheel assemblies. Refer to Tire and Wheel Remov ...
Symptoms - Squeaks and Rattles
Table 1: Rattle Coming From the Side Rail Table 2: Rattle Under Vehicle at Higher RPM Table 3: Thump From Rear of Vehicle on Bumps Table 4: Glass Knock Coming From the Rear of the Vehicle When Driving Over Bumps Table 5: Rattle Coming From Door Table 6: Squeak When Operating Doors Table 7: S ...