Chevrolet Cruze Owners Manual: Instrument Panel
Instrument Panel Overview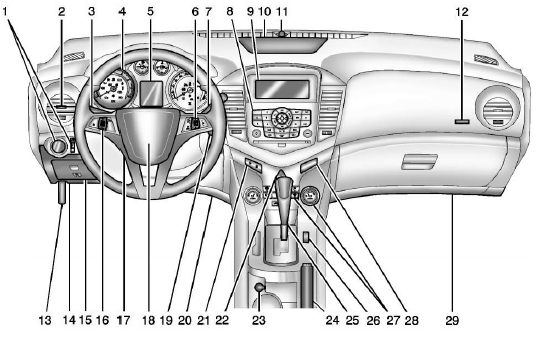 1. Exterior Lamp Controls Front Fog Lamps
Instrument Panel Illumination Control 2. Air Vents
3. Headlamp High/Low-Beam Changer Turn Signal Lever.
Driver Information Center (DIC) Buttons.
4. Instrument Cluster
5. Driver Information Center (DIC) 6. Steering Wheel Controls 7. Windshield Wiper/Washer 8. Infotainment
Satellite Radio
9. Infotainment Display Screen.
10. Instrument Panel Storage 11. Light Sensor.
12. Passenger Airbag.
13. Hood Release.
14. Data Link Connector (DLC) (Out of View).
15. Instrument Panel Fuse Block 6. Cruise Control
17. Steering Wheel Adjustment 18. Horn
Driver Airbag.
19. Ignition Switch or Keyless Ignition Button (If Equipped).
20. Driver Knee Airbag. See Where Are the Airbags?
21. Power Door Locks
22. Hazard Warning Flashers 23. Power Outlets
24. Parking Brake
25. Shift Lever.
26. Traction Control System (TCS) StabiliTrak® System
27. Climate Control Systems Automatic Climate Control Heated Front Seats
28. Passenger Airbag Status Indicator 29. Passenger Knee Airbag.
This section provides a brief overview about some of the important features that may or may not be on your specific vehicle. For more detailed information, refer to each of the features which can b ...
Other materials:
How To Indentify Plastic Parts
Plastic parts can be identified by the SAE code, which is usually found on the rear of the part, and/or by the characteristics of the plastic. Knowing the type of plastic aids in selecting the proper repair materials and in selecting the proper repair procedure. Look for the SAE code s ...
US English/Metric Conversion
Decimal and Metric Equivalents Arrows and Symbols This service manual uses various symbols in order to describe different service operations. Front of Vehicle View Detail View Detail Ambient Air Mixed with Another Gas or Indicate Temperature Chan ...
Checking and Adding Power Steering Fluid
Caution: When adding fluid or making a complete fluid change, always use the proper power steering fluid. Failure to use the proper fluid will cause hose and seal damage and fluid leaks. Clean the area surrounding the reservoir cap. Remove the reservoir cap. Inspect the power steeri ...