Chevrolet Cruze Owners Manual: Off-Road Recovery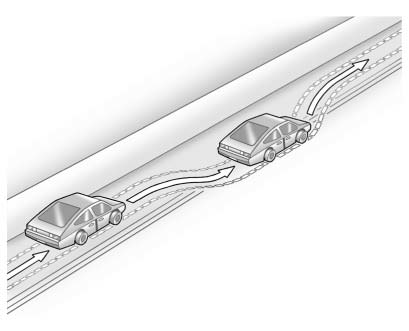 The vehicle's right wheels can drop off the edge of a road onto the shoulder while driving. Follow these tips: 1. Ease off the accelerator and then, if there is nothing in the way, steer the vehicle so that it straddles the edge of the pavement.
2. Turn the steering wheel about one-eighth of a turn, until the right front tire contacts the pavement edge.
3. Turn the steering wheel to go straight down the roadway.
Electric Power Steering The vehicle has electric power steering. It does not have power steering fluid. Regular maintenance is not required. If power steering assist is lost due to a system malfun ...
Skidding There are three types of skids that correspond to the vehicle's three control systems: • Braking Skid — wheels are not rolling. • Steering or Cornering Skid — too much speed or steer ...
Other materials:
Online Owner Center
Online Owner Experience (U.S.) my.chevrolet.com The Chevrolet online owner experience is a one-stop resource that allows interaction with Chevrolet and keeps important vehicle-specific information in one place. Membership Benefits (Vehicle Information): Download owner manuals and view vehicle ...
Radio(s)
: Press to turn the system on and off. Turn to increase or decrease the volume. BAND: Press to choose between FM, AM, or SiriusXM®, if equipped. MENU/SEL: Turn to select radio stations. Press to select a menu. : Press to seek the previous station or track. : Press to seek the next station ...
Driving for Better Fuel Economy
Driving habits can affect fuel mileage. Here are some driving tips to get the best fuel economy possible. • Avoid fast starts and accelerate smoothly. • Brake gradually and avoid abrupt stops. • Avoid idling the engine for long periods of time. • When road and weather conditions ar ...