Chevrolet Cruze Owners Manual: Off-Road Recovery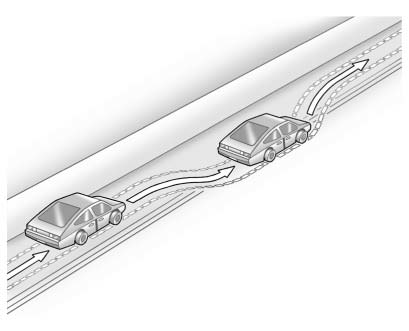 The vehicle's right wheels can drop off the edge of a road onto the shoulder while driving. Follow these tips: 1. Ease off the accelerator and then, if there is nothing in the way, steer the vehicle so that it straddles the edge of the pavement.
2. Turn the steering wheel about one-eighth of a turn, until the right front tire contacts the pavement edge.
3. Turn the steering wheel to go straight down the roadway.
Electric Power Steering The vehicle has electric power steering. It does not have power steering fluid. Regular maintenance is not required. If power steering assist is lost due to a system malfun ...
Skidding There are three types of skids that correspond to the vehicle's three control systems: Х Braking Skid Ч wheels are not rolling. Х Steering or Cornering Skid Ч too much speed or steer ...
Other materials:
Wiper Blade Replacement
Windshield wiper blades should be inspected for wear and cracking. Replacement blades come in different types and are removed in different ways. Notice: Allowing the wiper arm to touch the windshield when no wiper blade is installed could damage the windshield. Any damage that occurs would not ...
Heated Seats
If available, the controls are on the center stack. The engine must be running to operate the heated seats. Press or to heat the driver or passenger seat cushion and seatback. Press the control once for the highest setting. With each press of the control, the heated seat will change to ...
Trademarks and License Agreements
Manufactured under license under U.S. Patent #'s: 5,451,942; 5,956,674; 5,974,380; 5,978,762; 6,487,535 & other U.S. and worldwide patents issued & pending. DTS and the Symbol are registered trademarks and DTS Digital Surround and the DTS logos are trademarks of DTS Inc. All Righ ...