Chevrolet Cruze Owners Manual: Off-Road Recovery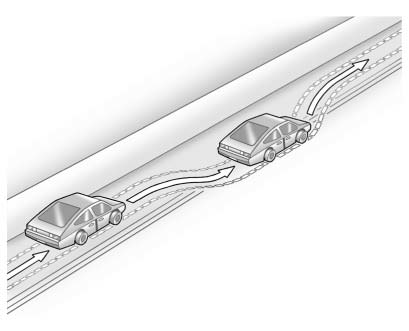 The vehicle's right wheels can drop off the edge of a road onto the shoulder while driving. Follow these tips: 1. Ease off the accelerator and then, if there is nothing in the way, steer the vehicle so that it straddles the edge of the pavement.
2. Turn the steering wheel about one-eighth of a turn, until the right front tire contacts the pavement edge.
3. Turn the steering wheel to go straight down the roadway.
Electric Power Steering The vehicle has electric power steering. It does not have power steering fluid. Regular maintenance is not required. If power steering assist is lost due to a system malfun ...
Skidding There are three types of skids that correspond to the vehicle's three control systems: Х Braking Skid Ч wheels are not rolling. Х Steering or Cornering Skid Ч too much speed or steer ...
Other materials:
Power Door Latch Description and Operation
Power Door Latch System Components The power door latch system consists of the following components: Remote control door lock receiver Body control module (BCM) Driver door latch Passenger door latch Left rear door latch Right rear door latch Door handle assemblies Power Door Lat ...
Global Positioning System (GPS)
The position of the vehicle is determined by using satellite signals, various vehicle signals, and map data. At times, other interference such as the satellite condition, road configuration, condition of the vehicle, and/or other circumstances can affect the navigation system's ability to ...
Cruise Control
For vehicles with cruise control: : Press to turn the cruise control system on and off. RES/+: Move the thumbwheel up to resume a previously set speed or to accelerate. SET/−: Move the thumbwheel down to set a speed or to make the vehicle decelerate. : Press to disengage cruise contro ...