Chevrolet Cruze Owners Manual: Off-Road Recovery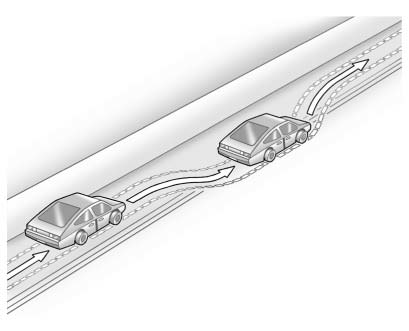 The vehicle's right wheels can drop off the edge of a road onto the shoulder while driving. Follow these tips: 1. Ease off the accelerator and then, if there is nothing in the way, steer the vehicle so that it straddles the edge of the pavement.
2. Turn the steering wheel about one-eighth of a turn, until the right front tire contacts the pavement edge.
3. Turn the steering wheel to go straight down the roadway.
Electric Power Steering The vehicle has electric power steering. It does not have power steering fluid. Regular maintenance is not required. If power steering assist is lost due to a system malfun ...
Skidding There are three types of skids that correspond to the vehicle's three control systems: Х Braking Skid Ч wheels are not rolling. Х Steering or Cornering Skid Ч too much speed or steer ...
Other materials:
Steering Wheel and Column Description and Operation
The steering wheel and column has 4 primary functions: Vehicle steering Vehicle security Driver convenience Driver safety Vehicle Steering The steering wheel is the first link between the driver and the vehicle. The steering wheel is fastened to a steering shaft within the column. A ...
Removal Procedure
Raise and support the vehicle. Refer to Lifting and Jacking the Vehicle. Remove the tire and wheel. Refer to Tire and Wheel Removal and Installation. Note: DO NOT re-use the lower control arm bolts and nuts. Discard and use NEW only. Remove wheel speed sensor wiring harness ...
Hood
To open the hood: 1. Pull up on the hood release handle. It is located inside the vehicle to the left of the steering column. 2. Go to the front of the vehicle and push the secondary hood release handle toward the driver side of the vehicle. 3. Lift the hood and release the hood prop fr ...