Chevrolet Cruze Owners Manual: Off-Road Recovery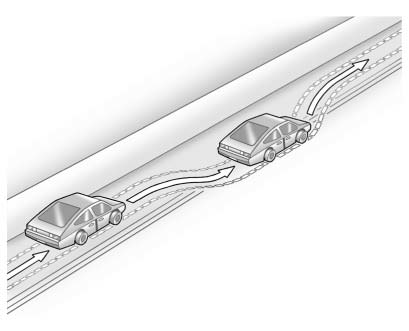 The vehicle's right wheels can drop off the edge of a road onto the shoulder while driving. Follow these tips: 1. Ease off the accelerator and then, if there is nothing in the way, steer the vehicle so that it straddles the edge of the pavement.
2. Turn the steering wheel about one-eighth of a turn, until the right front tire contacts the pavement edge.
3. Turn the steering wheel to go straight down the roadway.
Electric Power Steering The vehicle has electric power steering. It does not have power steering fluid. Regular maintenance is not required. If power steering assist is lost due to a system malfun ...
Skidding There are three types of skids that correspond to the vehicle's three control systems: • Braking Skid — wheels are not rolling. • Steering or Cornering Skid — too much speed or steer ...
Other materials:
Installation Procedure
Drill 8 mm (5/16 in) for plug welding along the edges of the front wheelhouse panel rear reinforcement as noted from the original panel. Drill 8 mm (5/16 in) for plug welding where front wheelhouse front panel and front wheelhouse panel rear reinforcement overlap ...
If a Tire Goes Flat
It is unusual for a tire to blowout while driving, especially if the tires are maintained properly. If air goes out of a tire, it is much more likely to leak out slowly. But if there ever is a blowout, here are a few tips about what to expect and what to do: If a front tire fails, the flat tir ...
Radio Data System (RDS)
RDS features are available for use only on FM stations that broadcast RDS information. With RDS, the radio can: • Seek to stations broadcasting the selected type of programming. • Receive announcements concerning local and national emergencies. • Display messages from radio stations. Thi ...