Chevrolet Cruze Owners Manual: Off-Road Recovery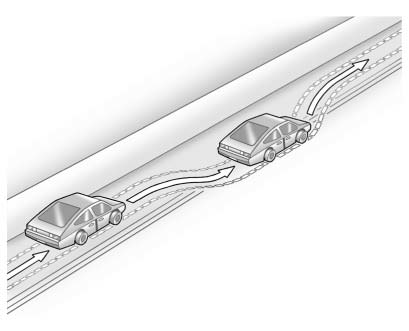 The vehicle's right wheels can drop off the edge of a road onto the shoulder while driving. Follow these tips: 1. Ease off the accelerator and then, if there is nothing in the way, steer the vehicle so that it straddles the edge of the pavement.
2. Turn the steering wheel about one-eighth of a turn, until the right front tire contacts the pavement edge.
3. Turn the steering wheel to go straight down the roadway.
Electric Power Steering The vehicle has electric power steering. It does not have power steering fluid. Regular maintenance is not required. If power steering assist is lost due to a system malfun ...
Skidding There are three types of skids that correspond to the vehicle's three control systems: Х Braking Skid Ч wheels are not rolling. Х Steering or Cornering Skid Ч too much speed or steer ...
Other materials:
Collision Repair
Specifications Point-to-point measurements are for reference only. All measurements are given in millimeters. Use these measurements for diagnosing and estimating. Point-to-point measurements are duplicated with tram bar pointers set at equal lengths. All die marks, holes, slots, and fast ...
Vehicle Identification Number (VIN)
This legal identifier is in the front corner of the instrument panel, on the left side of the vehicle. It can be seen through the windshield from outside. The VIN also appears on the Vehicle Certification and Service Parts labels and certificates of title and registration. Engine Identifi ...
Pretensioner Handling and Scrapping
Special Tools EL-38826 SIR Deployment Harness EL-39401-B SIR Deployment Fixture For equivalent regional tools, refer to Special Tools. Warning: When you are carrying an undeployed seat belt pretensioner: Do not carry the seat belt pretensioner by the wires or connector on the preten ...