Chevrolet Cruze Owners Manual: Off-Road Recovery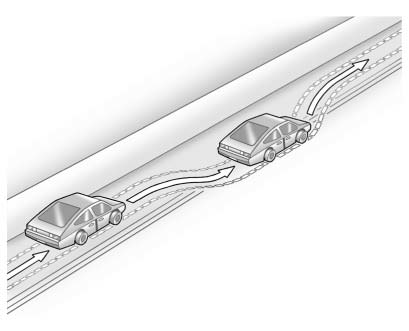 The vehicle's right wheels can drop off the edge of a road onto the shoulder while driving. Follow these tips: 1. Ease off the accelerator and then, if there is nothing in the way, steer the vehicle so that it straddles the edge of the pavement.
2. Turn the steering wheel about one-eighth of a turn, until the right front tire contacts the pavement edge.
3. Turn the steering wheel to go straight down the roadway.
Electric Power Steering The vehicle has electric power steering. It does not have power steering fluid. Regular maintenance is not required. If power steering assist is lost due to a system malfun ...
Skidding There are three types of skids that correspond to the vehicle's three control systems: Х Braking Skid Ч wheels are not rolling. Х Steering or Cornering Skid Ч too much speed or steer ...
Other materials:
Dual Phase Steel
This information provides repair recommendations and general guidelines for steel classified as Dual Phase Steel (Dual Phase Steel with a tensile strength up to and including 800 MPa), also known as DP. General Motors recommends the following when repairing or replacing this type of steel du ...
Luggage Compartment Description and Operation
Rear Compartment Lid Release System Components Body control module (BCM) Exterior rear compartment lid release switch Rear compartment lid release actuator Rear compartment lid release relay Rear Compartment Lid Release Operation When the exterior rear compartment lid release switch is ...
Turn and Lane-Change Signals
Move the lever all the way up or down to signal a turn. An arrow on the instrument cluster will flash in the direction of the turn or lane change. Raise or lower the lever until the arrow starts to flash to signal a lane change. The turn signal flashes three times. The lever returns to its ...