Chevrolet Cruze Owners Manual: Overview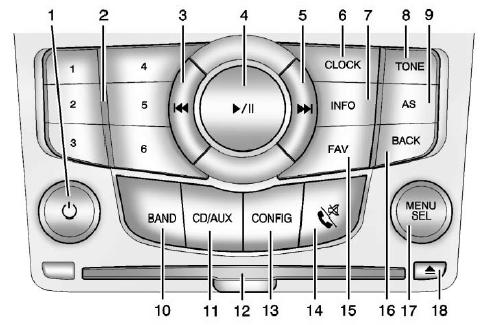 1.

• Turns the system on or off and adjusts the volume.
2. Buttons 1 to 6
• Radio: Saves and selects favorite stations.
3.

• Radio: Seeks the previous station.
• CD: Selects the previous track or rewinds within a track.
4.

• CD: Pauses playback, and stops playback.
5.

• Radio: Seeks the next station.
• CD: Selects the next track or fast forwards within a track.
6. CLOCK
• Opens the clock menu.
7. INFO
• Radio: Shows available information about the current station.
• CD: Shows available information about the current track.
8. TONE
• Opens the tone menu.
9. AS
• Radio: Opens the autostore stations list.
10. BAND
• Changes the band while listening to the radio.
• Selects the radio when listening to a different audio source.
11. CD/AUX
• Selects the CD player or an external audio source.
12. CD Slot
• Insert a CD.
13. CONFIG
• Opens the settings menu.
14.

• Opens the phone main menu.
• Mutes the audio system.
15. FAV
• Radio: Opens the favorites list.
16. BACK
• Menu: Moves one level back.
• Character Input: Deletes the last character.
17. MENU/SEL
• Turn to open menus, highlight menu items, or set numeric values while in a menu.
• Press to select menu items.
• Radio: Manually selects radio stations.
• CD: Selects tracks.
18.

• Removes a disc from the CD slot.
The theft-deterrent feature works by learning a portion of the Vehicle Identification Number (VIN) to the infotainment system. The infotainment system does not operate if it is stolen or moved to ...
Controls The infotainment system is operated by using the pushbuttons, multifunction knobs, menus shown on the display, and steering wheel controls, if equipped. Turning the System On or Off (Vo ...
Other materials:
Seat Belt Latch Stop Installation
Preliminary Procedure Locate the hole in the seat belt webbing where the original seat belt stop button was located. If the original hole in the seat belt webbing is not visible, perform the following: If either the right or left stop button is missing use the opposing seat ...
Removal Procedure
Warning: Refer to Approved Equipment for Collision Repair Warning in the Preface section. Disable the SIR System. Refer to SIR Disabling and Enabling. Disconnect the negative battery cable. Refer to Battery Negative Cable Disconnection and Connection. Remove all related panels and ...
Transmission
Driver Shift Control (DSC) allows the automatic transmission to be shifted similar to a manual transmission. Electronic Range Select (ERS) allows for the selection of a range of gears. Up-Shift Light If the vehicle has a manual transmission, it will have an up-shift light that indicates whe ...