Chevrolet Cruze Owners Manual: Overview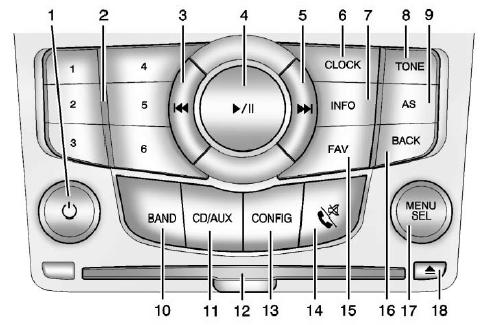 1.

• Turns the system on or off and adjusts the volume.
2. Buttons 1 to 6
• Radio: Saves and selects favorite stations.
3.

• Radio: Seeks the previous station.
• CD: Selects the previous track or rewinds within a track.
4.

• CD: Pauses playback, and stops playback.
5.

• Radio: Seeks the next station.
• CD: Selects the next track or fast forwards within a track.
6. CLOCK
• Opens the clock menu.
7. INFO
• Radio: Shows available information about the current station.
• CD: Shows available information about the current track.
8. TONE
• Opens the tone menu.
9. AS
• Radio: Opens the autostore stations list.
10. BAND
• Changes the band while listening to the radio.
• Selects the radio when listening to a different audio source.
11. CD/AUX
• Selects the CD player or an external audio source.
12. CD Slot
• Insert a CD.
13. CONFIG
• Opens the settings menu.
14.

• Opens the phone main menu.
• Mutes the audio system.
15. FAV
• Radio: Opens the favorites list.
16. BACK
• Menu: Moves one level back.
• Character Input: Deletes the last character.
17. MENU/SEL
• Turn to open menus, highlight menu items, or set numeric values while in a menu.
• Press to select menu items.
• Radio: Manually selects radio stations.
• CD: Selects tracks.
18.

• Removes a disc from the CD slot.
The theft-deterrent feature works by learning a portion of the Vehicle Identification Number (VIN) to the infotainment system. The infotainment system does not operate if it is stolen or moved to ...
Controls The infotainment system is operated by using the pushbuttons, multifunction knobs, menus shown on the display, and steering wheel controls, if equipped. Turning the System On or Off (Vo ...
Other materials:
Daytime Running Lamps (DRL)
Daytime Running Lamps can make it easier for others to see the front of your vehicle during the day. Fully functional daytime running lamps are required on all vehicles first sold in Canada. A light sensor on top of the instrument panel makes the DRL work, so be sure it is not covered. The D ...
Installation Procedure
Create 6 x 20 mm (4/16 x 12/16 in) slots for MIG-brazing along the edges of the rear inner wheelhouse as noted from the original panel. Note: If the location of the original plug weld holes can not be determined, space the slots every 40 mm (1½ in). Clean and prepare the ...
Overview
Read the following pages to become familiar with the infotainment system features. WARNING Taking your eyes off the road for extended periods could cause a crash resulting in injury or death to you or others. Do not give extended attention to infotainment tasks while driving. The infotainment ...