Chevrolet Cruze Owners Manual: Overview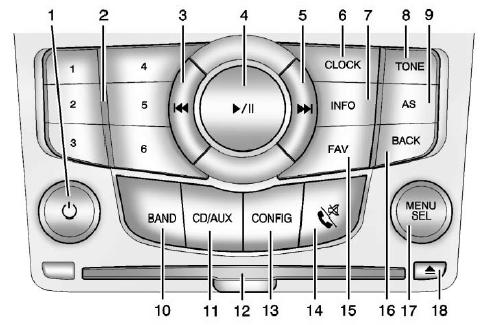 1.

• Turns the system on or off and adjusts the volume.
2. Buttons 1 to 6
• Radio: Saves and selects favorite stations.
3.

• Radio: Seeks the previous station.
• CD: Selects the previous track or rewinds within a track.
4.

• CD: Pauses playback, and stops playback.
5.

• Radio: Seeks the next station.
• CD: Selects the next track or fast forwards within a track.
6. CLOCK
• Opens the clock menu.
7. INFO
• Radio: Shows available information about the current station.
• CD: Shows available information about the current track.
8. TONE
• Opens the tone menu.
9. AS
• Radio: Opens the autostore stations list.
10. BAND
• Changes the band while listening to the radio.
• Selects the radio when listening to a different audio source.
11. CD/AUX
• Selects the CD player or an external audio source.
12. CD Slot
• Insert a CD.
13. CONFIG
• Opens the settings menu.
14.

• Opens the phone main menu.
• Mutes the audio system.
15. FAV
• Radio: Opens the favorites list.
16. BACK
• Menu: Moves one level back.
• Character Input: Deletes the last character.
17. MENU/SEL
• Turn to open menus, highlight menu items, or set numeric values while in a menu.
• Press to select menu items.
• Radio: Manually selects radio stations.
• CD: Selects tracks.
18.

• Removes a disc from the CD slot.
The theft-deterrent feature works by learning a portion of the Vehicle Identification Number (VIN) to the infotainment system. The infotainment system does not operate if it is stolen or moved to ...
Controls The infotainment system is operated by using the pushbuttons, multifunction knobs, menus shown on the display, and steering wheel controls, if equipped. Turning the System On or Off (Vo ...
Other materials:
Installation Procedure
Install NEW stabilizer shaft insulators (1) to stabilizer shaft (2) so that the slit in the insulator is facing the rear of the vehicle. Install the insulator c 2. lamp to the insulator: 2.1. Position the clamp (2) over on the insulator. 2.2. Use two M8 bolts (1, 3) with 40 ...
Installation Procedure
Align the rocker inner panel. Clean and prepare the attaching surfaces for spot welding. Apply structural adhesive to all attaching surfaces. Position the rocker inner panel on the vehicle. Verify the fit of the quarter outer panel Clamp the rocker inner panel into posi ...
Filling a Portable Fuel Container
WARNING Filling a portable fuel container while it is in the vehicle can cause fuel vapors that can ignite either by static electricity or other means. You or others could be badly burned and the vehicle could be damaged. Always: • Use approved fuel containers. • Remove the container from the ...