Chevrolet Cruze Owners Manual: Parking Brake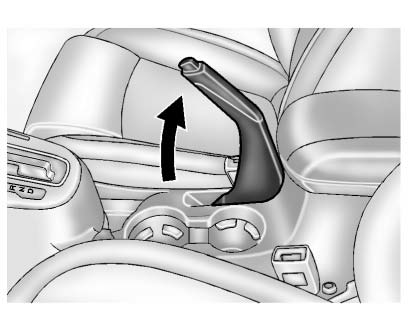 To apply the parking brake, pull up on the parking brake handle. It is not necessary to push in on the release button while applying the parking brake. If the ignition is in the ON/RUN position, the brake system warning light will come on.
To release the parking brake: 1. Hold the brake pedal down.
2. Pull the parking brake handle up until you can press the release button.
3. Hold the release button in as you move the brake handle all the way down.
Notice: Driving with the parking brake on can overheat the brake system and cause premature wear or damage to brake system parts. Make sure that the parking brake is fully released and the brake warning light is off before driving.
Driving with the parking brake applied will cause a warning chime to sound and the RELEASE PARKING BRAKE message to appear in the DIC. The message will remain on until the parking brake is released or the vehicle is stopped.
If parking on a hill, or if the vehicle is pulling a trailer.
This vehicle has the Antilock Brake System (ABS), an advanced electronic braking system that helps prevent a braking skid. When the vehicle begins to drive away, ABS checks itself. A momentary mot ...
This vehicle has a brake assist feature designed to assist the driver in stopping or decreasing vehicle speed in emergency driving conditions. This feature uses the stability system hydraulic brak ...
Other materials:
Entry Lighting
The headlamps, parking lamps, taillamps, back-up lamps, and most of the interior lamps turn on briefly when is pressed on the Remote Keyless Entry (RKE) transmitter. After about 30 seconds the exterior lamps turn off, and then the dome and remaining interior lights will dim to off. Entry lig ...
Reclining Seatbacks
WARNING If either seatback is not locked, it could move forward in a sudden stop or crash. That could cause injury to the person sitting there. Always push and pull on the seatbacks to be sure they are locked. To recline the seatback: 1. Lift the lever. If necessary, move the safety belt ou ...
Service
This vehicle may have the new environmentally friendly refrigerant, R1234yf. This refrigerant has a significantly reduced global warming impact on the environment, compared to the traditional automotive refrigerant, R-134a. All vehicles have a label underhood that identifies the refrigerant us ...