Chevrolet Cruze Owners Manual: Parking Brake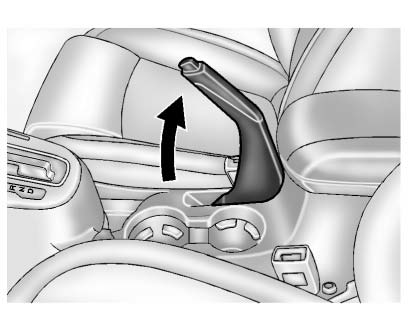 To apply the parking brake, pull up on the parking brake handle. It is not necessary to push in on the release button while applying the parking brake. If the ignition is in the ON/RUN position, the brake system warning light will come on.
To release the parking brake: 1. Hold the brake pedal down.
2. Pull the parking brake handle up until you can press the release button.
3. Hold the release button in as you move the brake handle all the way down.
Notice: Driving with the parking brake on can overheat the brake system and cause premature wear or damage to brake system parts. Make sure that the parking brake is fully released and the brake warning light is off before driving.
Driving with the parking brake applied will cause a warning chime to sound and the RELEASE PARKING BRAKE message to appear in the DIC. The message will remain on until the parking brake is released or the vehicle is stopped.
If parking on a hill, or if the vehicle is pulling a trailer.
This vehicle has the Antilock Brake System (ABS), an advanced electronic braking system that helps prevent a braking skid. When the vehicle begins to drive away, ABS checks itself. A momentary mot ...
This vehicle has a brake assist feature designed to assist the driver in stopping or decreasing vehicle speed in emergency driving conditions. This feature uses the stability system hydraulic brak ...
Other materials:
Collision Repair
Specifications Point-to-point measurements are for reference only. All measurements are given in millimeters. Use these measurements for diagnosing and estimating. Point-to-point measurements are duplicated with tram bar pointers set at equal lengths. All die marks, holes, slots, and fast ...
Environmental Fallout (Acid Rain)
Caution: Refer to Clearcoat/Ultraviolet Screeners Caution in the Preface section. Note: Always refer to the manufacturer's packaged instructions for the detailed procedures of materials used for compounding and/or polishing. Since the severity of the condition varies from area to area, proper ...
Instrument Panel Cluster Lower Trim Plate Replacement
Preliminary Procedure Remove instrument panel cluster trim plate. Refer to Instrument Panel Cluster Trim Plate Replacement. Instrument Panel Cluster Lower Trim Plate Screw (Qty: 4) Caution: Refer to Fastener Caution in the Preface section. Tighten 2.5 N·m (23 lb in) Instrument Pa ...