Chevrolet Cruze Owners Manual: Parking Brake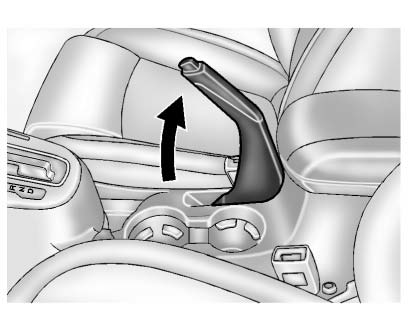 To apply the parking brake, pull up on the parking brake handle. It is not necessary to push in on the release button while applying the parking brake. If the ignition is in the ON/RUN position, the brake system warning light will come on.
To release the parking brake: 1. Hold the brake pedal down.
2. Pull the parking brake handle up until you can press the release button.
3. Hold the release button in as you move the brake handle all the way down.
Notice: Driving with the parking brake on can overheat the brake system and cause premature wear or damage to brake system parts. Make sure that the parking brake is fully released and the brake warning light is off before driving.
Driving with the parking brake applied will cause a warning chime to sound and the RELEASE PARKING BRAKE message to appear in the DIC. The message will remain on until the parking brake is released or the vehicle is stopped.
If parking on a hill, or if the vehicle is pulling a trailer.
This vehicle has the Antilock Brake System (ABS), an advanced electronic braking system that helps prevent a braking skid. When the vehicle begins to drive away, ABS checks itself. A momentary mot ...
This vehicle has a brake assist feature designed to assist the driver in stopping or decreasing vehicle speed in emergency driving conditions. This feature uses the stability system hydraulic brak ...
Other materials:
Rear Wheel Bearing and Hub Replacement (Drum Brake)
Special Tools EN 45059 Torque Angle Sensor Kit For equivalent regional tools, refer to Special Tools. Removal Procedure Raise and suitably support the vehicle. Refer to Lifting and Jacking the Vehicle. Remove the tire and wheel assembly. Refer to Tire and Wheel Removal and ...
Deployment Outside Vehicle - Steering Wheel Module, Instrument Panel Module, and Roof Rail Module
Deploy the inflator module outside of the vehicle when the vehicle will be returned to service. Situations that require deployment outside of the vehicle include the following: Using the SIR diagnostics, you determine that the inflator module is malfunctioning The inflator module is cosm ...
Variable Effort Steering System Description and Operation
The Variable Effort Steering (VES) system or MAGNASTEER® varies the amount of effort required to steer the vehicle as vehicle speed changes. At low speeds, the system provides minimal steering effort for easy turning and parking maneuvers. Steering effort is increased at higher speeds to provi ...