Chevrolet Cruze Repair Manual: Rear Suspension Description and Operation
This vehicle has a semi-independent twist-beam rear suspension system consisting of the following components:
An axle with integral trailing arms
AV shaped twisting cross beam
Two coil springs
Two shock absorbers
Axle Assembly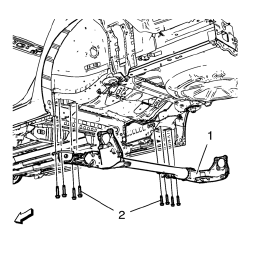 The axle assembly (1) attaches to the underbody through a rubber bushing and bracket located at the front of each integral trailing arm.
The brackets are attached to the underbody side rails with bolts (2). The axle structure itself maintains the geometrical relationship of the wheels relative to the centerline of the body.
Special Tools and Equipment

Removal Procedure Raise and suitably support the vehicle. Refer to Lifting and Jacking the Vehicle. Remove the tire and wheel assembly. Refer to Tire and Wheel Removal and Installati ...
Other materials:
Where to Put the Restraint
According to accident statistics, children and infants are safer when properly restrained in a child restraint system or infant restraint system secured in a rear seating position. We recommend that children and child restraints be secured in a rear seat, including: an infant or a child ridin ...
How To Indentify Plastic Parts
Plastic parts can be identified by the SAE code, which is usually found on the rear of the part, and/or by the characteristics of the plastic. Knowing the type of plastic aids in selecting the proper repair materials and in selecting the proper repair procedure. Look for the SAE code s ...
Installation Procedure
Cut the body lock pillar outer panel in corresponding locations to fit the remaining original panel. The sectioning joint should be trimmed to allow a gap of one-and-one-half-times the metal thickness at the sectioning joint. Create a 50 mm (2 in) backing plate from the unused porti ...