Chevrolet Cruze Repair Manual: Rear Suspension Description and Operation
This vehicle has a semi-independent twist-beam rear suspension system consisting of the following components:
An axle with integral trailing arms
AV shaped twisting cross beam
Two coil springs
Two shock absorbers
Axle Assembly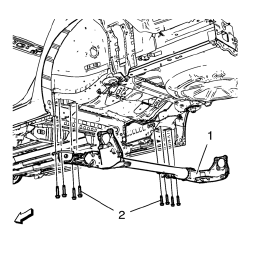 The axle assembly (1) attaches to the underbody through a rubber bushing and bracket located at the front of each integral trailing arm.
The brackets are attached to the underbody side rails with bolts (2). The axle structure itself maintains the geometrical relationship of the wheels relative to the centerline of the body.
Special Tools and Equipment

Removal Procedure Raise and suitably support the vehicle. Refer to Lifting and Jacking the Vehicle. Remove the tire and wheel assembly. Refer to Tire and Wheel Removal and Installati ...
Other materials:
Installation Procedure
Align the front side door outer panel. Verify the fit of the front side door outer panel. Clamp the front side door outer panel into position. Pre-flanging the flange with BO-6396 pliers and BO-6392 tool kit . Continue to hammer in stages along the hem flanges. ...
Thread Repair
General purpose thread repair kits are available commercially. Warning: Refer to Safety Glasses Warning in the Preface section. Note: Refer to the thread repair kit manufacturer's instructions regarding the size of the drill and which tap to use. Always avoid any buildup of chips. Back ou ...
Installation Procedure
Drill 8 mm (5/16 in) for plug welding along the edges of the front wheelhouse front panel as noted from the original panel. Drill 8 mm (5/16 in) for plug welding where front wheelhouse front panel and front wheelhouse overlap. Clean and prepare the attaching surfaces f ...