Chevrolet Cruze Infotainment System: Steering Wheel Controls
Depending on the vehicle options, some audio functions can be controlled through the steering wheel controls.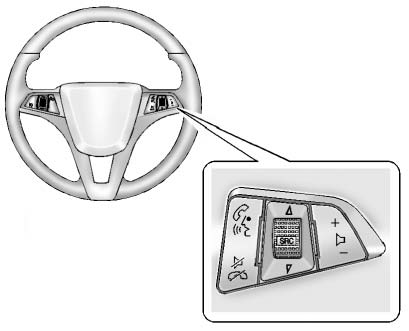 (Push to Talk): Press to interact with Bluetooth or voice recognition.

(Mute/End Call): Press to decline an incoming call, or to end a current call. Press to silence the vehicle speakers while using the infotainment system. Press again to turn the sound on. Press to cancel voice recognition.

SRC

(Thumbwheel Control): Press to select an audio source.
Use the thumbwheel to select the next or previous favorite radio station, CD, MP3 track, USB, and Bluetooth Audio.
Use _ SRC to skip to the next song or show using Pandora (if equipped) or Stitcher. See Pandora Internet Radio on page 25 or Stitcher Internet Radio on page 30.
+

− (Volume): Press + to increase the volume. Press − to decrease.
See "Steering Wheel Controls" in the owner manual.
Read the following pages to become familiar with the infotainment system features. WARNING Taking your eyes off the road for extended periods could cause a crash resulting in injury or death to yo ...
The infotainment system is controlled by touching the screen, and by using the knobs and other buttons. Voice recognition, through the steering wheel controls, can be used to control the infotain ...
Other materials:
Traction Control System (TCS)
The traction control system limits wheel spin. The system is on when the vehicle is started. • To turn off traction control, press and release on the center console. illuminates in the instrument cluster. • Press and release again to turn traction control back on. ...
Deployment Outside Vehicle - Steering Wheel Module, Instrument Panel Module, and Roof Rail Module
Deploy the inflator module outside of the vehicle when the vehicle will be returned to service. Situations that require deployment outside of the vehicle include the following: Using the SIR diagnostics, you determine that the inflator module is malfunctioning The inflator module is cosm ...
Installation Procedure
Create 5 x 18 mm (4/16 x 11/16 in) slots for MIG-brazing along the edges of the tail lamp pocket as noted f rom the original panel. Note: Clean and prepare the attaching surfaces for brazing. Position the tail lamp pocket on the vehicle. Verify the fit of the ta ...