Chevrolet Cruze Infotainment System: Steering Wheel Controls
Depending on the vehicle options, some audio functions can be controlled through the steering wheel controls.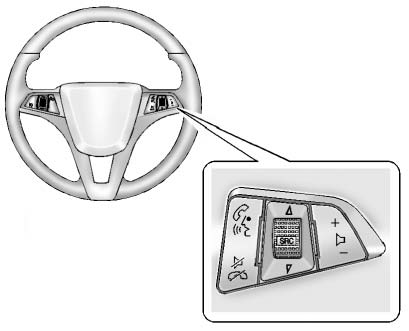 (Push to Talk): Press to interact with Bluetooth or voice recognition.

(Mute/End Call): Press to decline an incoming call, or to end a current call. Press to silence the vehicle speakers while using the infotainment system. Press again to turn the sound on. Press to cancel voice recognition.

SRC

(Thumbwheel Control): Press to select an audio source.
Use the thumbwheel to select the next or previous favorite radio station, CD, MP3 track, USB, and Bluetooth Audio.
Use _ SRC to skip to the next song or show using Pandora (if equipped) or Stitcher. See Pandora Internet Radio on page 25 or Stitcher Internet Radio on page 30.
+

− (Volume): Press + to increase the volume. Press − to decrease.
See "Steering Wheel Controls" in the owner manual.
Read the following pages to become familiar with the infotainment system features. WARNING Taking your eyes off the road for extended periods could cause a crash resulting in injury or death to yo ...
The infotainment system is controlled by touching the screen, and by using the knobs and other buttons. Voice recognition, through the steering wheel controls, can be used to control the infotain ...
Other materials:
Front Seat Track Synchronization
The fore/aft manual adjuster is composed of an inboard track assembly (5), and outboard track (4) assembly, and an adjuster handle (1). Each track assembly is made of an upper track (2) and a lower track (3). Both tracks need to be aligned prior to installing in the vehicle. To align t ...
Rear Compartment Lid Emblem/Nameplate Replacement (Cruze - Left Side)
Rear Compartment Lid Emblem Assembly Caution: Refer to Exterior Trim Emblem Removal Caution in the Preface section. Procedure The part and surface should be 21°C (70°F) prior to installation. The vehicle should remain 21°C (70°F) for one hour after assembly to allow adhesive to deve ...
Installation Procedure
Note: If the location of the original plug weld holes can not be determined, space the plug weld holes every 40 mm (1½ in). Drill 8 mm (5/16 in) for plug welding along the edges of the underbody rear side rail reinforcement as noted from the original panel. Clean and ...