Chevrolet Cruze Infotainment System: Steering Wheel Controls
Depending on the vehicle options, some audio functions can be controlled through the steering wheel controls.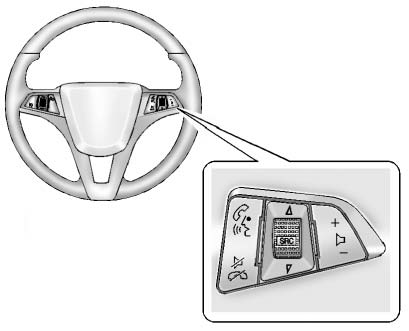 (Push to Talk): Press to interact with Bluetooth or voice recognition.

(Mute/End Call): Press to decline an incoming call, or to end a current call. Press to silence the vehicle speakers while using the infotainment system. Press again to turn the sound on. Press to cancel voice recognition.

SRC

(Thumbwheel Control): Press to select an audio source.
Use the thumbwheel to select the next or previous favorite radio station, CD, MP3 track, USB, and Bluetooth Audio.
Use _ SRC to skip to the next song or show using Pandora (if equipped) or Stitcher. See Pandora Internet Radio on page 25 or Stitcher Internet Radio on page 30.
+

− (Volume): Press + to increase the volume. Press − to decrease.
See "Steering Wheel Controls" in the owner manual.
Read the following pages to become familiar with the infotainment system features. WARNING Taking your eyes off the road for extended periods could cause a crash resulting in injury or death to yo ...
The infotainment system is controlled by touching the screen, and by using the knobs and other buttons. Voice recognition, through the steering wheel controls, can be used to control the infotain ...
Other materials:
Aluminum Wheel Porosity Repair
Remove the tire and wheel. Refer to Tire and Wheel Removal and Installation. Inflate the tire to the manufactures specified pressure as stated on the tire. Submerge the tire/wheel into a water bath in order to locate the leak. Inscribe a mark on the wheel in order to indic ...
Inflatable Restraint Seat Position Sensors - If Equipped
The inflatable restraint seat position sensor is used to determine the proximity of a front driver or passenger seat position with respect to the frontal air bag. The seat position sensor interfaces with the inflatable restraint sensing and diagnostic module (SDM). The state of the seat positi ...
Test Probe Caution
Caution: Do not insert test equipment probes (DMM etc.) into any connector or fuse block terminal. The diameter of the test probes will deform most terminals. A deformed terminal will cause a poor connection, which will result in a system failure. Always use the EL-35616 GM-Approved Terminal T ...