Chevrolet Cruze Infotainment System: Steering Wheel Controls
Depending on the vehicle options, some audio functions can be controlled through the steering wheel controls.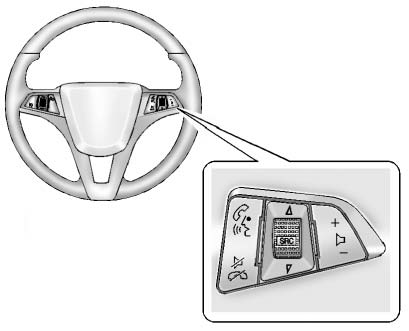 (Push to Talk): Press to interact with Bluetooth or voice recognition.

(Mute/End Call): Press to decline an incoming call, or to end a current call. Press to silence the vehicle speakers while using the infotainment system. Press again to turn the sound on. Press to cancel voice recognition.

SRC

(Thumbwheel Control): Press to select an audio source.
Use the thumbwheel to select the next or previous favorite radio station, CD, MP3 track, USB, and Bluetooth Audio.
Use _ SRC to skip to the next song or show using Pandora (if equipped) or Stitcher. See Pandora Internet Radio on page 25 or Stitcher Internet Radio on page 30.
+

− (Volume): Press + to increase the volume. Press − to decrease.
See "Steering Wheel Controls" in the owner manual.
Read the following pages to become familiar with the infotainment system features. WARNING Taking your eyes off the road for extended periods could cause a crash resulting in injury or death to yo ...
The infotainment system is controlled by touching the screen, and by using the knobs and other buttons. Voice recognition, through the steering wheel controls, can be used to control the infotain ...
Other materials:
Engine Air Cleaner/Filter
When to Inspect the Engine Air Cleaner/Filter Inspect the air cleaner/filter at the scheduled maintenance intervals and replace it at the first oil change after each 80 000 km (50,000 mi) interval. If you are driving in dusty/dirty conditions, inspect the filter at each engine oil change. How ...
Accessories and Modifications
Adding non‐dealer accessories or making modifications to the vehicle can affect vehicle performance and safety, including such things as airbags, braking, stability, ride and handling, emissions systems, aerodynamics, durability, and electronic systems like antilock brakes, traction cont ...
Floor Carpet Drying
If the carpet or the pad or insulator is wet, use the following criteria for drying or for replacing the components: For a 1-piece carpet assembly bonded to a cotton or a fiber padding, replace the entire assembly For a 2-piece carpet assembly with a cotton or a fiber padding, replace ...