Chevrolet Cruze Repair Manual: Thread Repair
General purpose thread repair kits are available commercially.
Warning: Refer to Safety Glasses Warning in the Preface section.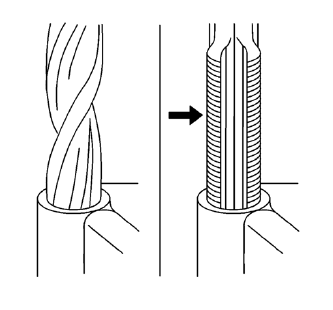 Note: Refer to the thread repair kit manufacturer's instructions regarding the size of the drill and which tap to use.
Always avoid any buildup of chips. Back out the tap every few turns and remove the chips.
Determine the size, the pitch, and the depth of the damaged thread.
Adjust the stop collars on the cutting tool as needed. Tap the stop collars to the required depth.
Drill out the damaged thread.
Remove the chips.
Apply clean engine oil to the top thread.
Use the tap in order to cut new thread.
Clean the thread.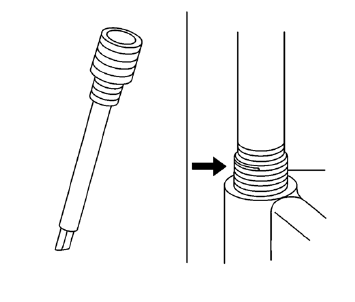 Screw the thread insert onto the mandrel of the thread insert installer. Engage the tang of the thread insert onto the end of the mandrel.
Note: The thread insert should be flush to 1 turn below the surface.
Lubricate the thread insert with clean engine oil - except when installing in aluminum - and install the thread insert.
If the tang of the thread insert does not break off when backing out the thread insert installer, break off the tang using a drift punch.
Special Tools and Equipment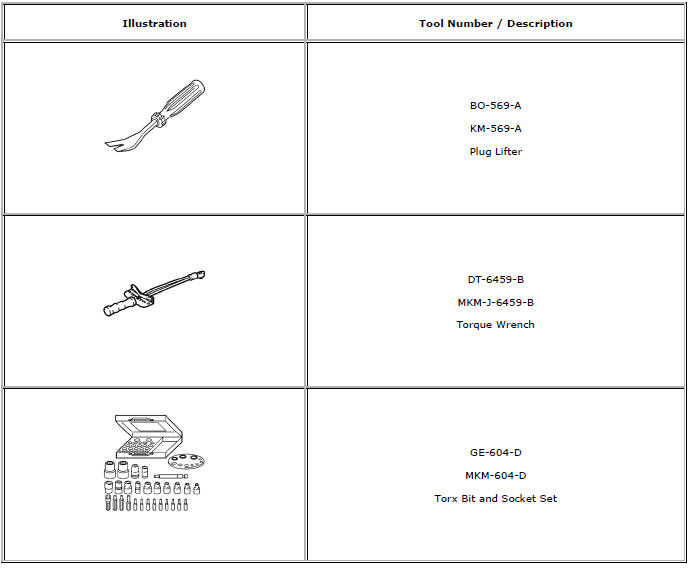 Preliminary Procedure Remove rear seat - left side. Refer to Rear Seat Replacement Rear Seat Back Cushion Cover Procedure Remove the staples from the seat back cover. Remove seat ba ...
Specifications Heated/Cooled Seat Schematics Front Seat Heater Control Module Replacement Preliminary Procedure Driver or passenger seat replacement. Refer to Driver or Passenger S ...
Other materials:
Shock Absorber Disposal
Warning: Use the proper eye protection when drilling to prevent metal chips from causing physical injury. Clamp the strut in a vise horizontally with the rod ( 1) completely extended. Drill a hole in the strut at the center of the end cap (3) using a 5 mm (3/16 in) drill bit. Gas o ...
Power Outlets
The accessory power outlets can be used to plug in electrical equipment, such as a cell phone or MP3 player. There is one accessory power outlet located on the center floor console and one on the rear of the center floor console. These outlets are powered when the key is in ON/ RUN or ACC/ACC ...
Removal Procedure
Remove the drivetrain and front suspension frame. Refer to Drivetrain and Front Suspension Frame Replacement. Mark Installation position of insulator (2) at frame (1). Cut out frame insulator core (1) from frame insulator (2). Note: On the rear insulator dril ...