Chevrolet Cruze Repair Manual: Thread Repair
General purpose thread repair kits are available commercially.
Warning: Refer to Safety Glasses Warning in the Preface section.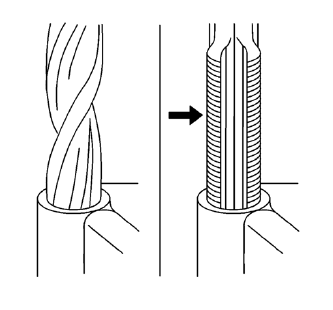 Note: Refer to the thread repair kit manufacturer's instructions regarding the size of the drill and which tap to use.
Always avoid any buildup of chips. Back out the tap every few turns and remove the chips.
Determine the size, the pitch, and the depth of the damaged thread.
Adjust the stop collars on the cutting tool as needed. Tap the stop collars to the required depth.
Drill out the damaged thread.
Remove the chips.
Apply clean engine oil to the top thread.
Use the tap in order to cut new thread.
Clean the thread.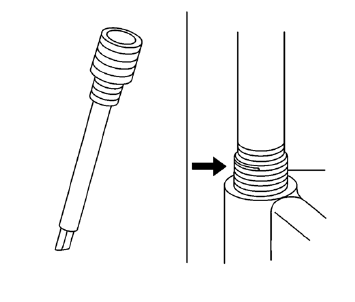 Screw the thread insert onto the mandrel of the thread insert installer. Engage the tang of the thread insert onto the end of the mandrel.
Note: The thread insert should be flush to 1 turn below the surface.
Lubricate the thread insert with clean engine oil - except when installing in aluminum - and install the thread insert.
If the tang of the thread insert does not break off when backing out the thread insert installer, break off the tang using a drift punch.
Special Tools and Equipment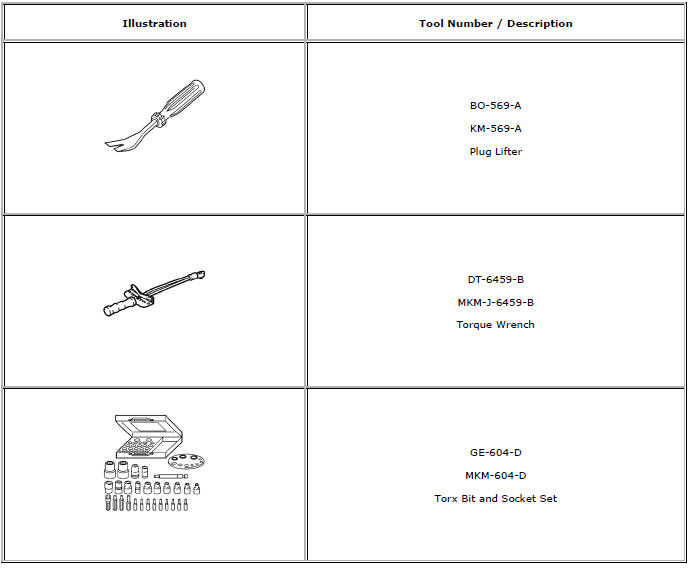 Preliminary Procedure Remove rear seat - left side. Refer to Rear Seat Replacement Rear Seat Back Cushion Cover Procedure Remove the staples from the seat back cover. Remove seat ba ...
Specifications Heated/Cooled Seat Schematics Front Seat Heater Control Module Replacement Preliminary Procedure Driver or passenger seat replacement. Refer to Driver or Passenger S ...
Other materials:
Installation Procedure
Install the following components on the drivetrain and front suspension frame if removed: The radiator support brackets. The stabilizer shaft--Refer to Stabilizer Shaft Replacement. The lower control arms--Refer to Lower Control Arm Replacement. The steering gear--Refer to Steering ...
Distracted Driving
Distraction comes in many forms and can take your focus from the task of driving. Exercise good judgment and do not let other activities divert your attention away from the road. Many local governments have enacted laws regarding driver distraction. Become familiar with the local laws in your ...
Braking
Braking action involves perception time and reaction time. Deciding to push the brake pedal is perception time. Actually doing it is reaction time. Average driver reaction time is about three-quarters of a second. In that time, a vehicle moving at 100 km/h (60 mph) travels 20m (66 ft), which co ...