Chevrolet Cruze Owners Manual: Washer Fluid
What to Use
When windshield washer fluid is needed, be sure to read the manufacturer's instructions before use. If operating the vehicle in an area where the temperature may fall below freezing, use a fluid that has sufficient protection against freezing.
Adding Washer Fluid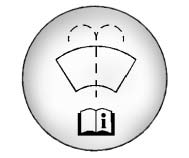 Open the cap with the washer symbol on it. Add washer fluid until the tank is full.
Notice
• When using concentrated washer fluid, follow the manufacturer instructions for adding water.
• Do not mix water with ready-to-use washer fluid.
Water can cause the solution to freeze and damage the washer fluid tank and other parts of the washer system.
• Fill the washer fluid tank only three-quarters full when it is very cold. This allows for fluid expansion if freezing occurs, which could damage the tank if it is completely full.
• Do not use engine coolant (antifreeze) in the windshield washer. It can damage the windshield washer system and paint.
This emergency operating mode allows the vehicle to be driven to a safe place in an emergency situation. If an overheated engine condition exists, an overheat protection mode which alternates firi ...
This vehicle has front disc brakes and could have rear drum brakes or rear disc brakes. Disc brake pads have built-in wear indicators that make a high-pitched warning sound when the brake pads ar ...
Other materials:
Front Floor Console Storage Tray Replacement
Preliminary Procedure Remove the automatic or manual transmission control lever trim cover. Refer to Automatic or Manual Transmission Control Lever Trim Cover Replacement Front Floor Console Storage Tray Screw (Qty: 2) Caution: Refer to Fastener Caution in the Preface section. Tighte ...
Instrument Panel Upper Compartment Replacement
Instrument Panel Upper Compartment Screw (Qty: 2) Caution: Refer to Fastener Caution in the Preface section. Procedure Before removing the instrument panel upper compartment screws, remove mat. Tighten 2.5 N·m (23 lb in) Instrument Panel Upper Compartment Assembly ...
Tail Lamp Replacement
Preliminary Procedures Open and support the rear compartment lid. Remove the body side trim panel replacement in order to expose the tail lamp pocket nuts. Refer to Body Side Trim Panel Replacement - Left Side. Tail Lamp Bolt (Qty: 2) Caution: Refer to Fastener Caut ...