Chevrolet Cruze Owners Manual: Washer Fluid
What to Use
When windshield washer fluid is needed, be sure to read the manufacturer's instructions before use. If operating the vehicle in an area where the temperature may fall below freezing, use a fluid that has sufficient protection against freezing.
Adding Washer Fluid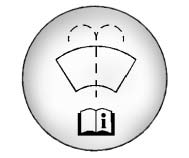 Open the cap with the washer symbol on it. Add washer fluid until the tank is full.
Notice
• When using concentrated washer fluid, follow the manufacturer instructions for adding water.
• Do not mix water with ready-to-use washer fluid.
Water can cause the solution to freeze and damage the washer fluid tank and other parts of the washer system.
• Fill the washer fluid tank only three-quarters full when it is very cold. This allows for fluid expansion if freezing occurs, which could damage the tank if it is completely full.
• Do not use engine coolant (antifreeze) in the windshield washer. It can damage the windshield washer system and paint.
This emergency operating mode allows the vehicle to be driven to a safe place in an emergency situation. If an overheated engine condition exists, an overheat protection mode which alternates firi ...
This vehicle has front disc brakes and could have rear drum brakes or rear disc brakes. Disc brake pads have built-in wear indicators that make a high-pitched warning sound when the brake pads ar ...
Other materials:
Starting the Engine
Place the transmission in the proper gear. Notice: If you add electrical parts or accessories, you could change the way the engine operates. Any resulting damage would not be covered by the vehicle warranty. Automatic Transmission Move the shift lever to P (Park) or N (Neutral). The engine wi ...
AM-FM Radio
Playing the Radio (Power/Volume): • Press to turn the radio on or off. • Turn to increase or decrease the volume of the active source. The steering wheel controls can also be used to adjust the volume. Radio Operation The radio will work when the key is in ON/RUN or ACC/ ACCESSORY. When ...
Recommended Fuel
Use regular unleaded gasoline with a posted octane rating of 87 or higher. If the octane rating is less than 87, an audible knocking noise, commonly referred to as spark knock, might be heard when driving. If this occurs, use a gasoline rated at 87 octane or higher as soon as possible. If hea ...