Chevrolet Cruze Owners Manual: Washer Fluid
What to Use
When windshield washer fluid is needed, be sure to read the manufacturer's instructions before use. If operating the vehicle in an area where the temperature may fall below freezing, use a fluid that has sufficient protection against freezing.
Adding Washer Fluid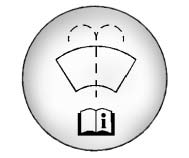 Open the cap with the washer symbol on it. Add washer fluid until the tank is full.
Notice
Х When using concentrated washer fluid, follow the manufacturer instructions for adding water.
Х Do not mix water with ready-to-use washer fluid.
Water can cause the solution to freeze and damage the washer fluid tank and other parts of the washer system.
Х Fill the washer fluid tank only three-quarters full when it is very cold. This allows for fluid expansion if freezing occurs, which could damage the tank if it is completely full.
Х Do not use engine coolant (antifreeze) in the windshield washer. It can damage the windshield washer system and paint.
This emergency operating mode allows the vehicle to be driven to a safe place in an emergency situation. If an overheated engine condition exists, an overheat protection mode which alternates firi ...
This vehicle has front disc brakes and could have rear drum brakes or rear disc brakes. Disc brake pads have built-in wear indicators that make a high-pitched warning sound when the brake pads ar ...
Other materials:
Tire Rotation
Tires should be rotated every 12 000 km (7,500 mi). Tires are rotated to achieve a uniform wear for all tires. The first rotation is the most important. Anytime unusual wear is noticed, rotate the tires as soon as possible, check for proper tire inflation pressure, and check for damaged tires ...
Steering Knuckle Replacement
Preliminary Procedure Raise and support the vehicle. Refer to Lifting and Jacking the Vehicle Remove the wheel bearing and hub assembly. Refer to Front Wheel Bearing and Hub Replacement. Separate the outer tie rod end from the knuckle. Refer to Steering Linkage Outer Tie R ...
Storing the Tire Sealant and Compressor Kit
The tire sealant and compressor kit is located in the trunk, under the load floor, behind an access panel. To remove the kit: 1. Open the trunk. 2. Turn the left knob counterclockwise and the right knob clockwise, 90 degrees, at the same time. Then pull the access panel rearward and up to r ...