Chevrolet Cruze Owners Manual: Automatic Headlamp System
When it is dark enough outside and the exterior lamp control is in the automatic position, the headlamps come on automatically.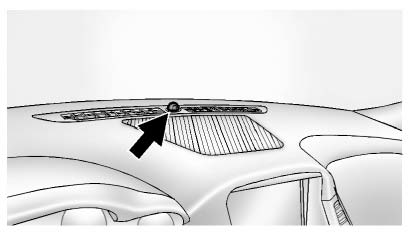 The vehicle has a light sensor on top of the instrument panel. Make sure it is not covered, or the headlamps will be on when they are not needed.
The system may also turn on the headlamps when driving through a parking garage or tunnel.
Lights On with Wipers
If the windshield wipers are activated in daylight with the engine on, and the exterior lamp control is in AUTO, the headlamps, parking lamps, and other exterior lamps come on. The transition time for the lamps coming on varies based on wiper speed. When the wipers are not operating, these lamps turn off.
Move the exterior lamp control to

or

to disable this feature.
Daytime Running Lamps can make it easier for others to see the front of your vehicle during the day. Fully functional daytime running lamps are required on all vehicles first sold in Canada. A li ...
(Hazard Warning Flasher): Press and momentarily hold this button on the instrument panel above the climate control system, to make the front and rear turn signal lamps flash on and off. This ...
Other materials:
Wheel Alignment Measurement
Steering and vibration complaints are not always the result of improper alignment. One possible cause is wheel and tire imbalance. Another possibility is tire lead due to worn or improperly manufactured tires. Lead/pull is defined as follows: At a constant highway speed on a typical straight ...
Installation Procedure
Install the following components on the drivetrain and front suspension frame if removed: The radiator support brackets. The stabilizer shaft--Refer to Stabilizer Shaft Replacement. The lower control arms--Refer to Lower Control Arm Replacement. The steering gear--Refer to Steering ...
License Plate Lamp
To replace the license plate lamp bulb: 1. Remove the two screws from the license plate lamp assembly. 2. Turn and pull the license plate lamp assembly down. 3. Turn the bulb socket counterclockwise and pull straight out of the lamp assembly. 4. Remove the bulb by pulling it straight out of ...