Chevrolet Cruze Repair Manual: Forward Lamp Wiring Harness Replacement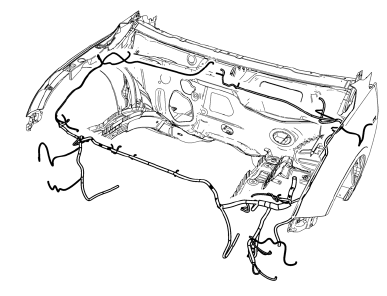 Preliminary Procedures
Remove the front bumper. Refer to Front Bumper Fascia Replacement.
Remove the headlamp. Refer to Headlamp Replacement.
Using a scan tool, check for DTCs.
Forward Lamp Wiring Harness
Tip
Create a work area large enough to lay out the new and old wiring harnesses.
Use care when removing inaccessible harness retainers. Replacement retainers may not be available.
Compare the new and old wiring harnesses for the same part number, the same number of wiring harness connectors, the same pin settings, and the same harness retainers.
Follow a logical order of steps during the replacement to ensure proper installation of the harness.
Rear License Plate Lamp Replacement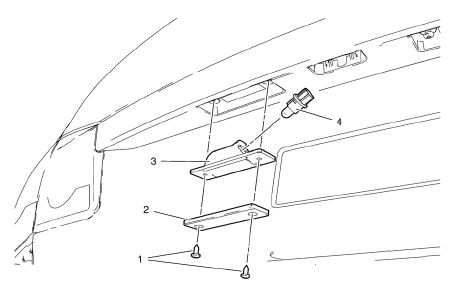 Rear License Plate Lamp Screw (Qty: 2)
Caution: Refer to Fastener Caution in the Preface section.
Tighten 3 N·m (27 lb in)
Rear License Plate Lamp
Tip
Rotate the left corner of the lamp assembly upward and pull the right side down out from the rear bumper fascia opening.
Rear License Plate Lamp Socket
Tip
Rotate the lamp socket counterclockwise and remove.
Rear License Plate Lamp Bulb
Tip
Service the bulb, as needed.
Preliminary Procedures Remove the rear compartment sill trim plate. Refer to Rear Compartment Sill Trim Plate Replacement. Disconnect the electrical harness connector from the backu ...
Preliminary Procedures Open and support the rear compartment lid. Remove the body side trim panel replacement in order to expose the tail lamp pocket nuts. Refer to Body Side Tr ...
Other materials:
Safety Belt Extender
If the vehicle's safety belt will fasten around you, you should use it. But if a safety belt is not long enough, your dealer will order you an extender. When you go in to order it, take the heaviest coat you will wear, so the extender will be long enough for you. To help avoid personal inju ...
Tire Terminology and Definitions
Air Pressure: The amount of air inside the tire pressing outward on each square inch of the tire. Air pressure is expressed in kPa (kilopascal) or psi (pounds per square inch). Accessory Weight: The combined weight of optional accessories. Some examples of optional accessories are automatic t ...
Heated Oxygen and Oxygen Sensor Caution
Caution: Do not remove the pigtail from either the heated oxygen sensor (HO2S) or the oxygen sensor (O2S). Removing the pigtail or the connector will affect sensor operation. Handle the oxygen sensor carefully. Do not drop the HO2S. Keep the in-line electrical connector and the louvered end fr ...