Chevrolet Cruze Repair Manual: Forward Lamp Wiring Harness Replacement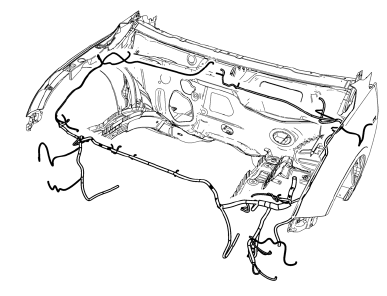 Preliminary Procedures
Remove the front bumper. Refer to Front Bumper Fascia Replacement.
Remove the headlamp. Refer to Headlamp Replacement.
Using a scan tool, check for DTCs.
Forward Lamp Wiring Harness
Tip
Create a work area large enough to lay out the new and old wiring harnesses.
Use care when removing inaccessible harness retainers. Replacement retainers may not be available.
Compare the new and old wiring harnesses for the same part number, the same number of wiring harness connectors, the same pin settings, and the same harness retainers.
Follow a logical order of steps during the replacement to ensure proper installation of the harness.
Rear License Plate Lamp Replacement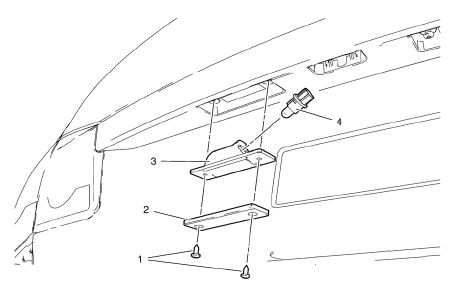 Rear License Plate Lamp Screw (Qty: 2)
Caution: Refer to Fastener Caution in the Preface section.
Tighten 3 N·m (27 lb in)
Rear License Plate Lamp
Tip
Rotate the left corner of the lamp assembly upward and pull the right side down out from the rear bumper fascia opening.
Rear License Plate Lamp Socket
Tip
Rotate the lamp socket counterclockwise and remove.
Rear License Plate Lamp Bulb
Tip
Service the bulb, as needed.
Preliminary Procedures Remove the rear compartment sill trim plate. Refer to Rear Compartment Sill Trim Plate Replacement. Disconnect the electrical harness connector from the backu ...
Preliminary Procedures Open and support the rear compartment lid. Remove the body side trim panel replacement in order to expose the tail lamp pocket nuts. Refer to Body Side Tr ...
Other materials:
Parking Brake
To apply the parking brake, pull up on the parking brake handle. It is not necessary to push in on the release button while applying the parking brake. If the ignition is in the ON/RUN position, the brake system warning light will come on. To release the parking brake: 1. Hold the brake peda ...
Installation Procedure
Remove all mounds or loose pieces of urethane adhesive from the pinch-weld area. Inspect for any of the following problems in order to help prevent future breakage of the window: High weld Solder spots Hardened sealer Any other obstruction or irregularity in the pinch-weld fla ...
Deployment Inside Vehicle - Vehicle Scrapping Procedure
Deploy the inflator modules inside of the vehicle when destroying the vehicle or when salvaging the vehicle for parts. This includes, but is not limited to, the following situations: The vehicle has completed all useful life. Irreparable damage occurred to the vehicle in a non-deployment ty ...