Chevrolet Cruze Owners Manual: Low Fuel Warning Light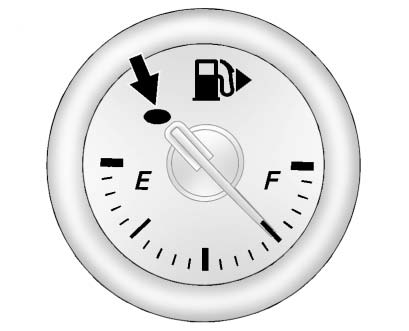 This light comes on for a few seconds when the ignition is turned on as a check to indicate it is working. If it does not come on, have it fixed.
The low fuel warning light comes on and a chime sounds when the vehicle is low on fuel. The light turns off when fuel is added to the fuel tank.
Notice: Lack of proper engine oil maintenance can damage the engine. Driving with the engine oil low can also damage the engine. The repairs would not be covered by the vehicle warranty. Check th ...
The immobilizer light should come on briefly as the engine is started. If it does not come on, have the vehicle serviced by your dealer. If the system is working normally, the indicator light turn ...
Other materials:
Engine Oil Life System
When to Change Engine Oil This vehicle has a computer system that indicates when to change the engine oil and filter. This is based on a combination of factors which include engine revolutions, engine temperature, and miles driven. Based on driving conditions, the mileage at which an oil ...
Environmental Fallout (Acid Rain)
Caution: Refer to Clearcoat/Ultraviolet Screeners Caution in the Preface section. Note: Always refer to the manufacturer's packaged instructions for the detailed procedures of materials used for compounding and/or polishing. Since the severity of the condition varies from area to area, proper ...
Configure Menu
The Configuration Menu is used to adjust features and preferences, such as Sound, Radio, Nav (Navigation), Display, or Time Settings. 1. Press the Config screen button on the Home Page. 2. Touch-tap the scroll bar until the desired option displays. Select the desired settings to change. S ...