Chevrolet Cruze Infotainment System: Pictures
Pictures can only be viewed using USB devices. If pictures are on an SD card, transfer to a USB device or use a USB-SD adapter. File sizes above approximately four mega pixels may not show. Only jpeg, bmp, gif, and png files are supported.
1. Press the Pictures screen button on the Home Page.
2. The system does a search to find the picture folders.
A "Please wait" message displays until the search is finished.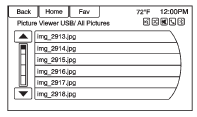 3. A list displays. Select a picture to view.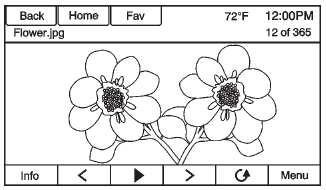 4. Once a picture displays, the following options are available: Info
: Press to turn file name information on or off.

: Press to display a previous picture if not in slide show mode.

: Press to toggle between slide show mode and manual mode.

: Press to display a next picture if not in slide show mode.

: Press to manually rotate a picture 90 degrees counterclockwise.
Menu
: Press to open the Picture Viewer Settings screen. Slide Picture Viewer Main, Slideshow Timer, and Shuffle Images display as options for configuring the view of images stored in the system.
If the displayed picture screen is not used within six seconds, the upper and lower bar options will disappear.
Touch-tap the screen to re-display the upper and lower bar.
Stitcher SmartRadio™ is an Internet radio service that streams news, sports, and entertainment shows through the audio system. Create personalized, on-demand stations or discover new shows through ...
Other materials:
Traction Off Light
This light comes on briefly while starting the engine. If it does not, have the vehicle serviced by your dealer. If the system is working normally, the indicator light then turns off. The traction off light comes on when the Traction Control System (TCS) has been turned off by pressing and ...
Body Side Trim Panel Replacement - Left Side
Preliminary Procedure Remove the rear side door sill trim plate. Refer to Rear Side Door Sill Trim Plate Replacement. Remove the rear seat back. Refer to Rear Seat Replacement. Remove the quarter window garnish molding. Refer to Quarter Window Garnish Molding Replacement. ...
Heating and Air Conditioning System Description and Operation
Engine Coolant Engine coolant is the key element of the heating system. The thermostat controls engine operating coolant temperature. The thermostat also creates a restriction for the cooling system that promotes a positive coolant flow and helps prevent cavitation. Coolant enters the heater ...