Chevrolet Cruze Infotainment System: Quick Info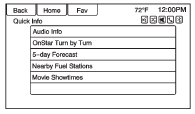 Quick Info gives access to quick information on Audio playing, OnStar Turn-by-Turn route (if equipped), 5-day forecast, Nearby Fuel Stations, and Movie Show Times.
To access, press Quick Info on the Home Page or the INFO button on the faceplate. Depending on the system and if the options are available for that region, some options may be grayed out.
Audio Info
: Displays information on current item playing.
OnStar Turn-by-Turn:
Displays the next maneuver in a route. See OnStar® Destination Download on page 61.
5-day Forecast:
Displays the 5-day forecast for the weather station closest to the current location. See "Weather (If Equipped)" in Satellite Radio on page 18.
Nearby Fuel Stations:
Displays fuel prices and distances for close fuel stations.
Movie Showtimes:
Displays a list of movies playing in the theaters closest to current location.
Frequency interference and static can occur during normal radio reception if items such as cell phone chargers, vehicle convenience accessories, and external electronic devices are plugged into th ...
Pandora® (if equipped) is a free Internet radio service that streams personalized radio stations based on artists, songs, genres, and comedians. Create stations using the Pandora website or smartp ...
Other materials:
Roadside Assistance Program
For U.S.-purchased vehicles, call 1-800-243-8872; (Text Telephone (TTY): 1-888-889-2438). For Canadian-purchased vehicles, call 1-800-268-6800. Service is available 24 hours a day, 365 days a year. Calling for Assistance When calling Roadside Assistance, have the following information ready: • ...
Removal Procedure
Warning: Refer to Glass and Sheet Metal Handling Warning in the Preface section. Disable the SIR System. Refer to SIR Disabling and Enabling. Disconnect the negative battery cable. Refer to Battery Negative Cable Disconnection and Connection. Remove the rear side door. Refer to ...
Front Seat Track Synchronization
The fore/aft manual adjuster is composed of an inboard track assembly (5), and outboard track (4) assembly, and an adjuster handle (1). Each track assembly is made of an upper track (2) and a lower track (3). Both tracks need to be aligned prior to installing in the vehicle. To align t ...