Chevrolet Cruze Infotainment System: Quick Info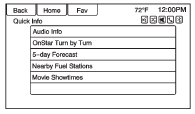 Quick Info gives access to quick information on Audio playing, OnStar Turn-by-Turn route (if equipped), 5-day forecast, Nearby Fuel Stations, and Movie Show Times.
To access, press Quick Info on the Home Page or the INFO button on the faceplate. Depending on the system and if the options are available for that region, some options may be grayed out.
Audio Info
: Displays information on current item playing.
OnStar Turn-by-Turn:
Displays the next maneuver in a route. See OnStar® Destination Download on page 61.
5-day Forecast:
Displays the 5-day forecast for the weather station closest to the current location. See "Weather (If Equipped)" in Satellite Radio on page 18.
Nearby Fuel Stations:
Displays fuel prices and distances for close fuel stations.
Movie Showtimes:
Displays a list of movies playing in the theaters closest to current location.
Frequency interference and static can occur during normal radio reception if items such as cell phone chargers, vehicle convenience accessories, and external electronic devices are plugged into th ...
Pandora® (if equipped) is a free Internet radio service that streams personalized radio stations based on artists, songs, genres, and comedians. Create stations using the Pandora website or smartp ...
Other materials:
Entry Lighting
The headlamps, parking lamps, taillamps, back-up lamps, and most of the interior lamps turn on briefly when is pressed on the Remote Keyless Entry (RKE) transmitter. After about 30 seconds the exterior lamps turn off, and then the dome and remaining interior lights will dim to off. Entry lig ...
Power Steering System Description and Operation
The hydraulic power steering pump is a constant displacement vane-type pump that provides hydraulic pressure and flow for the power steering gear. The hydraulic power steering pumps are either belt-driven or direct-drive, cam-driven. The power steering fluid reservoir holds the power steerin ...
Engine Overheating
There is an engine coolant temperature gauge on the vehicle instrument cluster to warn of engine overheating. If the decision is made not to lift the hood when this warning appears, get service help right away. If the decision is made to lift the hood, make sure the vehicle is parked on a le ...