Chevrolet Cruze Infotainment System: Quick Info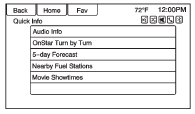 Quick Info gives access to quick information on Audio playing, OnStar Turn-by-Turn route (if equipped), 5-day forecast, Nearby Fuel Stations, and Movie Show Times.
To access, press Quick Info on the Home Page or the INFO button on the faceplate. Depending on the system and if the options are available for that region, some options may be grayed out.
Audio Info
: Displays information on current item playing.
OnStar Turn-by-Turn:
Displays the next maneuver in a route. See OnStar® Destination Download on page 61.
5-day Forecast:
Displays the 5-day forecast for the weather station closest to the current location. See "Weather (If Equipped)" in Satellite Radio on page 18.
Nearby Fuel Stations:
Displays fuel prices and distances for close fuel stations.
Movie Showtimes:
Displays a list of movies playing in the theaters closest to current location.
Frequency interference and static can occur during normal radio reception if items such as cell phone chargers, vehicle convenience accessories, and external electronic devices are plugged into th ...
Pandora® (if equipped) is a free Internet radio service that streams personalized radio stations based on artists, songs, genres, and comedians. Create stations using the Pandora website or smartp ...
Other materials:
Installation Procedure
Align the body side outer panel reinforcement. Drill 8 mm (5/16 in) for plug welding along the edges of the body side outer panel reinforcement as noted from the original panel. Clean and prepare the attaching surfaces for welding. Position the body side outer pa ...
Steering Wheel and Column Description and Operation
The steering wheel and column has 4 primary functions: Vehicle steering Vehicle security Driver convenience Driver safety Vehicle Steering The steering wheel is the first link between the driver and the vehicle. The steering wheel is fastened to a steering shaft within the column. A ...
Rear Seats
Either side of the rear seatback can be folded. To fold the rear seatbacks: 1. Place the front seatbacks in the upright position. Notice: Folding a rear seat with the safety belts still fastened may cause damage to the seat or the safety belts. Always unbuckle the safety belts and return them ...