Chevrolet Cruze Repair Manual: Removal Procedure
Warning: Refer to Approved Equipment for Collision Repair Warning in the Preface section.
Warning: Refer to Collision Sectioning Warning in the Preface section.
Warning: Refer to Glass and Sheet Metal Handling Warning in the Preface section.
Disable the SIR System. Refer to SIR Disabling and Enabling.
Disconnect the negative battery cable. Refer to Battery Negative Cable Disconnection and Connection.
Remove all related panels and components.
Visually inspect the damage. Repair as much of the damage as possible.
Remove the sealers and anti-corrosion materials from the repair area, as necessary. Refer to Anti-Corrosion Treatment and Repair.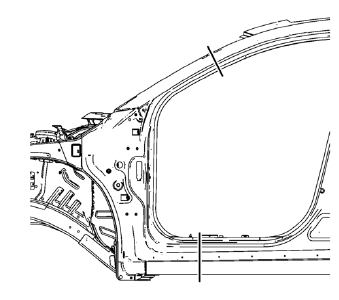 Create cut lines on the front hinge pillar body.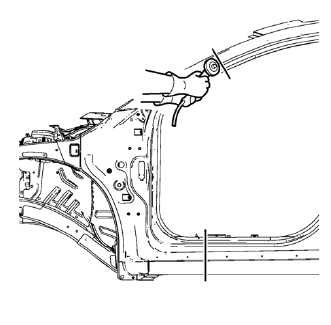 Note: Do not damage any inner panels or reinforcements.
Cut the panel where sectioning is to be performed.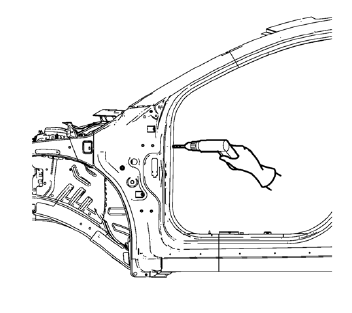 Locate and mark all the necessary factory welds of the front hinge pillar body.
Drill all factory welds. Note the number and location of welds for installation of the service assembly.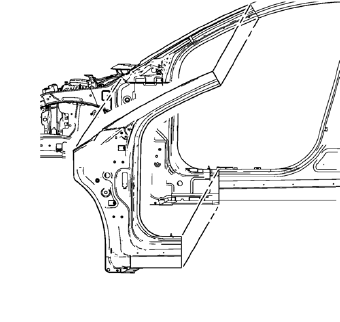 Remove the damaged 10. front hinge pillar body.
Note: According to different corrosion warranties, only the regional mandatory joining methods are allowed. ...
Cut the front hinge pillar body in corresponding locations to fit the remaining original panel. The sectioning joint should be trimmed to allow a gap of one-and-one-half-times the metal th ...
Other materials:
Hydraulic Clutch
For vehicles with a manual transmission, it is not necessary to regularly check brake/clutch fluid unless there is a leak suspected. Adding fluid will not correct a leak. A fluid loss in this system could indicate a problem. Have the system inspected and repaired. When to Check and What to Us ...
Trademarks and License Agreements
Manufactured under license under U.S. Patent #'s: 5,451,942; 5,956,674; 5,974,380; 5,978,762; 6,487,535 & other U.S. and worldwide patents issued & pending. DTS and the Symbol are registered trademarks and DTS Digital Surround and the DTS logos are trademarks of DTS Inc. All Righ ...
Installation Procedure
Remove all mounds or loose pieces of urethane adhesive from the pinch-weld area. Inspect for any of the following problems in order to help prevent future breakage of the window: High weld Solder spots Hardened sealer Any other obstruction or irregularity in the pinch-weld fla ...