Chevrolet Cruze Owners Manual: Instrument Panel
Instrument Panel Overview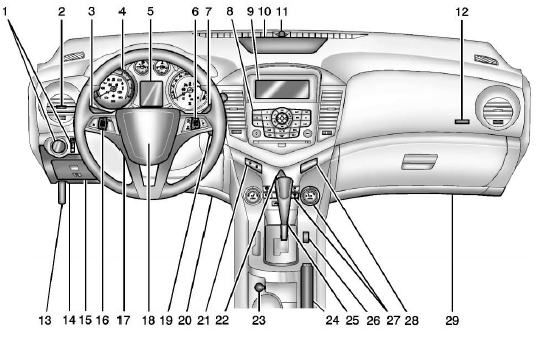 1. Exterior Lamp Controls Front Fog Lamps
Instrument Panel Illumination Control 2. Air Vents
3. Headlamp High/Low-Beam Changer Turn Signal Lever.
Driver Information Center (DIC) Buttons.
4. Instrument Cluster
5. Driver Information Center (DIC) 6. Steering Wheel Controls 7. Windshield Wiper/Washer 8. Infotainment
Satellite Radio
9. Infotainment Display Screen.
10. Instrument Panel Storage 11. Light Sensor.
12. Passenger Airbag.
13. Hood Release.
14. Data Link Connector (DLC) (Out of View).
15. Instrument Panel Fuse Block 6. Cruise Control
17. Steering Wheel Adjustment 18. Horn
Driver Airbag.
19. Ignition Switch or Keyless Ignition Button (If Equipped).
20. Driver Knee Airbag. See Where Are the Airbags?
21. Power Door Locks
22. Hazard Warning Flashers 23. Power Outlets
24. Parking Brake
25. Shift Lever.
26. Traction Control System (TCS) StabiliTrak® System
27. Climate Control Systems Automatic Climate Control Heated Front Seats
28. Passenger Airbag Status Indicator 29. Passenger Knee Airbag.