Chevrolet Cruze Infotainment System: Steering Wheel Controls
Depending on the vehicle options, some audio functions can be controlled through the steering wheel controls.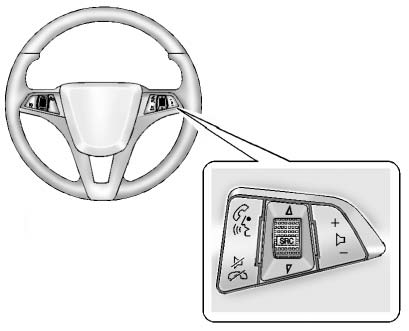 (Push to Talk): Press to interact with Bluetooth or voice recognition.

(Mute/End Call): Press to decline an incoming call, or to end a current call. Press to silence the vehicle speakers while using the infotainment system. Press again to turn the sound on. Press to cancel voice recognition.

SRC

(Thumbwheel Control): Press to select an audio source.
Use the thumbwheel to select the next or previous favorite radio station, CD, MP3 track, USB, and Bluetooth Audio.
Use _ SRC to skip to the next song or show using Pandora (if equipped) or Stitcher. See Pandora Internet Radio on page 25 or Stitcher Internet Radio on page 30.
+

− (Volume): Press + to increase the volume. Press − to decrease.
See "Steering Wheel Controls" in the owner manual.