Chevrolet Cruze Infotainment System: Trademarks and License Agreements
FCC Information
See "Radio Frequency Statement" in the owner manual for information regarding Part 15 of the Federal Communications Commission (FCC) rules and with Industry Canada Standards RSS-GEN/210/220/310.

"Made for iPod" and "Made for iPhone" mean that an electronic accessory has been designed to connect specifically to iPod or iPhone and has been certified by the developer to meet Apple performance standards.
iPod and iPhone are trademarks of Apple Computer, Inc., registered in the U.S. and other countries.

Fees and Taxes: Subscription fee, taxes, one time activation fee, and other fees may apply. Subscription fee is consumer only. All fees and programming subject to change.
Subscriptions subject to Customer Agreement available at www.siriusxm.com. SiriusXM® service only available in the 48 contiguous United States and Canada.
In Canada: Some deterioration of service may occur in extreme northern latitudes. This is beyond the control of SiriusXM® Satellite Radio.
Explicit Language Notice: Channels with frequent explicit language are indicated with an "XL" preceding the channel name. Channel blocking is available for SiriusXM Satellite Radio receivers by notifying SiriusXM: • USA: 866-635-2349 or see www.siriusxm.com.
• Canada: 877-209-0079 or see www.xmradio.ca.
It is prohibited to copy, decompile, disassemble, reverse engineer, hack, manipulate, or otherwise make available any technology or software incorporated in receivers compatible with the SiriusXM Satellite Radio System or that support the SiriusXM website, the Online Service or any of its content.
Furthermore, the AMBER voice compression software included in this product is protected by intellectual property rights including patent rights, copyrights, and trade secrets of Digital Voice Systems, Inc.
General Requirements: 1. A License Agreement from SiriusXM is required for any product that incorporates SiriusXM Technology and/or for use of any of the SiriusXM marks to be manufactured, distributed, or marketed in the SiriusXM Service Area.
2. For products to be distributed, marketed, and/or sold in Canada, a separate agreement is required with Canadian Satellite Radio Inc. (operating as XM Canada).
Gracenote
Gracenote®, Gracenote logo and logotype, and the "Powered by Gracenote" logo are either a registered trademark or a trademark of Gracenote, Inc. in the United States and/or other countries.
Bluetooth
The Bluetooth® word mark and logos are owned by the Bluetooth® SIG, Inc. and any use of such marks by General Motors is under license.
Other trademarks and trade names are those of their respective owners.
Pandora (If Equipped)
Pandora is a registered trademark of Pandora Media, Inc., used under license.
Map End User License Agreement (Optional Equipment Applies Where Equipped)
END USER TERMS
The Map Data ("Data") is provided for your personal, internal use only and not for resale. It is protected by copyright, and is subject to the following terms (this "End User License Agreement") and conditions which are agreed to by you, on the one hand, and NAVTEQ North America, LLC ("NT") and its licensors (including their licensors and suppliers) on the other hand.
The Data for areas of Canada includes information taken with permission from Canadian authorities, including: © Her Majesty the Queen in Right of Canada, © Queen's Printer for Ontario, © Canada Post Corporation, GeoBase®.
NT holds a nonexclusive license from the United States Postal Service® to publish and sell ZIP+4® information.
© United States Postal Service® 2012. Prices are not established, controlled, or approved by the United States Postal Service®.
The following trademarks and registrations are owned by the USPS: United States Postal Service, USPS, and ZIP+4.
TERMS AND CONDITIONS
Personal Use Only: You agree to use this Data for the solely personal, noncommercial purposes for which you were licensed, and not for service bureau, timesharing or other similar purposes. Except as otherwise set forth herein, you agree not to otherwise reproduce, copy, modify, decompile, disassemble or reverse engineer any portion of this Data, and may not transfer or distribute it in any form, for any purpose, except to the extent permitted by mandatory laws.
You may transfer the Data and all accompanying materials on a permanent basis if you retain no copies and the recipient agrees to the terms of this End User License Agreement. Multi-disc sets may only be transferred or sold as a complete set as provided to you and not as a subset thereof.
Restrictions
Except where you have been specifically licensed to do so by NT and without limiting the preceding paragraph, you may not (a) use this Data with any products, systems, or applications installed or otherwise connected to or in communication with vehicles capable of vehicle navigation, positioning, dispatch, real time route guidance, fleet management or similar applications; or (b) with, or in communication with, including without limitation, cellular phones, palmtop and handheld computers, pagers, and personal digital assistants or PDAs.
Warning
This Data may contain inaccurate or incomplete information due to the passage of time, changing circumstances, sources used, and the nature of collecting comprehensive geographic data, any of which may lead to incorrect results.
No Warranty
This Data is provided to you "as is," and you agree to use it at your own risk. NT and its licensors (and their licensors and suppliers) make no guarantees, representations, or warranties of any kind, express or implied, arising by law or otherwise, including but not limited to, content, quality, accuracy, completeness, effectiveness, reliability, fitness for a particular purpose, usefulness, use or results to be obtained from this Data, or that the Data or server will be uninterrupted or error free.
Disclaimer of Warranty
THE DATABASE IS PROVIDED ON AN "AS IS" AND "WITH ALL FAULTS BASIS" AND BOSCH (AND THEIR LICENSORS AND SUPPLIERS) EXPRESSLY DISCLAIM ALL OTHER WARRANTIES, EXPRESS OR IMPLIED, INCLUDING BUT NOT LIMITED TO, THE IMPLIED WARRANTIES OF NON-INFRINGEMENT, MERCHANTABILITY, SATISFACTORY QUALITY, ACCURACY, TITLE AND FITNESS FOR A PARTICULAR PURPOSE.
NO ORAL OR WRITTEN ADVICE OR INFORMATION PROVIDED BY BOSCH (OR ANY OF THEIR LICENSORS, AGENTS, EMPLOYEES, OR THIRD PARTY PROVIDERS) SHALL CREATE A WARRANTY, AND YOU ARE NOT ENTITLED TO RELY ON ANY SUCH ADVICE OR INFORMATION.
THIS DISCLAIMER OF WARRANTIES IS AN ESSENTIAL CONDITION OF THIS AGREEMENT.
Disclaimer of Liability
NT AND ITS LICENSORS (INCLUDING THEIR LICENSORS AND SUPPLIERS) SHALL NOT BE LIABLE TO YOU IN RESPECT OF ANY CLAIM, DEMAND OR ACTION, IRRESPECTIVE OF THE NATURE OF THE CAUSE OF THE CLAIM, DEMAND OR ACTION ALLEGING ANY LOSS, INJURY OR DAMAGES, DIRECT OR INDIRECT, WHICH MAY RESULT FROM THE USE OR POSSESSION OF THIS DATA; OR FOR ANY LOSS OF PROFIT, REVENUE, CONTRACTS OR SAVINGS, OR ANY OTHER DIRECT, INDIRECT, INCIDENTAL, SPECIAL OR CONSEQUENTIAL DAMAGES ARISING OUT OF YOUR USE OF OR INABILITY TO USE THIS DATA, ANY DEFECT IN THIS DATA, OR THE BREACH OF THESE TERMS OR CONDITIONS, WHETHER IN AN ACTION IN CONTRACT OR TORT OR BASED ON A WARRANTY, EVEN IF NT OR ITS LICENSORS HAVE BEEN ADVISED OF THE POSSIBILITY OF SUCH DAMAGES. Some States, Territories, and Countries do not allow certain liability exclusions or damages limitations, so to that extent the above may not apply to you.
Export Control
You agree not to export from anywhere any part of the Data provided to you or any direct product thereof except in compliance with, and with all licenses and approvals required under, applicable export laws, rules and regulations. Entire Agreement: These terms and conditions constitute the entire agreement between NT (and its licensors, including their licensors and suppliers) and you pertaining to the subject matter hereof, and supersedes in their entirety any and all written or oral agreements previously existing between us with respect to such subject matter.
Governing Law
The above terms and conditions shall be governed by the laws of the State of Illinois, without giving effect to (i) its conflict of laws provisions, or (ii) the United Nations Convention for Contracts for the International Sale of Goods, which is explicitly excluded. You agree to submit to the jurisdiction of the State of Illinois for any and all disputes, claims, and actions arising from or in connection with the Data provided to you hereunder.
Government End Users
If the Data is being acquired by or on behalf of the United States government or any other entity seeking or applying rights similar to those customarily claimed by the United States government, this Data is a "commercial item" as that term is defined at 48 C.F.R. ("FAR") 2.101, is licensed in accordance with this End User License Agreement, and each copy of Data delivered or otherwise furnished shall be marked and embedded as appropriate with the following "Notice of Use," and be treated in accordance with such Notice: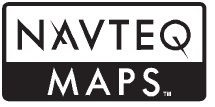 NOTICE OF USE
CONTRACTOR (MANUFACTURER/ SUPPLIER)
NAME:
NAVTEQ
CONTRACTOR (MANUFACTURER/ SUPPLIER)
ADDRESS:
425 West Randolph Street, Chicago, IL 60606.
This Data is a commercial item as defined in FAR 2.101 and is subject to the End User License Agreement under which this Data was provided.
© 2012 NAVTEQ. All rights reserved.
If the Contracting Officer, federal government agency, or any federal official refuses to use the legend provided herein, the Contracting Officer, federal government agency, or any federal official must notify NAVTEQ prior to seeking additional or alternative rights in the Data.
END USER NOTICE
The marks of companies displayed by this product to indicate business locations are the marks of their respective owners. The use of such marks in this product does not imply any sponsorship, approval, or endorsement by such companies of this product.