Chevrolet Cruze Repair Manual: Front Fender Emblem/Nameplate Replacement (1.8L 2H0 or 2.0L Diesel)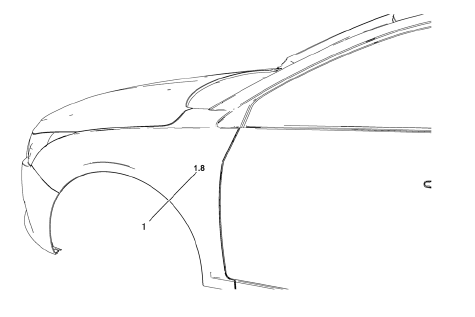 Front Fender Emblem Assembly
Caution: Refer to Exterior Trim Emblem Removal Caution in the Preface section.
Procedure
The part and surface should be 21°C (70°F) prior to installation. The vehicle should remain 21°C (70°F) for one hour after assembly to allow adhesive to develop sufficient bond strength.
Use a Heat Gun or equivalent to remove the old emblem. Clean all adhesive from the front fender and wipe the surface dry with a clean lint-free towel prior to installing the new emblem.
When removing protective liners from the adhesive tape, be careful not to touch tape with hands and do not allow tape to come in contact with dirt or any foreign matter prior to adhesion.
Using the palm of the hand, wet out the emblem to the front fender to ensure full adhesion of the emblem is made.
Front Door (Diesel) 65 mm 83 mm Front Door (Diesel) 60 mm 87 mm Rear Compartment Lid (Diesel) 122 mm 32 mm Rear Compartment Lid (Ecoline) 162 mm 32 ...
Preliminary Procedure Remove front bumper fascia. Refer to Front B 1. umper Fascia Replacement. Remove front fog lamp. Refer to Front Fog Lamp Replacement. Front Fog Lamp Bezel Scre ...
Other materials:
Configure Menu
The Configuration Menu is used to adjust features and preferences, such as Sound, Radio, Nav (Navigation), Display, or Time Settings. 1. Press the Config screen button on the Home Page. 2. Touch-tap the scroll bar until the desired option displays. Select the desired settings to change. S ...
Rear Side Door Wiring Harness Replacement
Preliminary Procedure Remove the rear side door inner panel trim. Refer to Rear Side Door Trim Replacement. Rear Side Door Wiring Harness Warning: Unless directed otherwise, the ignition and start switch must be in the OFF or LOCK position, and all electrical loads must be OFF befor ...
Climate Controls
The heating, cooling, defrosting, and ventilation for the vehicle can be controlled with these systems. Vehicles without Air Conditioning 1. Temperature Control 2. Bi-level Air Mode 3. Floor Air Mode 4. Vent Air Mode 5. Fan Control 6. Driver and Passenger Heated Seats (If Equipped) 7. Re ...