Chevrolet Cruze Repair Manual: Front Fender Emblem/Nameplate Replacement (1.8L 2H0 or 2.0L Diesel)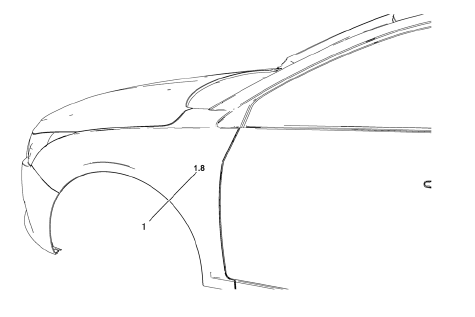 Front Fender Emblem Assembly
Caution: Refer to Exterior Trim Emblem Removal Caution in the Preface section.
Procedure
The part and surface should be 21°C (70°F) prior to installation. The vehicle should remain 21°C (70°F) for one hour after assembly to allow adhesive to develop sufficient bond strength.
Use a Heat Gun or equivalent to remove the old emblem. Clean all adhesive from the front fender and wipe the surface dry with a clean lint-free towel prior to installing the new emblem.
When removing protective liners from the adhesive tape, be careful not to touch tape with hands and do not allow tape to come in contact with dirt or any foreign matter prior to adhesion.
Using the palm of the hand, wet out the emblem to the front fender to ensure full adhesion of the emblem is made.
Front Door (Diesel) 65 mm 83 mm Front Door (Diesel) 60 mm 87 mm Rear Compartment Lid (Diesel) 122 mm 32 mm Rear Compartment Lid (Ecoline) 162 mm 32 ...
Preliminary Procedure Remove front bumper fascia. Refer to Front B 1. umper Fascia Replacement. Remove front fog lamp. Refer to Front Fog Lamp Replacement. Front Fog Lamp Bezel Scre ...
Other materials:
Installation Procedure
Cut the roof front header panel in corresponding locations to fit the remaining original panel. The sectioning joint should be trimmed to allow a gap of one-and-one-half-times the metal thickness at the sectioning joint. Create a 50 mm (2 in) backing plate from the unused portion of ...
Recreational Vehicle Towing
Recreational vehicle towing refers to towing the vehicle behind another vehicle – such as behind a motor home. The two most common types of recreational vehicle towing are known as dinghy towing and dolly towing. Dinghy towing is towing the vehicle with all four wheels on the ground. Dolly tow ...
Installation Procedure
Clean and prepare the attaching surfaces for welding. Position the roof rear header panel (1) on the vehicle. Verify the fit of the panel. Clamp the roof rear header panel into position. Spot weld accordingly as noted from the original panel. Apply the sealer ...