Chevrolet Cruze Repair Manual: Front Fender Emblem/Nameplate Replacement (1.8L 2H0 or 2.0L Diesel)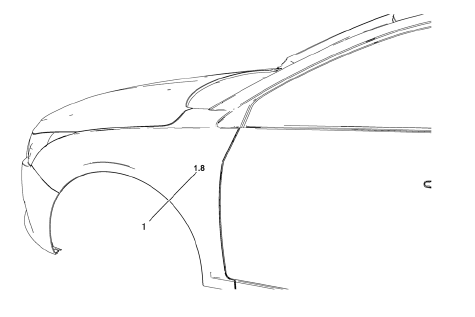 Front Fender Emblem Assembly
Caution: Refer to Exterior Trim Emblem Removal Caution in the Preface section.
Procedure
The part and surface should be 21°C (70°F) prior to installation. The vehicle should remain 21°C (70°F) for one hour after assembly to allow adhesive to develop sufficient bond strength.
Use a Heat Gun or equivalent to remove the old emblem. Clean all adhesive from the front fender and wipe the surface dry with a clean lint-free towel prior to installing the new emblem.
When removing protective liners from the adhesive tape, be careful not to touch tape with hands and do not allow tape to come in contact with dirt or any foreign matter prior to adhesion.
Using the palm of the hand, wet out the emblem to the front fender to ensure full adhesion of the emblem is made.
Front Door (Diesel) 65 mm 83 mm Front Door (Diesel) 60 mm 87 mm Rear Compartment Lid (Diesel) 122 mm 32 mm Rear Compartment Lid (Ecoline) 162 mm 32 ...
Preliminary Procedure Remove front bumper fascia. Refer to Front B 1. umper Fascia Replacement. Remove front fog lamp. Refer to Front Fog Lamp Replacement. Front Fog Lamp Bezel Scre ...
Other materials:
Shock Absorber Disposal
Warning: Use the proper eye protection when drilling to prevent metal chips from causing physical injury. Clamp the strut in a vise horizontally with the rod ( 1) completely extended. Drill a hole in the strut at the center of the end cap (3) using a 5 mm (3/16 in) drill bit. Gas o ...
Tire Chains
WARNING Do not use tire chains. There is not enough clearance. Tire chains used on a vehicle without the proper amount of clearance can cause damage to the brakes, suspension, or other vehicle parts. The area damaged by the tire chains could cause loss of control and a crash. Use another type ...
Removal Procedure
Raise and support the vehicle. Refer to Lifting and Jacking the Vehicle. Remove the brake rotor. Refer to Front Brake Rotor Replacement. Remove the wheel speed sensor screw (2). Remove the wheel speed sensor (1) from the steering knuckle. Remove the wheel drive shaft from the fron ...