Chevrolet Cruze Repair Manual: Front Fender Emblem/Nameplate Replacement (1.8L 2H0 or 2.0L Diesel)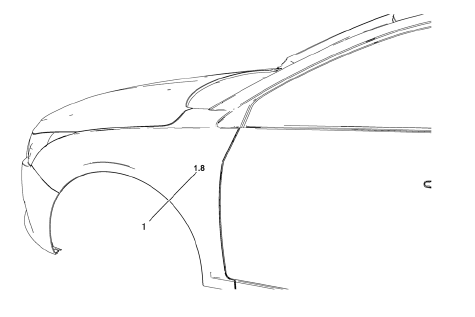 Front Fender Emblem Assembly
Caution: Refer to Exterior Trim Emblem Removal Caution in the Preface section.
Procedure
The part and surface should be 21°C (70°F) prior to installation. The vehicle should remain 21°C (70°F) for one hour after assembly to allow adhesive to develop sufficient bond strength.
Use a Heat Gun or equivalent to remove the old emblem. Clean all adhesive from the front fender and wipe the surface dry with a clean lint-free towel prior to installing the new emblem.
When removing protective liners from the adhesive tape, be careful not to touch tape with hands and do not allow tape to come in contact with dirt or any foreign matter prior to adhesion.
Using the palm of the hand, wet out the emblem to the front fender to ensure full adhesion of the emblem is made.
Front Door (Diesel) 65 mm 83 mm Front Door (Diesel) 60 mm 87 mm Rear Compartment Lid (Diesel) 122 mm 32 mm Rear Compartment Lid (Ecoline) 162 mm 32 ...
Preliminary Procedure Remove front bumper fascia. Refer to Front B 1. umper Fascia Replacement. Remove front fog lamp. Refer to Front Fog Lamp Replacement. Front Fog Lamp Bezel Scre ...
Other materials:
Tracing Powder or Chalk Test
Clean the weatherstrips and the contact surfaces with cleaning solvent. Apply powder or chalk in an unbroken line to the contact surface of the weatherstrip surrounding the perimeter of the suspected areas. Close the panel completely without slamming the panel. Closing the panel comple ...
Rear Bumper Fascia Outer Guide Replacement
Preliminary Procedure Remove the rear bumper fascia. Refer to Rear Bumper Fascia Replacement. Rear Bumper Fascia Outer Guide Rivet (Qty: 3) Special Tools BO-594-A Hand Rivet Tongs For equivalent regional tools, refer to Special Tools. Rear Bumper Fascia Outer Guide ...
Front Seat Cushion Cover and Pad Replacement
Removal Procedure Warning: Refer to SIR Warning in the Preface section. Warning: Replace the passenger presence system as a complete assembly to prevent possible injury to the occupant. The bladder, the pressure sensor, the seat cushion, and the control module are assembled and calibrated a ...