Chevrolet Cruze Repair Manual: Front Fender Replacement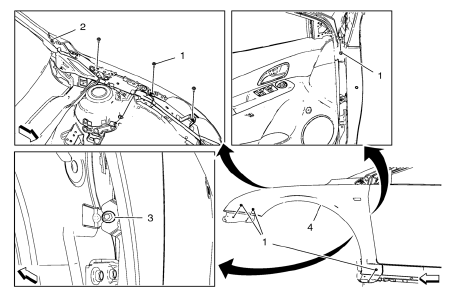 Preliminary Procedure
Remove the front bumper fascia. Refer to Front Bumper Fascia Replacement
Remove front bumper fascia guide. Refer to Front Bumper Fascia Replacement
Remove the wheelhouse liner. Refer to Front Wheelhouse Liner Replacement
Remove the headlamp. Refer to Headlamp Replacement
Remove the air inlet grille panel. Refer to Air Inlet Grille Panel Replacement
Remove the front fender shipping cover. Refer to Front Fender Shipping Cover Replacement
Remove the front fender insulator. Refer to Front Fender Insulator Replacement
Front Fender Bolt (Qty: 7) Caution: Refer to Fastener Caution in the Preface section.

Tighten 8 N·m (70 lb in)

Front Fender Bolt
Tighten 8 N·m (70 lb in)
Front Fender Bolt
Tip Simply loosen the bolt rather than remove.
Tighten 8 N·m(70 lb in)
Front Fender
Front Fender Shipping Cover Replacement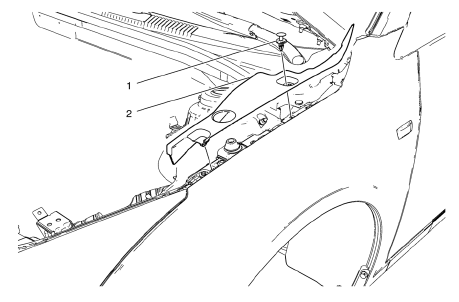 Front Fender Insulator Retainer
Front Fender Shipping Cover
Preliminary Procedure Remove the rear side door trim panel. Refer to Rear Side Door Trim Replacement. Rear Side Door Check Link Bolt Caution: Refer to Fastener Caution in the Preface se ...
Preliminary Procedure Remove the front side door inner panel trim. Refer to Front Side Door Trim Replacement. Front Side Door Wiring Harness Warning: Unless directed otherwise, the ignition a ...
Other materials:
Ultra High Strength Dual Phase Steel
This information provides repair recommendations and general guidelines for steel classified as Ultra High Strength Dual Phase Steel (Dual Phase Steel with a tensile strength greater than 800 MPa), also known as DPX. General Motors recommends the following when repairing or replacing this type ...
Power Windows Description and Operation
Power Windows System Components The power window system consists of the following components: Driver window switch Passenger window switch Left rear window switch Right rear window switch Window motors in each of the doors F24UA 30A Fuse F55UA 7.5A Fuse F21UA 7.5A Fuse Body cont ...
Aluminum Wheel Porosity Repair
Remove the tire and wheel. Refer to Tire and Wheel Removal and Installation. Inflate the tire to the manufactures specified pressure as stated on the tire. Submerge the tire/wheel into a water bath in order to locate the leak. Inscribe a mark on the wheel in order to indic ...