Chevrolet Cruze Repair Manual: Front Fender Replacement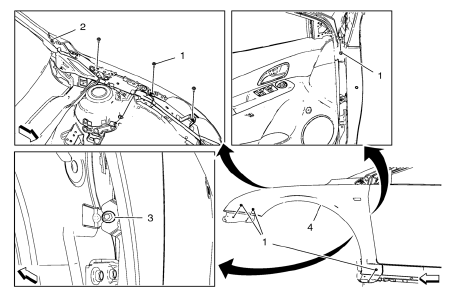 Preliminary Procedure
Remove the front bumper fascia. Refer to Front Bumper Fascia Replacement
Remove front bumper fascia guide. Refer to Front Bumper Fascia Replacement
Remove the wheelhouse liner. Refer to Front Wheelhouse Liner Replacement
Remove the headlamp. Refer to Headlamp Replacement
Remove the air inlet grille panel. Refer to Air Inlet Grille Panel Replacement
Remove the front fender shipping cover. Refer to Front Fender Shipping Cover Replacement
Remove the front fender insulator. Refer to Front Fender Insulator Replacement
Front Fender Bolt (Qty: 7) Caution: Refer to Fastener Caution in the Preface section.

Tighten 8 N·m (70 lb in)

Front Fender Bolt
Tighten 8 N·m (70 lb in)
Front Fender Bolt
Tip Simply loosen the bolt rather than remove.
Tighten 8 N·m(70 lb in)
Front Fender
Front Fender Shipping Cover Replacement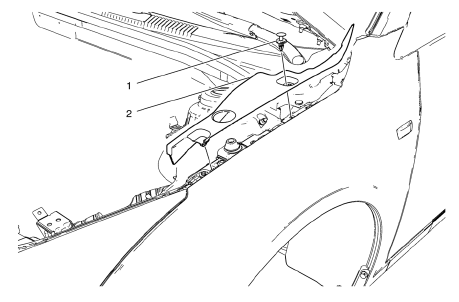 Front Fender Insulator Retainer
Front Fender Shipping Cover
Preliminary Procedure Remove the rear side door trim panel. Refer to Rear Side Door Trim Replacement. Rear Side Door Check Link Bolt Caution: Refer to Fastener Caution in the Preface se ...
Preliminary Procedure Remove the front side door inner panel trim. Refer to Front Side Door Trim Replacement. Front Side Door Wiring Harness Warning: Unless directed otherwise, the ignition a ...
Other materials:
Installation Procedure
Drill 8 mm (5/16 in) for plug welding along the edges of the drivetrain and front suspension frame front support as noted from the original panel. Clean and prepare the attaching surfaces for welding. Position the drivetrain and front suspension frame front suppor ...
Anti-Corrosion Treatment and Repair (Base)
Warning: When applying sound deadeners, or anti-corrosion materials due care and preventative measures must be exercised to prevent any material from being sprayed into door and quarter panel mechanisms such as door locks, window run channels, window regulators and seat belt retractors, as wel ...
Low-Profile Tires
If the vehicle has P225/45R18 size tires, they are classified as low‐profile tires. These tires are designed for very responsive driving on wet or dry pavement, however, may produce more road noise and tend to wear faster. Notice: Low-profile tires are more susceptible to damage from road ...