Chevrolet Cruze Owners Manual: License Plate Lamp
To replace the license plate lamp bulb: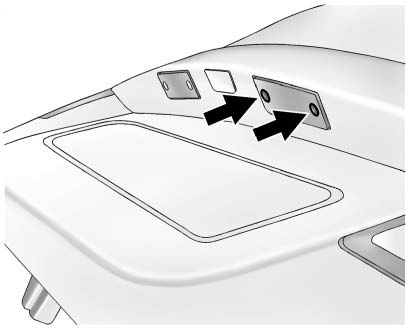 1. Remove the two screws from the license plate lamp assembly.
2. Turn and pull the license plate lamp assembly down.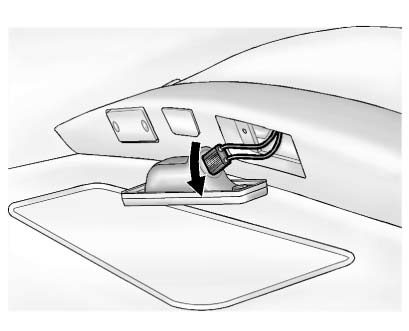 3. Turn the bulb socket counterclockwise and pull straight out of the lamp assembly.
4. Remove the bulb by pulling it straight out of the socket.
5. Push the new bulb into the socket.
6. Install the bulb socket by turning clockwise into the license plate lamp assembly.
7. Replace the license plate lamp assembly and tightien the two screws to secure.
Trunk Deck Inboard Taillamps 1. Open the trunk. 2. Remove the trunk deck trim cover (1). 3. Remove the bulb socket (2) by turning counterclockwise and pulling straight out. 4. Remove the bul ...
For replacement bulbs not listed here, contact your dealer. ...
Other materials:
Off-Road Recovery
The vehicle's right wheels can drop off the edge of a road onto the shoulder while driving. Follow these tips: 1. Ease off the accelerator and then, if there is nothing in the way, steer the vehicle so that it straddles the edge of the pavement. 2. Turn the steering wheel about one-eight ...
Traction Control System (TCS)
The vehicle has a Traction Control System (TCS) that limits wheel spin. On a front-wheel-drive vehicle, the system operates if it senses that one or both of the front wheels are spinning or beginning to lose traction. When this happens, the system brakes the spinning wheel(s), and/or reduces en ...
Roof
Specifications Sunroof Schematics Sunroof Component Views Sunroof Frame Sunroof Sunshade Sunroof Window Sunroof Window Seal Sunroof Housing Rear Drain Hose Sunroof Housing Drain Gutter Sunroof Frame Bolts Sunroof Window Guide Sunroof Air Deflector Cover Su ...