Chevrolet Cruze Repair Manual: Symptoms - Squeaks and Rattles
Table 1: Rattle Coming From the Side Rail
Table 2: Rattle Under Vehicle at Higher RPM
Table 3: Thump From Rear of Vehicle on Bumps
Table 4: Glass Knock Coming From the Rear of the Vehicle When Driving Over Bumps
Table 5: Rattle Coming From Door
Table 6: Squeak When Operating Doors
Table 7: Squeak Coming From Console When Shifting Manual Transmission Condition Occurs In Cold Weather with a Cold Engine
Table 8: Buzz From the Left Side of Instrument Panel
Table 9: Squeak Coming From Instrument Cluster Trim Plate
Rattle Coming From the Side Rail

Rattle Under Vehicle at Higher RPM

Thump From Rear of Vehicle on Bumps

Glass Knock Coming From the Rear of the Vehicle When Driving Over Bumps
Rattle Coming From Door

Squeak When Operating Doors

Squeak Coming From Console When Shifting Manual Transmission Condition Occurs In Cold Weather with a Cold Engine

Buzz From the Left Side of Instrument Panel

Squeak Coming From Instrument Cluster Trim Plate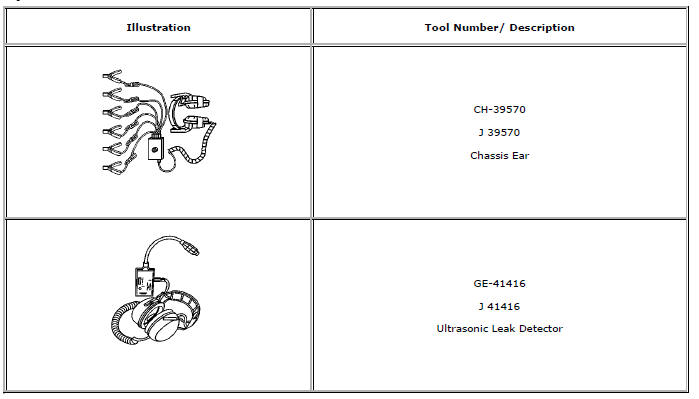 Note: Squeaks and rattles are caused by improperly controlled relative motion between vehicle components. There are 4 ways to prevent squeaks and rattles. Attach the component that squeaks or r ...
Other materials:
Interior Windnoise
Warning: Refer to Assistant Driving Warning in the Preface section. Interior windnoise is not heard when the window is lowered. Interior windnoise is caused by the air leaving the inside of the vehicle through a seal or a seam. Tape over the relief valves to cause added air pressure wi ...
Installation Procedure
Cut the front compartment upper side rail in corresponding locations to fit the remaining original panel. The sectioning joint should be trimmed to allow a gap of one-and-one-half-times the metal thickness at the sectioning joint. Create a 50 mm (2 in) backing plate from the unused ...
Wheel Alignment - Steering Wheel Angle and/or Front Toe Adjustment
Ensure that the steering wheel is set in a straight ahead position. Loosen the tie rod jam nut (1). Adjust the toe to specification by turning the adjuster (2). Refer to Wheel Alignment Specifications. Caution: Refer to Fastener Caution in the Preface section. Tighten the tie ro ...