Chevrolet Cruze Repair Manual: Symptoms - Squeaks and Rattles
Table 1: Rattle Coming From the Side Rail
Table 2: Rattle Under Vehicle at Higher RPM
Table 3: Thump From Rear of Vehicle on Bumps
Table 4: Glass Knock Coming From the Rear of the Vehicle When Driving Over Bumps
Table 5: Rattle Coming From Door
Table 6: Squeak When Operating Doors
Table 7: Squeak Coming From Console When Shifting Manual Transmission Condition Occurs In Cold Weather with a Cold Engine
Table 8: Buzz From the Left Side of Instrument Panel
Table 9: Squeak Coming From Instrument Cluster Trim Plate
Rattle Coming From the Side Rail

Rattle Under Vehicle at Higher RPM

Thump From Rear of Vehicle on Bumps

Glass Knock Coming From the Rear of the Vehicle When Driving Over Bumps
Rattle Coming From Door

Squeak When Operating Doors

Squeak Coming From Console When Shifting Manual Transmission Condition Occurs In Cold Weather with a Cold Engine

Buzz From the Left Side of Instrument Panel

Squeak Coming From Instrument Cluster Trim Plate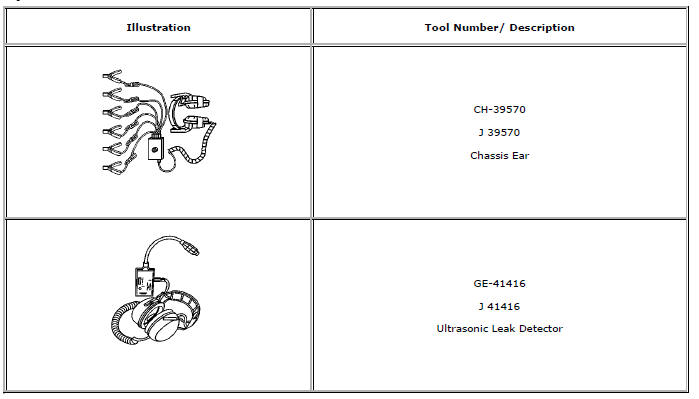 Note: Squeaks and rattles are caused by improperly controlled relative motion between vehicle components. There are 4 ways to prevent squeaks and rattles. Attach the component that squeaks or r ...
Other materials:
Stabilizer Shaft Replacement
Special Tools CH 904 Underframe CH 49289 Centering Adapter EN 45059 Torque Angle Sensor Kit For equivalent regional tools, refer to Special Tools. Removal Procedure Turn the front wheels to the straight forward position and secure the steering wheel from moving. ...
SIR Disabling and Enabling
SIR component location affects how a vehicle should be serviced. There are parts of the SIR system installed in various locations around a vehicle. To find the location of the SIR components refer to SIR Identification Views. There are several reasons for disabling the SIR system, such as re ...
Climate Control Systems
The heating, cooling, defrosting, and ventilation for the vehicle can be controlled with these systems. Vehicles without Air Conditioning 1. Temperature Control. 2. Bi-level Air Mode. 3. Floor Air Mode. 4. Vent Air Mode. 5. Fan Control. 6. Driver and Passenger Heated Seats (If Equ ...