Chevrolet Cruze Repair Manual: Symptoms - Squeaks and Rattles
Table 1: Rattle Coming From the Side Rail
Table 2: Rattle Under Vehicle at Higher RPM
Table 3: Thump From Rear of Vehicle on Bumps
Table 4: Glass Knock Coming From the Rear of the Vehicle When Driving Over Bumps
Table 5: Rattle Coming From Door
Table 6: Squeak When Operating Doors
Table 7: Squeak Coming From Console When Shifting Manual Transmission Condition Occurs In Cold Weather with a Cold Engine
Table 8: Buzz From the Left Side of Instrument Panel
Table 9: Squeak Coming From Instrument Cluster Trim Plate
Rattle Coming From the Side Rail

Rattle Under Vehicle at Higher RPM

Thump From Rear of Vehicle on Bumps

Glass Knock Coming From the Rear of the Vehicle When Driving Over Bumps
Rattle Coming From Door

Squeak When Operating Doors

Squeak Coming From Console When Shifting Manual Transmission Condition Occurs In Cold Weather with a Cold Engine

Buzz From the Left Side of Instrument Panel

Squeak Coming From Instrument Cluster Trim Plate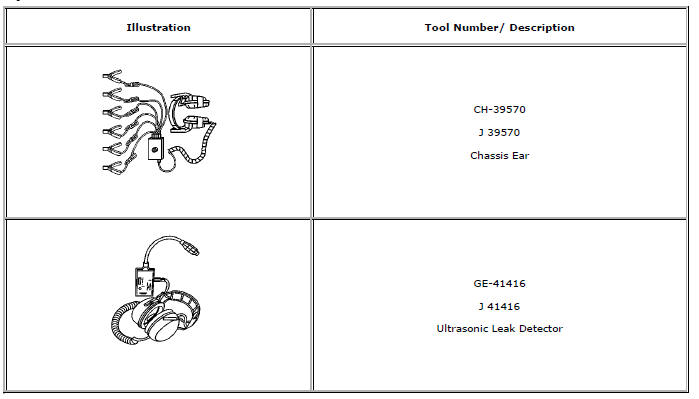 Note: Squeaks and rattles are caused by improperly controlled relative motion between vehicle components. There are 4 ways to prevent squeaks and rattles. Attach the component that squeaks or r ...
Other materials:
Instrument Panel
Instrument Panel Overview 1. Exterior Lamp Controls Front Fog Lamps Instrument Panel Illumination Control 2. Air Vents 3. Headlamp High/Low-Beam Changer Turn Signal Lever. Driver Information Center (DIC) Buttons. 4. Instrument Cluster 5. Driver Information Center (DIC) 6. Steering Wheel ...
Towing Equipment
Hitches Use the correct hitch equipment. See your dealer or a hitch dealer for assistance. Х The rear bumper on the vehicle is not intended for hitches. Do not attach rental hitches or other bumper-type hitches to it. Use only a frame-mounted hitch that does not attach to the bumper. Х ...
Air Conditioning Condenser Replacement (1.6L LDE, LXT, LXV, and 1.8L 2H0)
Removal Procedure Recover the refrigerant. Refer to Refrigerant Recovery and Recharging. Disconnect battery negative cable. Refer to Battery Negative Cable Disconnection and Connection. Remove front bumper fascia. Refer to Front Bumper Fascia Replacement. Remove air intake duct ...