Chevrolet Cruze Owners Manual: Reclining Seatbacks
WARNING
If either seatback is not locked, it could move forward in a sudden stop or crash. That could cause injury to the person sitting there.
Always push and pull on the seatbacks to be sure they are locked.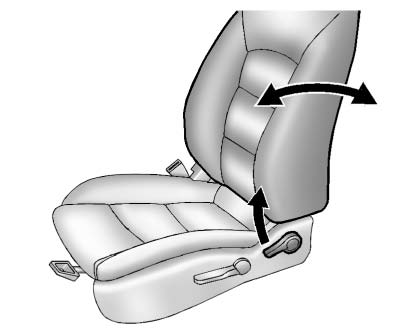 To recline the seatback: 1. Lift the lever.
If necessary, move the safety belt out of the way to access the lever.
2. Move the seatback to the desired position, then release the lever to lock the seatback in place.
3. Push and pull on the seatback to make sure it is locked.
To return the seatback to an upright position: 1. Lift the lever fully without applying pressure to the seatback, and the seatback returns to the upright position.
2. Push and pull on the seatback to make sure it is locked.
WARNING
Sitting in a reclined position when the vehicle is in motion can be dangerous. Even when buckled up, the safety belts cannot do their job.
The shoulder belt will not be against your body. Instead, it will be in front of you. In a crash, you could go into it, receiving neck or other injuries.
The lap belt could go up over your abdomen. The belt forces would be there, not at your pelvic bones. This could cause serious internal injuries.
For proper protection when the vehicle is in motion, have the seatback upright. Then sit well back in the seat and wear the safety belt properly.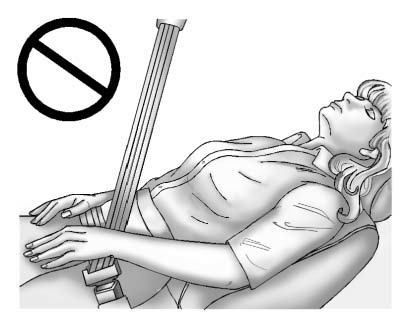 Do not have a seatback reclined if the vehicle is moving.
To adjust the power driver seat, if equipped: Х Move the seat forward or rearward by sliding the control forward or rearward. Х Raise or lower the front part of the seat cushion by moving th ...
WARNING If you cannot feel temperature change or pain to the skin, the seat heater may cause burns. To reduce the risk of burns, people with such a condition should use care when using the seat h ...
Other materials:
Starter Switch Check
WARNING When you are doing this inspection, the vehicle could move suddenly. If the vehicle moves, you or others could be injured. 1. Before starting this check, be sure there is enough room around the vehicle. 2. Firmly apply both the parking brake and the regular brake. Do not use the accele ...
Tire Changing
Removing the Spare Tire and Tools To access the spare tire and tools: 1. Retainer Nut. 2. Tool Bag Tether. 3. Tool Bag. 4. Spare Tire. 1. Open the trunk. 2. Lift the load floor. 3. Turn the retainer nut (1) counterclockwise to remove it. Then remove the tool bag tether (2) from th ...
Charging System Light
The charging system light comes on briefly when the ignition is turned on, but the engine is not running, as a check to show the light is working. The light turns off when the engine is started. If it does not, have the vehicle serviced by your dealer. If the light stays on, or comes on whil ...