Chevrolet Cruze Infotainment System: Satellite Radio
SiriusXM® Satellite Radio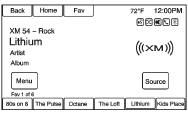 Vehicles with a valid SiriusXM satellite radio subscription can receive SiriusXM programming.
SiriusXM satellite radio has a wide variety of programming and commercial-free music, coast to coast, and in digital-quality sound.
See www.siriusxm.com or call 1-866-635-2349 (U.S.) and www.xmradio.ca or call 1-877-209-0079 (Canada).
When SiriusXM is active, the station name, number, category name, song title, and artist display on the screen. SiriusXM may update the background picture at any time.
Press the XM icon on the Home Page to access the XM Audio Menu.
TuneSelect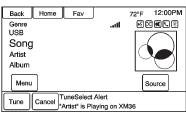 An alert will be sent when the radio sees that search criteria on any XM channel is met and offer the option to tune to that song or artist. Up to ten artists and songs can be saved in the TuneSelect list.
To store an Artist or Song: 1. Press Menu when the Artist or Song is on XM.
2. Select TuneSelect.
3. Select Save Alert for Artist Playing or Save Alert for Song Playing.
4. Press OK to confirm.
To turn TuneSelect On or Off: 1. Press Menu when in XM.
2. Select TuneSelect.
3. Select Alerts Active to turn the alerts on or off.
To delete TuneSelect Alerts: 1. Press Menu when in XM.
2. Press Manage TuneSelect.
3. Press Delete Alerts.
4. Select the alert to delete.
5. Press OK to confirm.
When information is broadcast from the current FM station, the station name or call letters display on the audio screen. RDS can provide a program type (PTY) for current programming and the name of the program being broadcasted.