Chevrolet Cruze Repair Manual: Steering Wheel Inflatable Restraint Module Replacement
Removal Procedure
Warning: When carrying a live inflator module, make sure the bag opening is pointed away from you. This minimizes the chance of injury in the case of an accidental deployment. Never carry the inflator module by the wires. Never carry the inflator module by the connector on the underside of the module.
Make sure that the bag and trim cover are facing up whenever you place a live inflator module on any surface. This is necessary to provide a free space for the bag to expand in the unlikely event of accidental deployment. Never rest the steering column assembly on the steering wheel with the inflator module face down, and the column vertical. This may result in personal injury.
Warning: Refer to SIR Warning in the Preface section.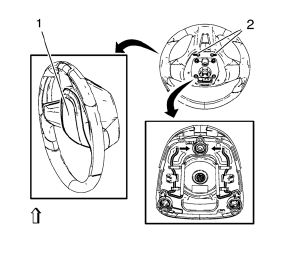 Disable the supplemental inflatable restraint (SIR) system. Refer to SIR Disabling and Enabling.
Insert suitable tools to the openings (2) on both sides of the steering wheel (1).
Release the springs in direction of the arrows.
Disconnect the electrical connectors.
Installation Procedure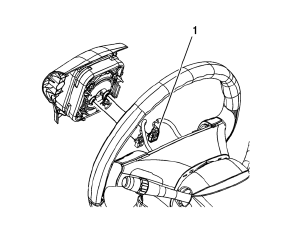 Connect the electrical connectors (1).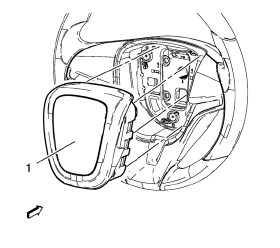 Align the steering wheel module fasteners to the steering column fastener holes.
Push the steering wheel module (1) firmly into the steering column in order the engage the fasteners.
Enable the SIR system. Refer to SIR 4. Disabling and Enabling.
After replacing the module, fully deploy the old module before disposal.