Chevrolet Cruze Repair Manual: Rear Side Door Wiring Harness Replacement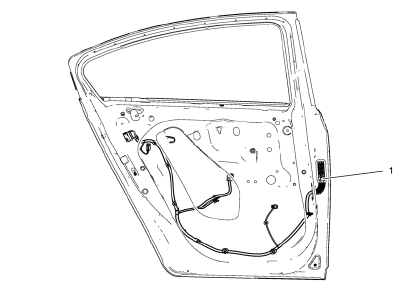 Preliminary Procedure
Remove the rear side door inner panel trim. Refer to Rear Side Door Trim Replacement.
Rear Side Door Wiring Harness
Warning: Unless directed otherwise, the ignition and start switch must be in the OFF or LOCK position, and all electrical loads must be OFF before servicing any electrical component. Disconnect the negative battery cable to prevent an electrical spark should a tool or equipment come in contact with an exposed electrical terminal. Failure to follow these precautions may result in personal injury and/or damage to the vehicle or its components.
For Vehicles equipped with OnStar® (UE1) with Back Up Battery: The Back Up Battery is a redundant power supply to allow limited OnStar® functionality in the event of a main vehicle battery power disruption to the VCIM (OnStar®module). Do not disconnect the main vehicle battery or remove the OnStar® fuse with the ignition key in any position other than OFF. Retained accessory power (RAP) should be allowed to time out or be disabled (simply opening the driver door should disable RAP) before disconnecting power. Disconnecting power to the OnStar® module in any way while the ignition is On or with RAP activated may cause activation of the OnStar® Back-Up Battery (BUB) system and will discharge and permanently damage the back-up battery. Once the Back-Up Battery is activated it will stay on until it has completely discharged. The BUB is not rechargeable and once activated the BUB must be replaced.
Procedure
Disconnect the battery.
Remove the water deflector.
Disconnect electrical connectors as needed.
Preliminary Procedure Remove the front side door inner panel trim. Refer to Front Side Door Trim Replacement. Front Side Door Wiring Harness Warning: Unless directed otherwise, the ignition a ...
Preliminary Procedure Remove the front side door sill trim plate. Refer to Front Side Door Sill Trim Plate Replacement. Hood Primary Latch Release Cable Handle Procedure Pull down the hoo ...
Other materials:
Symptoms - Squeaks and Rattles
Table 1: Rattle Coming From the Side Rail Table 2: Rattle Under Vehicle at Higher RPM Table 3: Thump From Rear of Vehicle on Bumps Table 4: Glass Knock Coming From the Rear of the Vehicle When Driving Over Bumps Table 5: Rattle Coming From Door Table 6: Squeak When Operating Doors Table 7: S ...
Front Bumper Energy Absorber Bracket Replacement
Preliminary Procedure Remove the front bumper fascia opening cover. Refer to Front Bumper Fascia Opening Lower Cover Replacement Drivetrain and Front Suspension Frame Bolt Front Caution: Refer to Fastener Caution in the Preface section. Tighten 160 N·m (119 lb ft) Note: Do NOT reu ...
Hill and Mountain Roads
Driving on steep hills or through mountains is different than driving on flat or rolling terrain. Tips for driving in these conditions include: • Keep the vehicle serviced and in good shape. • Check all fluid levels and brakes, tires, cooling system, and transmission. • Shift to a lower g ...