Chevrolet Cruze Owners Manual: Wiper Blade Replacement
Windshield wiper blades should be inspected for wear and cracking.
Replacement blades come in different types and are removed in different ways.
Notice: Allowing the wiper arm to touch the windshield when no wiper blade is installed could damage the windshield. Any damage that occurs would not be covered by your warranty. Do not allow the wiper arm to touch the windshield.
1. Lift the wiper arm away from the windshield.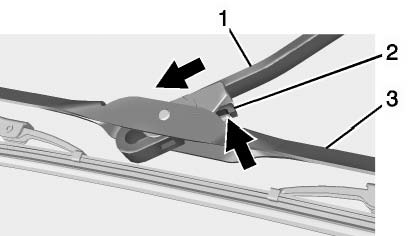 2. Push the release lever (2) to disengage the hook and push the wiper arm (1) out of the blade assembly (3).
3. Push the new blade assembly securely on the wiper arm until the release lever clicks into place.