Chevrolet Cruze Repair Manual: Removal Procedure
Turn the front wheels to the straight forward position and secure the steering wheel from moving.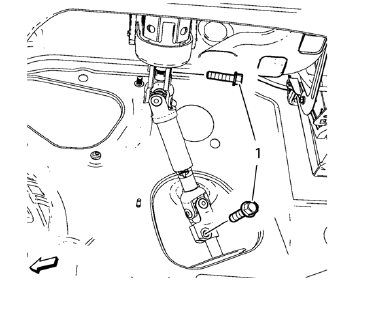 Remove the 2 lower steering intermediate shaft bolts (1).
Remove the steering intermediate shaft from the steering gear.
Raise and support the vehicle. Refer to Lifting and Jacking the Vehicle
Remove the tire and wheel assemblies. Refer to Tire and Wheel Removal and Installation
Remove the front compartment insulator, if equipped.
Remove the engine shield, if equipped
Remove the exhaust flexible pipe. Refer to Exhaust Flexible Pipe Replacement.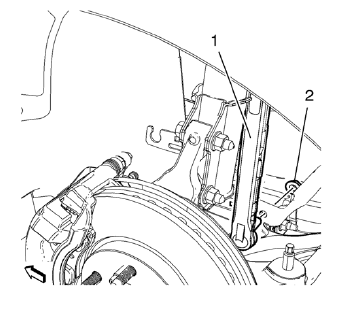 Remove lower stabilizer link shaft nut (2) on both sides.
Remove stabilizer link shaft (1) from stabilizer shaft.
Remove stabilizer link shaft (1) from stabilizer.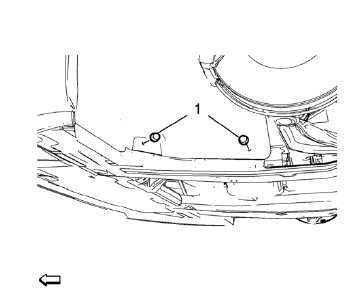 Remove 4 fasteners (1) for the engine side cover on both sides.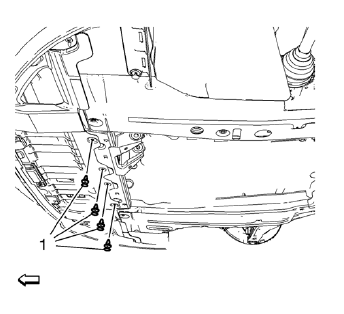 Remove 4 fasteners (1) for the front engine compartment cover.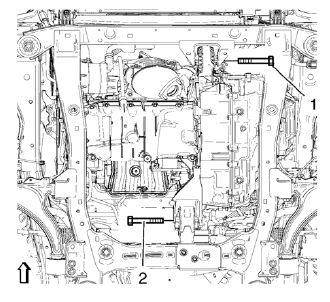 Remove the front and rear transmission mount bracket bolts (1, 2).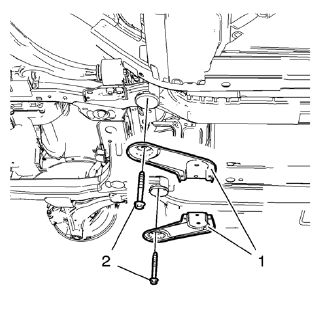 Remove and DISCARD 2 rear suspension frame bolts (2).
Remove rear frame reinforcements (1).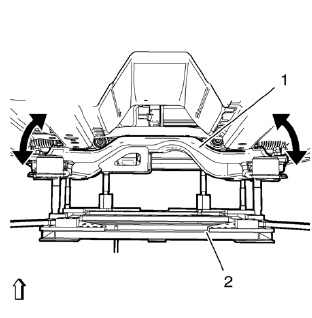 Position and set hydraulic lifter in connection with CH 904 frame and CH 49289-50 adapter (2) onto suspension frame (1). Bent from cover beside.
Lower suspension frame max. 55 mm.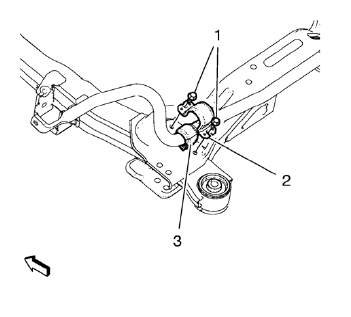 Note: In order to assure a correct installation of the insulators ONLY remove and install the insulators side by side! Dismantled MUST BE discarded.
Remove and discard the two front stabilizer shaft insulator clamp bolts (1).
Remove the shaft insulator clamp (2).
Bend up clamp (2) slightly.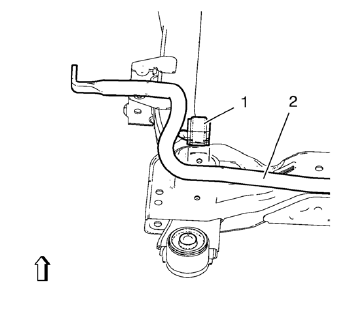 Mark the location of the insulator (1) to the stabilizer shaft (2).
Remove insulator (1) from stabilizer shaft (2).
Special Tools CH 904 Underframe EN 45059 Torque Angle Sensor Kit CH 49289 Centering Adapter For equivalent regional tools, refer to Special Tools. ...
Install NEW stabilizer shaft insulators (1) to stabilizer shaft (2) so that the slit in the insulator is facing the rear of the vehicle. Install the insulator c 2. lamp to the insu ...
Other materials:
Variable Effort Steering System Description and Operation
The Variable Effort Steering (VES) system or MAGNASTEER® varies the amount of effort required to steer the vehicle as vehicle speed changes. At low speeds, the system provides minimal steering effort for easy turning and parking maneuvers. Steering effort is increased at higher speeds to provi ...
Introduction
The names, logos, emblems, slogans, vehicle model names, and vehicle body designs appearing in this manual including, but not limited to, GM, the GM logo, CHEVROLET, the CHEVROLET Emblem, and CRUZE are trademarks and/or service marks of General Motors LLC, its subsidiaries, affiliates, or li ...
Hood
To open the hood: 1. Pull up on the hood release handle. It is located inside the vehicle to the left of the steering column. 2. Go to the front of the vehicle and push the secondary hood release handle toward the driver side of the vehicle. 3. Lift the hood and release the hood prop fr ...