Chevrolet Cruze Repair Manual: Removal Procedure
Turn the front wheels to the straight forward position and secure the steering wheel from moving.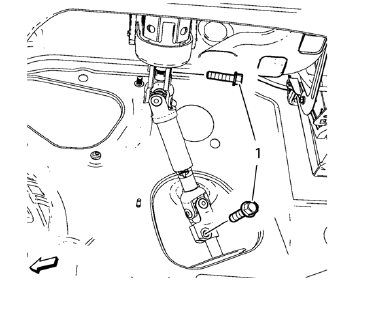 Remove the 2 lower steering intermediate shaft bolts (1).
Remove the steering intermediate shaft from the steering gear.
Raise and support the vehicle. Refer to Lifting and Jacking the Vehicle
Remove the tire and wheel assemblies. Refer to Tire and Wheel Removal and Installation
Remove the front compartment insulator, if equipped.
Remove the engine shield, if equipped
Remove the exhaust flexible pipe. Refer to Exhaust Flexible Pipe Replacement.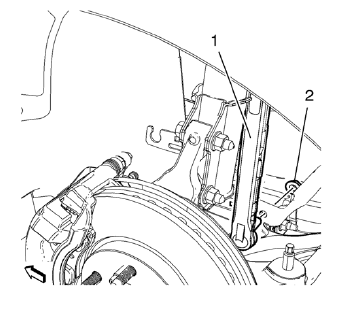 Remove lower stabilizer link shaft nut (2) on both sides.
Remove stabilizer link shaft (1) from stabilizer shaft.
Remove stabilizer link shaft (1) from stabilizer.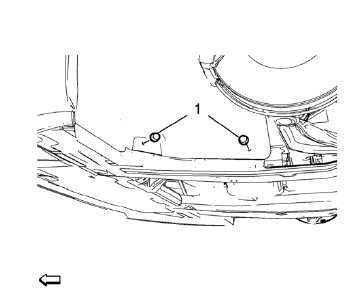 Remove 4 fasteners (1) for the engine side cover on both sides.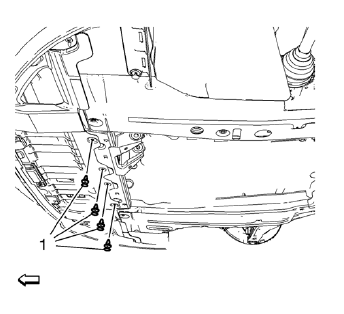 Remove 4 fasteners (1) for the front engine compartment cover.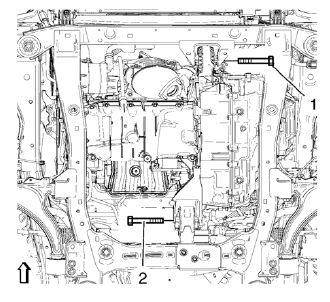 Remove the front and rear transmission mount bracket bolts (1, 2).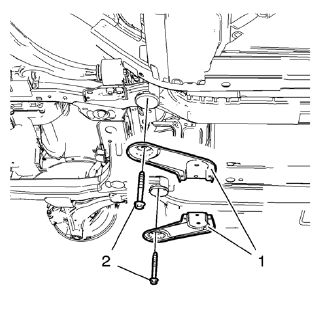 Remove and DISCARD 2 rear suspension frame bolts (2).
Remove rear frame reinforcements (1).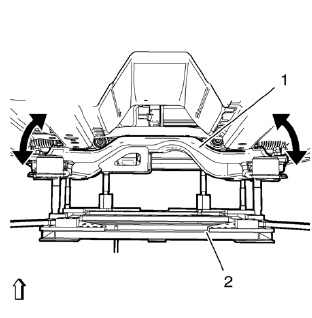 Position and set hydraulic lifter in connection with CH 904 frame and CH 49289-50 adapter (2) onto suspension frame (1). Bent from cover beside.
Lower suspension frame max. 55 mm.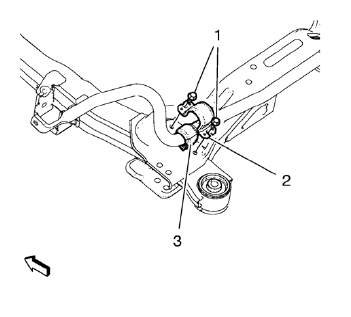 Note: In order to assure a correct installation of the insulators ONLY remove and install the insulators side by side! Dismantled MUST BE discarded.
Remove and discard the two front stabilizer shaft insulator clamp bolts (1).
Remove the shaft insulator clamp (2).
Bend up clamp (2) slightly.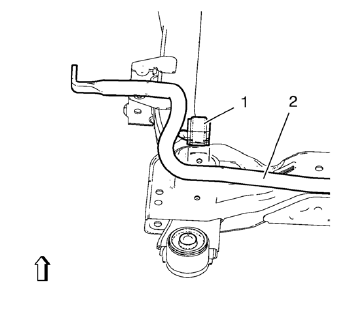 Mark the location of the insulator (1) to the stabilizer shaft (2).
Remove insulator (1) from stabilizer shaft (2).
Special Tools CH 904 Underframe EN 45059 Torque Angle Sensor Kit CH 49289 Centering Adapter For equivalent regional tools, refer to Special Tools. ...
Install NEW stabilizer shaft insulators (1) to stabilizer shaft (2) so that the slit in the insulator is facing the rear of the vehicle. Install the insulator c 2. lamp to the insu ...
Other materials:
Fuel
Use of the recommended fuel is an important part of the proper maintenance of this vehicle. To help keep the engine clean and maintain optimum vehicle performance, we recommend the use of gasoline advertised as TOP TIER Detergent Gasoline. Look for the TOP TIER label on the fuel pump to ensure ...
Trailer Towing (Except Fuel Economy Model)
Before pulling a trailer, there are three important considerations that have to do with weight: Х The weight of the trailer. Х The weight of the trailer tongue. Х The total weight on your vehicle's tires. Weight of the Trailer How heavy can a trailer safely be? It should never weigh more ...
If the Vehicle Is Stuck
Slowly and cautiously spin the wheels to free the vehicle when stuck in sand, mud, ice, or snow. If stuck too severely for the traction system to free the vehicle, turn the traction system off and use the rocking method. WARNING If the vehicle's tires spin at high speed, they can explode, ...