Chevrolet Cruze Repair Manual: Removal Procedure
Turn the front wheels to the straight forward position and secure the steering wheel from moving.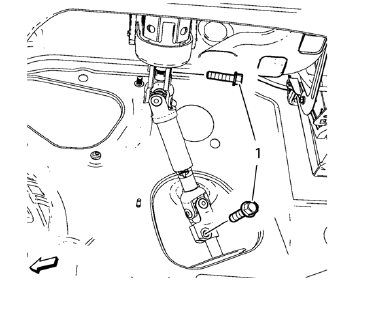 Remove the 2 lower steering intermediate shaft bolts (1).
Remove the steering intermediate shaft from the steering gear.
Raise and support the vehicle. Refer to Lifting and Jacking the Vehicle
Remove the tire and wheel assemblies. Refer to Tire and Wheel Removal and Installation
Remove the front compartment insulator, if equipped.
Remove the engine shield, if equipped
Remove the exhaust flexible pipe. Refer to Exhaust Flexible Pipe Replacement.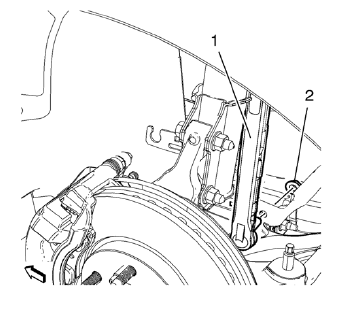 Remove lower stabilizer link shaft nut (2) on both sides.
Remove stabilizer link shaft (1) from stabilizer shaft.
Remove stabilizer link shaft (1) from stabilizer.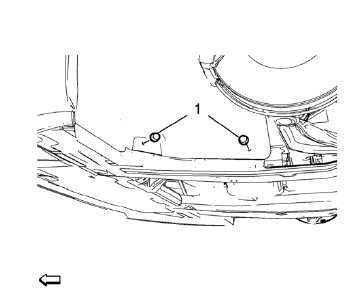 Remove 4 fasteners (1) for the engine side cover on both sides.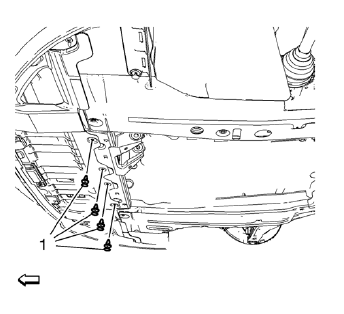 Remove 4 fasteners (1) for the front engine compartment cover.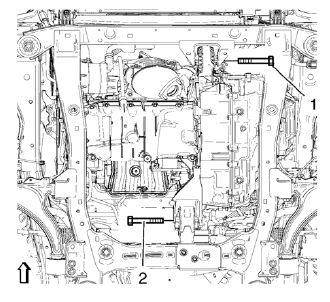 Remove the front and rear transmission mount bracket bolts (1, 2).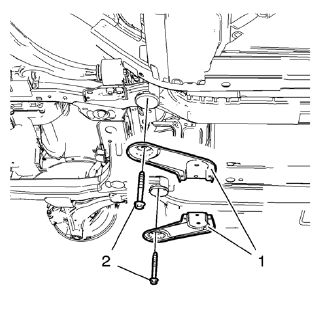 Remove and DISCARD 2 rear suspension frame bolts (2).
Remove rear frame reinforcements (1).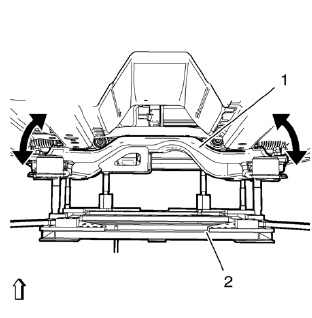 Position and set hydraulic lifter in connection with CH 904 frame and CH 49289-50 adapter (2) onto suspension frame (1). Bent from cover beside.
Lower suspension frame max. 55 mm.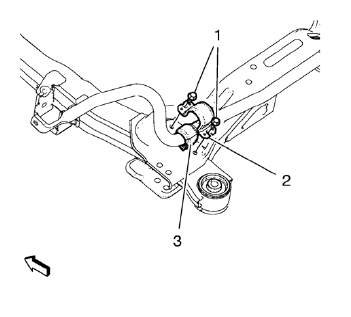 Note: In order to assure a correct installation of the insulators ONLY remove and install the insulators side by side! Dismantled MUST BE discarded.
Remove and discard the two front stabilizer shaft insulator clamp bolts (1).
Remove the shaft insulator clamp (2).
Bend up clamp (2) slightly.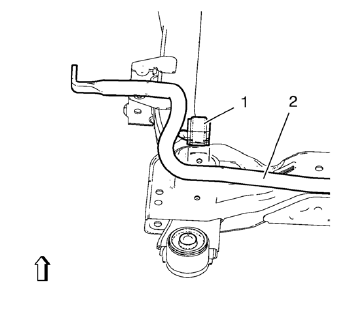 Mark the location of the insulator (1) to the stabilizer shaft (2).
Remove insulator (1) from stabilizer shaft (2).
Special Tools CH 904 Underframe EN 45059 Torque Angle Sensor Kit CH 49289 Centering Adapter For equivalent regional tools, refer to Special Tools. ...
Install NEW stabilizer shaft insulators (1) to stabilizer shaft (2) so that the slit in the insulator is facing the rear of the vehicle. Install the insulator c 2. lamp to the insu ...
Other materials:
Installation Procedure
Cut the quarter outer panel in corresponding locations to fit the remaining original panel. The sectioning joint should be trimmed to allow a gap of one-and-one-half-times the metal thickness at the sectioning joint. Create a 50 mm (2 in) backing plate from the unused portion &nbs ...
Remote Keyless Entry (RKE) System
The Remote Keyless Entry (RKE) transmitter may work up to 60m (195 ft) away from the vehicle. RKE Transmitter with Remote Start Shown Press the key release button to extend the key blade. The key can be used for the ignition and all locks. Press to unlock the driver door or all doors. P ...
Additional links
Instrument Cluster Replacement Preliminary Procedure Remove instrument panel lower cluster trim plate. Refer to Instrument Panel Cluster Lower Trim Plate Replacement. Remove instrument panel steering column upper trim cover. Refer to Steering Column Upper Trim Cover Replacement. ...