Chevrolet Cruze Repair Manual: Removal Procedure
Turn the front wheels to the straight forward position and secure the steering wheel from moving.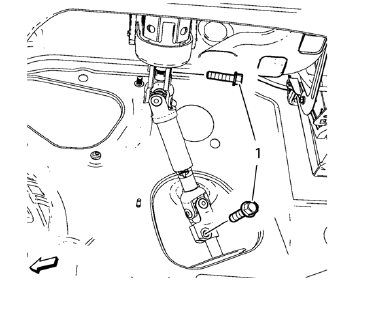 Remove the 2 lower steering intermediate shaft bolts (1).
Remove the steering intermediate shaft from the steering gear.
Raise and support the vehicle. Refer to Lifting and Jacking the Vehicle
Remove the tire and wheel assemblies. Refer to Tire and Wheel Removal and Installation
Remove the front compartment insulator, if equipped.
Remove the engine shield, if equipped
Remove the exhaust flexible pipe. Refer to Exhaust Flexible Pipe Replacement.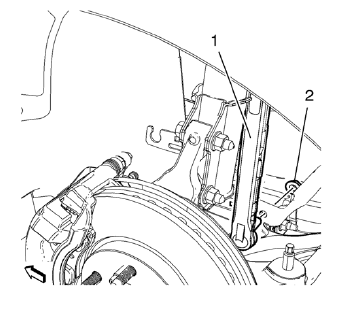 Remove lower stabilizer link shaft nut (2) on both sides.
Remove stabilizer link shaft (1) from stabilizer shaft.
Remove stabilizer link shaft (1) from stabilizer.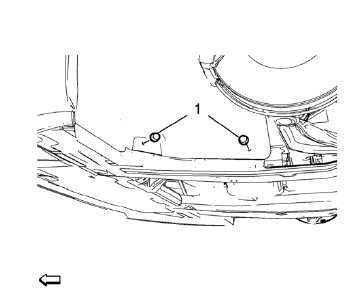 Remove 4 fasteners (1) for the engine side cover on both sides.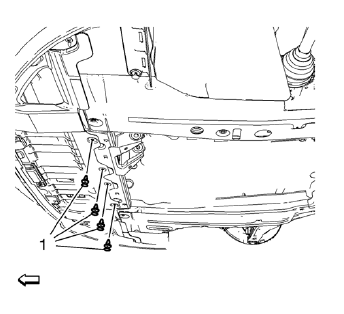 Remove 4 fasteners (1) for the front engine compartment cover.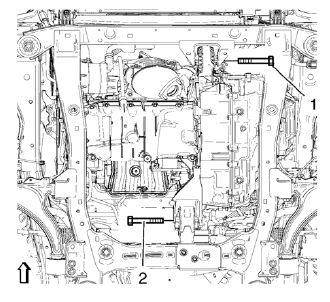 Remove the front and rear transmission mount bracket bolts (1, 2).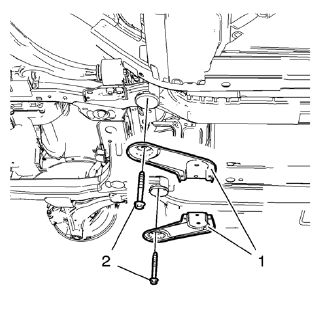 Remove and DISCARD 2 rear suspension frame bolts (2).
Remove rear frame reinforcements (1).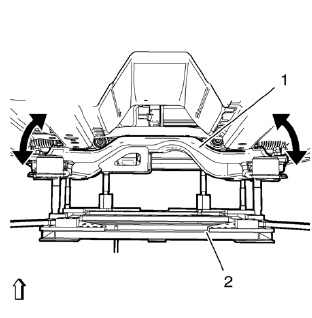 Position and set hydraulic lifter in connection with CH 904 frame and CH 49289-50 adapter (2) onto suspension frame (1). Bent from cover beside.
Lower suspension frame max. 55 mm.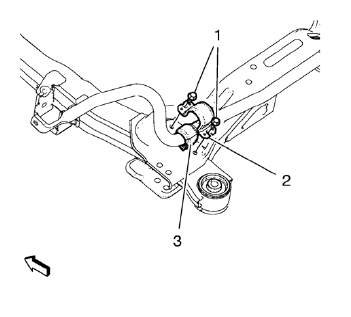 Note: In order to assure a correct installation of the insulators ONLY remove and install the insulators side by side! Dismantled MUST BE discarded.
Remove and discard the two front stabilizer shaft insulator clamp bolts (1).
Remove the shaft insulator clamp (2).
Bend up clamp (2) slightly.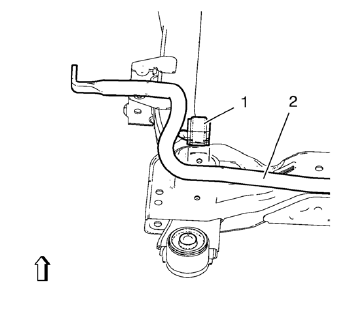 Mark the location of the insulator (1) to the stabilizer shaft (2).
Remove insulator (1) from stabilizer shaft (2).
Special Tools CH 904 Underframe EN 45059 Torque Angle Sensor Kit CH 49289 Centering Adapter For equivalent regional tools, refer to Special Tools. ...
Install NEW stabilizer shaft insulators (1) to stabilizer shaft (2) so that the slit in the insulator is facing the rear of the vehicle. Install the insulator c 2. lamp to the insu ...
Other materials:
Installation Procedure
Drill 8 mm (5/16 in) for plug welding along the edges of the drivetrain and front suspension frame front support as noted from the original panel. Clean and prepare the attaching surfaces for welding. Position the drivetrain and front suspension frame front suppor ...
Tracing Powder or Chalk Test
Clean the weatherstrips and the contact surfaces with cleaning solvent. Apply powder or chalk in an unbroken line to the contact surface of the weatherstrip surrounding the perimeter of the suspected areas. Close the panel completely without slamming the panel. Closing the panel comple ...
Tyre Dismounting and Mounting
Caution: Use a tire changing machine in order to dismount tires. Do not use hand tools or tire irons alone in order to remove the tire from the wheel. Damage to the tire beads or the wheel rim could result. Caution: Do not scratch or damage the clear coating on aluminum wheels with the tire ...