Chevrolet Cruze Repair Manual: Front Suspension
Specifications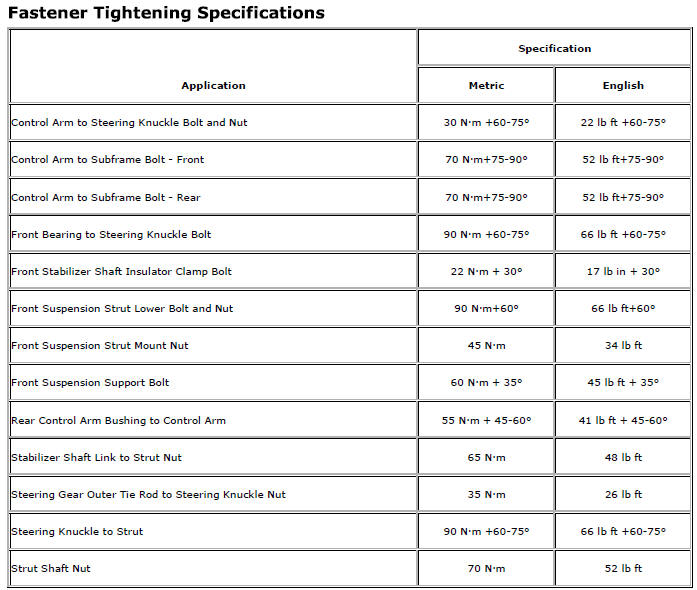 Front Suspension Components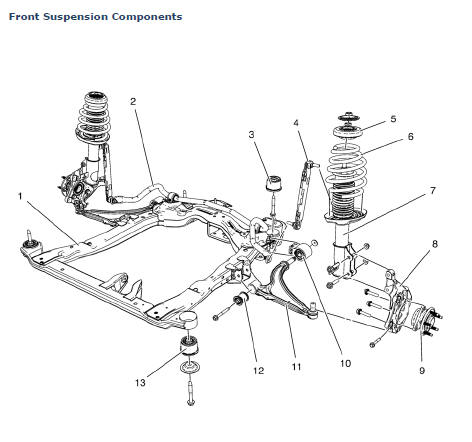 Drivetrain and Front Suspension Frame
Front Stabilizer Shaft
Drivetrain and Front Suspension Frame Rear Insulator
Front Stabilizer Shaft Link
Front Suspension Strut Insulator Assembly
Front Spring
Shock Absorber Assembly
Front Wheel Bearing/Hub Assembly
Front Lower Control Arm Rear Bushing
Front Lower Control Arm
Front Lower Control Arm Bushing
Drivetrain and Front Suspension Frame Rear Insulator
Special Tools CH 904 Underframe CH 49289 Centering Adapter EN 45059 Torque Angle Sensor Kit For equivalent regional tools, refer to Special Tools. Removal Procedure Turn the front whee ...
Other materials:
CD Player
The CD player can play audio CDs and MP3 CDs. The CD player will not play 8 cm (3 in) CDs. Care of CDs Sound quality can be reduced due to disc quality, recording method, quality of the music recorded, and how the disc has been handled. Handle discs carefully and store them in their original c ...
Air Conditioning Compressor and Condenser Hose Replacement (1.6L LXT)
Removal Procedure Recover the refrigerant. Refer to Refrigerant Rec overy and Recharging. Remove front bumper fascia. Refer to Front Bumper Fascia Replacement. Remove A/C compressor and condenser hose nut (1) from A/C condensor (2). Remove A/C compressor and ...
Driving on Wet Roads
Rain and wet roads can reduce vehicle traction and affect your ability to stop and accelerate. Always drive slower in these types of driving conditions and avoid driving through large puddles and deep-standing or flowing water. WARNING Wet brakes can cause crashes. They might not work as wel ...