Chevrolet Cruze Repair Manual: Shock Absorber Disposal
Warning: Use the proper eye protection when drilling to prevent metal chips from causing physical injury.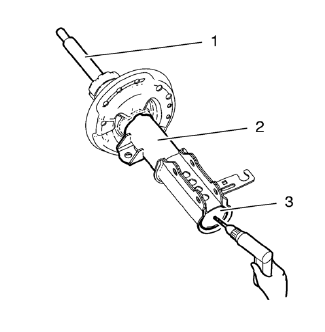 Clamp the strut in a vise horizontally with the rod ( 1) completely extended.
Drill a hole in the strut at the center of the end cap (3) using a 5 mm (3/16 in) drill bit. Gas or a gas/oil mixture will exhaust when the drill bit penetrates the strut. Use shop towels in order to contain the escaping oil.
Remove the strut from the vise.
Hold the strut over a drain pan vertically with the hole down.
Move the rod (1) in and out of the tube (2) to completely drain the oil from the strut.
Special Tools CH 49375 Wrench For equivalent regional tools, refer to Special Tools. Removal Procedure Raise and the vehicle. Refer to Lifting and Jacking the Vehicle. Remove the tire and whe ...
Special Tools CH-6068 Spring Tensioner Device CH-6066 Holding Device For equivalent regional tools, refer to Special Tools. Disassembly Procedure Remove the strut assembly. Refer &n ...
Other materials:
Mirror Adjustment
Exterior Controls for the outside power mirrors are on the driver door. 1. Turn the selector switch to L (Left) or R (Right) to choose the driver or passenger mirror. 2. Move the control to adjust the mirror. 3. Turn the selector switch to the O position to deselect the mirror. Vehicles w ...
AM-FM Radio
Control Buttons The buttons used to control the radio are: BAND: Press to turn the radio on and choose between AM, FM, and SiriusXM®, if equipped. MENU/SEL: Turn to navigate the available menus and to search for stations. INFO: Press to display additional information that may be available for ...
Tyre Repair
Warning: Tire changing can be dangerous and should be done by trained professionals using proper tools and procedures. Always read and understand any manufacturer's warnings contained in their customers literature or molded into the tire sidewall. Serious eye and ear injury may result from no ...