Chevrolet Cruze Repair Manual: Shock Absorber Disposal
Warning: Use the proper eye protection when drilling to prevent metal chips from causing physical injury.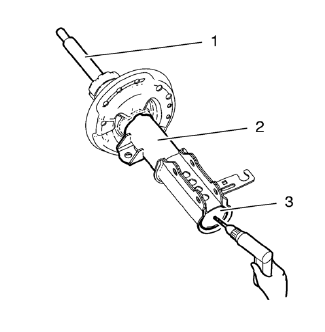 Clamp the strut in a vise horizontally with the rod ( 1) completely extended.
Drill a hole in the strut at the center of the end cap (3) using a 5 mm (3/16 in) drill bit. Gas or a gas/oil mixture will exhaust when the drill bit penetrates the strut. Use shop towels in order to contain the escaping oil.
Remove the strut from the vise.
Hold the strut over a drain pan vertically with the hole down.
Move the rod (1) in and out of the tube (2) to completely drain the oil from the strut.
Special Tools CH 49375 Wrench For equivalent regional tools, refer to Special Tools. Removal Procedure Raise and the vehicle. Refer to Lifting and Jacking the Vehicle. Remove the tire and whe ...
Special Tools CH-6068 Spring Tensioner Device CH-6066 Holding Device For equivalent regional tools, refer to Special Tools. Disassembly Procedure Remove the strut assembly. Refer &n ...
Other materials:
Fuel Additives
To provide cleaner air, all gasolines in the United States are now required to contain additives that help prevent engine and fuel system deposits from forming, allowing the emission control system to work properly. In most cases, nothing should have to be added to the fuel. However, some gas ...
Engine Oil Life System
The engine oil life system calculates engine oil life based on vehicle use and displays the CHANGE ENGINE OIL SOON DIC message or Code 82 DIC message when it is necessary to change the engine oil and filter. Remember, the Oil Life display must be reset after each oil change. It will not reset ...
Specifications
Front Door (Diesel) 65 mm 83 mm Front Door (Diesel) 60 mm 87 mm Rear Compartment Lid (Diesel) 122 mm 32 mm Rear Compartment Lid (Ecoline) 162 mm 32 mm ...