Chevrolet Cruze Repair Manual: Air Conditioning Compressor Replacement (1.6L LXT)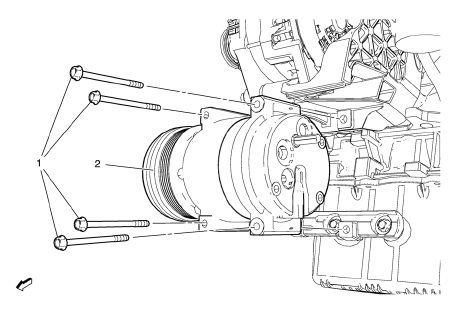 Preliminary Procedures
Recover the refrigerant. Refer to Refrigerant Rec overy and Recharging.
Remove drive belt. Refer to Generator and Air Conditioning Compressor and Power Steering Pump Belt Replacement.
Raise and support the vehicle. Refer to Lifting and Jacking the Vehicle.
Disconnect the A/C compressor electrical connector.
Remove compressor hose assembly. Refer to Air Conditioning Compressor and Condenser Hose Replacement.
A/C Compressor Bolt (Qty: 4)
Caution: Refer to Fastener Caution in the Preface section.
Tip
The graphic shows the engine without attaching parts for better clarity.
Tighten
22 N·m (17 lb ft)
A/C Compressor Assembly
Procedure
Use a low viscosity, polyalkylene glycol (PAG) oil. Use of the incorrect oil can result in compressor failure.
When replacing the A/C compressor, balance the compressor oil. Refer to Air Conditioning Compressor Oil Balancing
Using GE 39400 detector leak test A/C compressor fittings.
Special Tools
GE 39400 Electronic Halogen Leak Detector