Chevrolet Cruze Owners Manual: Engine Air Cleaner/Filter
When to Inspect the Engine Air Cleaner/Filter
Inspect the air cleaner/filter at the scheduled maintenance intervals and replace it at the first oil change after each 80 000 km (50,000 mi) interval. If you are driving in dusty/dirty conditions, inspect the filter at each engine oil change.
How to Inspect the Engine Air Cleaner/Filter
To inspect the air cleaner/filter, remove the filter from the vehicle and lightly shake the filter to release loose dust and dirt. If the filter remains covered with dirt, a new filter is required.
To inspect or replace the engine air cleaner/filter:
1.4L L4 Engine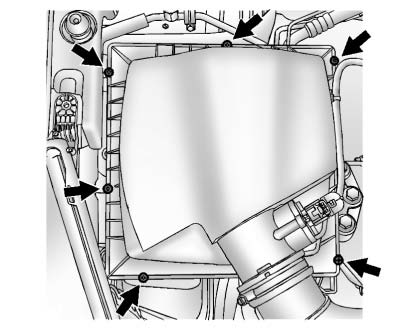 1.8L L4 Engine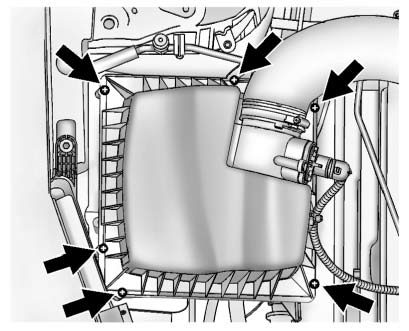 1. Remove the six screws that secure the cover on.
2. Lift off the cover.
3. Inspect or replace the engine air cleaner/filter.
4. Align the filter correctly.
5. Install the cover by lowering it over the filter and secure with the six screws.
WARNING
Operating the engine with the air cleaner/filter off can cause you or others to be burned. The air cleaner not only cleans the air; it helps to stop flames if the engine backfires. Use caution when working on the engine and do not drive with the air cleaner/filter off.
Notice
: If the air cleaner/filter is off, dirt can easily get into the engine, which could damage it.
Always have the air cleaner/filter in place when you are driving.